Event – The Waitrose Lichfield Half-Marathon – 6th May 2012

The Waitrose Lichfield Half-Marathon 2012
It's on Sunday the 6th May 2012, starts 10.30am at King Edward VI School.
Sorry, this event is now full and we cannot accept any further entries on the day.
Runners who entered on or after 30th April will need to collect their numbers on the morning of the event
There is also a 1.3 mile Mini Marathon around Stowe Fields.
See: ROAD CLOSURE NOTICE
Info: DOWNLOAD THE HALF_MARATHON INFO SHEET
See: CERTIFICATE OF COURSE ACCURACY
START TIME: 10.30am
STARTS: King Edward VI School, Upper St. John Street, Lichfield, Staffordshire
FINISHES: Stowe Fields. Lichfield
ENTRY FEE: £20 Club Runner/ £22 Non Club Runner
NO ENTRIES ON THE DAY (except Mini Marathon)
INSURANCE: Full Public Liability
Goodie Bags for all finishers including commemorative glass paper weight
TROPHIES to first 3 men & first 3 women
Click MORE – for news, further information, route map, and photos and video from last year's Half-Marathon.
ARTHUR PRICE DESIGN NEW HALF-MARATHON TROPHY
This year's WAITROSE LICHFIELD HALF MARATHON has a newly designed traditional 10″ silverware punchbowl style trophy from Lichfield's own world renowned Arthur Price Ltd ,for the first athlete home. Kevin Wilson of KP Events is delighted with the new prize:
Arthur Price Ltd are world famous for their cutlery and gift designs, to have such a magnificent new trophy for the Half Marathon is wonderful news, and we hope to work with the company on a design for the Lichfield Dash trophy in the year the Olympic Torch comes to the city on dash day Saturday June 30th.
WAITROSE STEP IN TO SPONSOR LICHFIELD HALF MARATHON
The name and brand of Waitrose is so well known and associated with quality and high standards that KP Events is very pleased to have an opportunity to work in partnership with them in 2012 at the Lichfield Half Marathon and at the Lichfield Dash in June with a view to extending our arrangement into 2013 and beyond. Kevin Wilson of KP Events
Half Marathon
The start area for the Waitrose Lichfield Half Marathon is King Edwards VI School in Lichfield, this is located on Upper St. John Street, Lichfield, Staffordshire. Post Code for sat nav is WS14 9EE.
There will be plenty of parking at the venue, and signposts will be up. Please use these car parks and do not park on the local streets. Please arrive in good time and "ready to run" as changing is limited and we cannot provide shower facilities for the numbers involved.
Prizes will be awarded as soon as possible after the races. Trophies to first 3 men and first 3 women. Results will be published on the day or soon afterwards. Please note we will be using timing chips, so we can give accurate results. This chip is attached to the back of runners race number.
See map below for the route. Please note this year's half-marathon will start with a rolling road block for the first 2 miles, at the back will be a sweeper vehicle, if runners fall behind this vehicle they'll be expected to run on pavements where possible.
There is a train track crossing on the Half Marathon route and we are working with Network Rail to best manage this crossing on the day. In the unlikely event that trains need to be diverted through this crossing we have a team of timekeepers in place to manage that situation similar to how it is managed at the Leicester Marathon every year.
The finish line for the Half Marathon is situated on Stowe Fields off Stowe Rd near the city centre, Lichfield WS13 6AQ. This is also where our Mini Marathon is to be held. This is only just over a mile walk from the start, and where cars are parked. There is a free return coach service from Stowe Field back to King Edwards School.
The official photography will be provided by www.runner-photos.co.uk
Mini Marathon
The Mini Marathon is 1.3 miles, and is run around Stowe fields and pool, which is the same as finish area for the main Half Marathon. It is very flat, and suitable for all to enter. Very small children would be better accompanied by an adult. The fee is £5.00 and you can enter via our web site, but also can enter on the day. Mini start time is 10.00am.
Very well done to all those involved in the Lichfield Half Marathon 2011. A really great event and very well organised. Very professional with excellent prizes. I was lucky enough to win it this year and would certainly recommend it to others. Patrick Stuart, Mens Winner 2011 Lichfield Half-Marathon.
Read more comments from 2011 runners.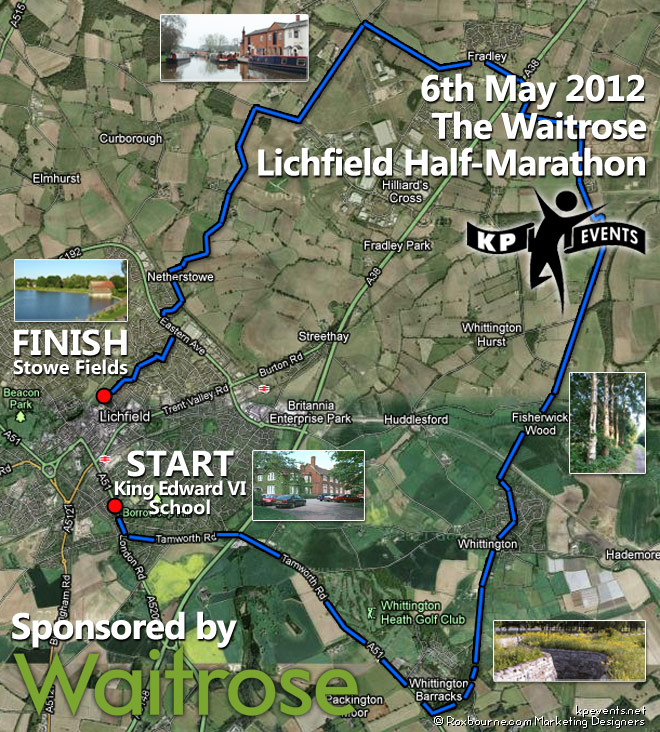 To get you all inspired here is the video and some photos from last year's Lichfield Half Marathon: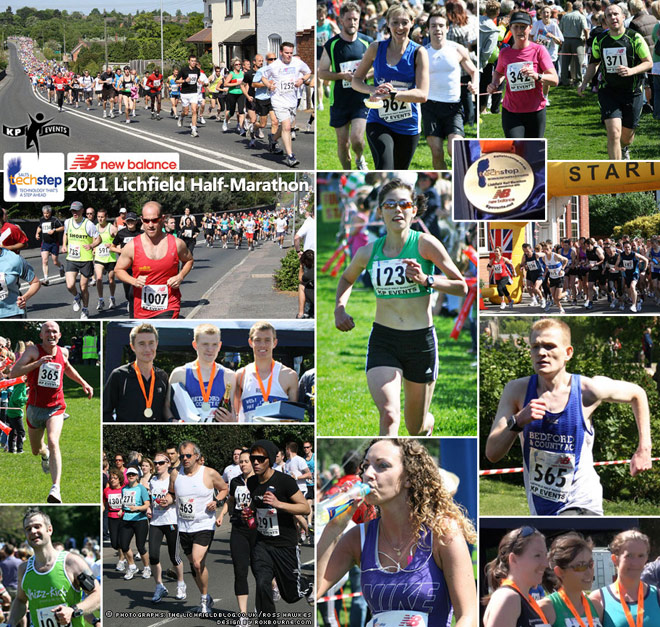 This entry was posted by Alexander on April 29, 2012 at 8:55 am, and is filed under Past Events. Follow any responses to this post through RSS 2.0.Both comments and pings are currently closed.