Results – Sutton Park Super Man – 11th Sept 2011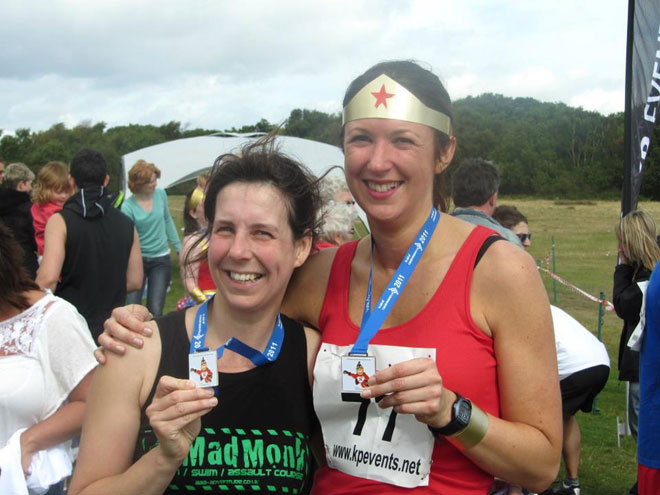 This joint event with Cancer Research WEST MIDLANDS was a new event designed to appeal to men in a similar vein to the very successful RACE FOR LIFE womens' events.
Participants dressed as a Superhero of their choice and had to take on some interesting challenges around the specially designed 9k route of Sutton Park, including wetting stations, cargo nets, steep inclines, woody trails and then run through foam at the finish line.
Well done to all the the runners, fund raisers and everyone else who helped to organise this successful fun run. Over 200 Batmen, Spidermen, Buzz Lightyears, Invincibles, Wonder Women and others braved the windy conditions to raise thousands of pounds for such a good cause.
Kevin Wilson of KP Events was thrilled to be part of a successful first event:
When Cancer enters your life as it has in 2011 with my wife diagnosed with breast cancer, you suddenly discover hundreds of others have had their lives affected by it too and you take heart and find hope in the courage of others who have fought cancer and won, so for me, being involved with Cancer Research has been truly rewarding and only too pleased to see that so much money has been raised.
As this was a fun run for charity, and not a race, there was no time keeping and it was not a requirement as far as Cancer Research were concerned. There was however a large timing clock by the finish line for the runners to record their own time if they wished.
More photos and where to send your sponsorship money…
Please send your sponsorship (cheques made payable to 'Cancer Research UK'), along with any sponsor forms you have used and a cover note detailing your name and address, to:
Richard Puzey,
Sutton Park Super Man event for Cancer Research UK
82 Pentire Road,
Lichfield,
Staffordshire, WS14 9SQ
Email: suttonparksupermanevent@hotmail.co.uk