Results – KP Corporate Kingsbury Water Park 10K – 27th Nov 2011
Results for the Kingsbury 10k 2011, you can also view and purchase official photos of all the runners HERE.
CLAMP TRIUMPHS IN THE KINGSBURY MUD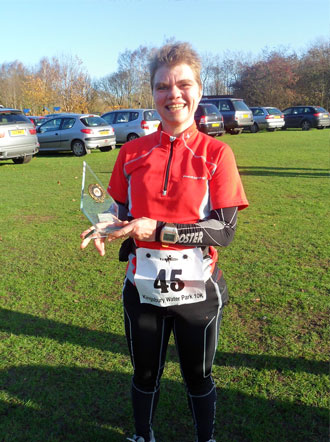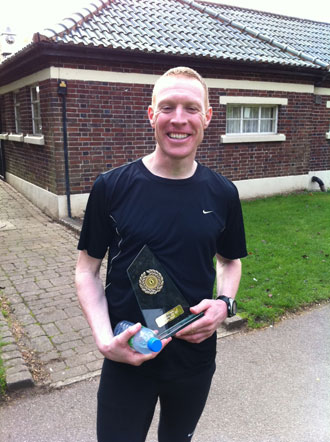 Tipton Harriers veteran athlete Phil Clamp won the second running of the KP CORPORATE KINGSBURY WATER PARK 10K on Sunday Nov 27th in windy but fine conditions on a course that had plenty of muddy paths and wetland areas to make it a testing event for all 300 + who entered.
Clamp, an expert runner in the cross country genre started strongly and gradually eased his way to the front early on and left the others to do the chasing in the vain hope of catching him, but his time of 33:21 was testament to his abilities in tough conditions. First woman home was Ute Baird of Team Raidlight in 43:07.
MEN
1st Phil Clamp  Tipton Harriers   33:21
2nd Alex Benfield   Burton AC  35:01
3rd Sam Chatwin  Unattached 36:50
WOMEN
1st Ute Baird  Team Raidlight  43:07
2nd  Joanna Rooney  Unattached  43:19
3rd  Katy Herridge  Unattached  44:17
CLICK MORE TO SEE FULL RESULTS
| | | | | | |
| --- | --- | --- | --- | --- | --- |
| POSITION | TIME | RACE NO. | NAME | GENDER/AGE | CLUB/TEAM |
| | | | | | |
| 1ST | 33:21:00 | 275 | PHIL CLAMP | M38 | TIPTON HARRIERS |
| 2ND | 35:01:00 | 303 | ALEX BENFIELD | M16 | BURTON AC |
| 3RD | 36:56:00 | 46 | SAM CHATWIN | M34 | |
| 4TH | 36:57:00 | 197 | JON JONES | M41 | |
| 5TH | 37:15:00 | 249 | ANDY HAMMOND | M38 | |
| 6TH | 37:34:00 | 301 | JASON GEORGE | | |
| 7TH | 37:51:00 | 225 | KEVIN GRANGER | M37 | |
| 8TH | 38:11:00 | 241 | PAUL TASKER | M41 | TAMWORTH AC |
| 9TH | 38:41:00 | 297 | MARTIN HARRISON | | |
| 10TH | 38:54:00 | 145 | JAMES JOYCE | M40 | NORTHBROOK AC |
| 11TH | 39:05:00 | 219 | ANDY RICE | M40 | |
| 12TH | 39:22:00 | 15 | NATHAN WARREN | M29 | RUN BRITAIN |
| 13TH | 39:26:00 | 268 | SANDER WERKHAVEN | M | (RACE NO: 268) |
| 14TH | 39:33:00 | 295 | ROBIN CLEGG | M | |
| 15TH | 39:38:00 | 296 | DAMIEN SMITH | M | |
| 16TH | 39:39:00 | 160 | ASHLEY BALDWIN | M27 | PEEL RR |
| 17TH | 39:45:00 | 261 | SIMON GOODWIN | M32 | |
| 18TH | 39:53:00 | 280 | DAVID HEWERTSON | M37 | |
| 19TH | 40:24:00 | 286 | MICHAEL NECAK | M | |
| 20TH | 40:37:00 | 285 | PETER BARZETOVIC | M | |
| 21ST | 40:48:00 | 23 | REX WALSH | M41 | |
| 22ND | 41:21:00 | 309 | CLIFF RICHARDS | M41 | |
| 23RD | 42:07:00 | 138 | CRAIG JINKS | M31 | |
| 24TH | 42:14:00 | 2 | STEVE SNOOK | M46 | |
| 25TH | 42:25:00 | 223 | SIMON WARD | M40 | BURTON AC |
| 26TH | 42:29:00 | 291 | STEVE HOLLIS | M | |
| 27TH | 42:37:00 | 293 | TOM WALTERS | M | |
| 28TH | 42:38:00 | 226 | KEITH GRANGER | M44 | |
| 29TH | 42:54:00 | 216 | ALEX WISEMAN | M39 | |
| 30TH | 43:01:00 | 147 | CHRIS JONES | M37 | NORTHBROOK AC |
| 30TH= | 43:01:00 | 182 | PAUL BURKE | M39 | ALDRIDGE RC |
| 32ND | 43:07:00 | 45 | UTE BAIRD | F44 | Team Raidlight |
| 33RD | 43:15:00 | 253 | MARTIN SILVESTER | M39 | |
| 34TH | 43:19:00 | 20 | JOANNA ROONEY | F27 | |
| 35TH | 43:25:00 | 311 | NICK BAKER | M37 | |
| 36TH | 43:37:00 | 252 | MITCH TIMMS | M53 | |
| 37TH | 43:41:00 | 110 | ADAM WOODWARD | M43 | |
| 37TH | 43:43:00 | 144 | DEAN SHAW | M33 | |
| 38TH | 43:51:00 | 120 | CHRISTOPHER HALLS | M22 | TEAM MINTY |
| 39TH | 44:15:00 | 143 | PAUL MC MAHON | M48 | |
| 40TH | 44:17:00 | 68 | KATY HERRIDGE | F28 | |
| 41ST | 44:18:00 | 28 | KEV BALDRY | M52 | CENTURION RC |
| 42ND | 44:31:00 | 306 | SIMON MOORE | M43 | |
| 43RD | 44:38:00 | 255 | PAUL JEPHCOTT | M54 | BUSHFIELD JOGGERS |
| 44TH | 44:49:00 | 305 | ALAN CAKEBREAD | M52 | |
| 45TH | 44:55:00 | 287 | DEREK BOLTON | M | |
| 46TH | 44:59:00 | 206 | TONY SWEETING | M39 | |
| 47TH | 45:23:00 | 283 | MIKE PAYNE | M54 | |
| 48TH | 45:24:00 | 300 | PHILIP NEALE | M | |
| 49TH | 45:32:00 | 205 | EVA MONCASTER | F36 | REPTON RUNNERS |
| 50TH | 45:58:00 | 155 | MARY HOBIN | F44 | |
| 51ST | 46:02:00 | 298 | DAVID GOULD | M55 | WEST BROM HARRIERS |
| 52ND | 46:06:00 | 169 | GARRY STEVENS | M55 | |
| 53RD | 46:08:00 | 109 | JAMES O'DOWD | M46 | |
| 54TH | 46:10:00 | 262 | PATRICK WING | M59 | PEMBROKE HARRIERS |
| 55TH | 46:11:00 | 158 | DAVID TARONI | M38 | |
| 56TH | 46:15:00 | 184 | STEVEN WALTON | M27 | |
| 58TH | 46:32:00 | 22 | JACK ROSE | M16 | |
| 59TH | 46:35:00 | 188 | BRYN MORGAN | M15 | |
| 60TH | 46:36:00 | 77 | SARAH MORGAN | F40 | |
| 61ST | 46:44:00 | 129 | RICHARD LEAKE | M42 | B.R.A.T. |
| 62ND | 46:49:00 | 111 | SEAN CURRIE | M43 | |
| 63RD | 47:06:00 | 72 | TREVOR SHEPHERD | M56 | |
| 64TH | 47:25:00 | 245 | STEVE HAYWARD | M39 | |
| 65TH | 47:27:00 | 70 | JON STANDEN | M45 | |
| 66TH | 47:30:00 | 154 | JODIE PHILLIPS | M33 | TRIPLE 50 |
| 67TH | 47:32:00 | 161 | STEVE LORD | M35 | |
| 68TH | 47:38:00 | 203 | IAN WATTS | M46 | |
| 69TH | 47:39:00 | 74 | CRAIG SMITH | M39 | |
| 70TH | 47:45:00 | 209 | MARK FOX | M40 | |
| 71ST | 47:48:00 | 175 | JASON DOUGLAS | M34 | |
| 72ND | 48:00:00 | 34 | ANNA GRUSZCZYNSKA | F33 | |
| 73RD | 48:06:00 | 265 | JAN EDWARDS | F55 | |
| 74TH | 48:08:00 | 117 | JADE MOSEY | F32 | |
| 75TH | 48:12:00 | 289 | PAUL COOK | M | |
| 76TH | 48:23:00 | 141 | ADAM DYSON | M32 | |
| 77TH | 48:28:00 | 282 | GEMMA NASH | F | |
| 78TH | 48:30:00 | 220 | JENNY RICE | F47 | |
| 79TH | 48:35:00 | 199 | STEPHEN ALLEN | M40 | |
| 80TH | 48:37:00 | 214 | NIGEL WATKINS | M47 | |
| 81ST | 48:40:00 | 250 | RICHARD HAMMOND | M41 | |
| 82ND | 48:41:00 | 211 | LISA TOWNSEND | F29 | |
| 83RD | 48:45:00 | 148 | KAREN WOODWARD | F36 | |
| 84TH | 48:50:00 | 290 | SEAN MC EVOY | M | |
| 85TH | 48:58:00 | 312 | CHRIS DELEON | M36 | |
| 86TH | 49:00:00 | 276 | DAVE LLOYD | M | |
| 87TH | 49:01:00 | 66 | ROGER FARNSWORTH | M43 | |
| 88TH | 49:02:00 | 87 | DANIELLE DUDLEY | F28 | |
| 89TH | 49:13:00 | 242 | JONATHAN CASEY | M34 | |
| 90TH | 49:14:00 | 230 | ALISON SHAW | F28 | |
| 91ST | 49:16:00 | 231 | NEIL FARRELL | M36 | |
| 92ND | 49:17:00 | 14 | CHRIS ALGAR | M59 | PEEL RR |
| 93RD | 49:22:00 | 208 | MARY GUINA | F39 | |
| 94TH | 49:31:00 | 40 | RICHARD PORTMAN | M50 | |
| 95TH | 49:32:00 | 108 | JONATHAN TILL | M40 | |
| 96TH | 49:37:00 | 271 | ROBERT GILLAN | M54 | |
| 97TH | 49:56:00 | 151 | MALCOLM HURST | M52 | TRIPLE 50 |
| 98TH | 50:01:00 | 248 | IAN HOARE | M51 | |
| 99TH | 50:06:00 | 133 | SIMON BOTT | M34 | |
| 100TH | 50:08:00 | 366 | BRIAN SYMONDS | M69 | |
| 101ST | 50:09:00 | 156 | DAVID HACKETT | M65 | |
| 102ND | 50:16:00 | 140 | KEVIN DAVIES | M49 | ALDRIDGE RC |
| 103RD | 50:20:00 | 35 | EAMONN NALLY | M39 | |
| 104TH | 50:21:00 | 116 | IAN GIRLE | M41 | |
| 105TH | 50:31:00 | 204 | PETER WILDBORE | M46 | |
| 106TH | 50:35:00 | 244 | JONATHAN RAYBOULD | M44 | ALDRIDGE RC |
| 107TH | 50:40:00 | 97 | ANDY JACKSON | M43 | |
| 107TH= | 50:40:00 | 96 | ROB RICHMOND | M39 | |
| 109TH | 50:46:00 | 314 | ALAN WATSON | M50 | |
| 110TH | 50:50:00 | 213 | ROBERT TRAVIS | M62 | |
| 111TH | 50:58:00 | 183 | SARAH VIVIAN | F44 | |
| 112TH | 51:07:00 | 260 | MARTIN WELLBELOVE | M37 | |
| 113TH | 51:24:00 | 134 | LESLEY FULWELL | F42 | PEEL RR |
| 114TH | 51:24:00 | 103 | MICHELLE BOULT | F43 | |
| 115TH | 51:25:00 | 159 | REBECCA TARONI | F34 | |
| 116TH | 51:34:00 | 122 | NICOLE GREGORY | F22 | TEAM MINTY |
| 117TH | 52:00:00 | 201 | KEIRA DOWNES | F24 | |
| 118TH | 52:08:00 | 186 | PAUL ALLEN | M40 | |
| 119TH | 52:20:00 | 127 | NEIL SMALL | M24 | TEAM MINTY |
| 120TH | 52:27:00 | 78 | PAUL TAYLOR | M31 | |
| 121ST | 52:32:00 | 179 | IAN GRIGG | M52 | PEEL RR |
| 122ND | 52:33:00 | 274 | TY TY HANDLEY | | |
| 123RD | 53:03:00 | 267 | SALLY BRAMBLE | F | |
| 124TH | 53:04:00 | 215 | STUART RIMAN | M32 | |
| 125TH | 53:07:00 | 150 | CLIFFORD MC NAULTY | M44 | TRIPLE 50 |
| 126TH | 53:08:00 | 132 | SALLY FAIRHURST | F31 | |
| 127TH | 53:14:00 | 67 | CLAIRE MULVENNA | F29 | |
| 128TH | 53:27:00 | 288 | KYLIE YOUNG | | |
| 129TH | 53:29:00 | 200 | HELEN PARKER | F42 | |
| 130TH | 53:39:00 | 185 | VALERIE LAW | F43 | |
| 131ST | 53:41:00 | 142 | STEPHEN BROOKES | M53 | |
| 132ND | 53:47:00 | 229 | CLAIRE WOOD | F26 | PEEL RR |
| 133RD | 53:57:00 | 162 | JAGDEEP BHOGAL | M28 | |
| 134TH | 54:02:00 | 307 | JENNY MOORE | F40 | |
| 135TH | 54:12:00 | 81 | JENNY LACKNER | F28 | |
| 135TH= | 54:12:00 | 82 | KRIS KELLY | M28 | |
| 137TH | 54:19:00 | 71 | STEPHANIE GREEN | F40 | |
| 138TH | 54:19:00 | 73 | BEN SMITH | M40 | |
| 139TH | 54:22:00 | 124 | NICOLA SUNDERLAND | F31 | |
| 140TH | 54:25:00 | 284 | ANNE DEVENNEY | F | |
| 141ST | 54:26:00 | 281 | LORNA HEWERTSON | F | |
| 142ND | 54:27:00 | 202 | DANIEL WISEMAN | M17 | |
| 143RD | 54:28:00 | 277 | STEVE MAY | M | |
| 144TH | 54:33:00 | 38 | SUZANNE SARGENT | F50 | |
| 145TH | 54:39:00 | 299 | STEVEN CULLEN | M | |
| 146TH | 54:42:00 | 193 | CHRIS HOBBS | M58 | |
| 147TH | 54:44:00 | 5 | HELEN HIPKISS | F42 | |
| 148TH | 54:46:00 | 171 | JO SOUTHAM | F37 | |
| 149TH | 54:49:00 | 236 | PHILIP COOK | M56 | STONE MASTER MARATHONERS |
| 150TH | 54:55:00 | 42 | EDWARD SNOOK | M14 | |
| 150TH= | 54:55:00 | 63 | GRAHAM PINKNEY | M21 | |
| 152ND | 54:57:00 | 126 | NICHOLA SMITH | F23 | TEAM MINTY |
| 153RD | 54:58:00 | 136 | SANDRA GRIESS | F23 | TEAM MINTY |
| 154TH | 55:11:00 | 30 | HELEN BATES | F46 | |
| 155TH | 55:26:00 | 86 | RACHEL SMITH | F | |
| 156TH | 55:27:00 | 269 | ANDREW PRINCE | M | |
| 157TH | 55:29:00 | 157 | LEE CALLENDER | M28 | |
| 158TH | 55:33:00 | 173 | CHERI TOMALIN | F40 | |
| 159TH | 55:39:00 | 165 | SEAN SLOWLEY | M43 | |
| 160TH | 55:44:00 | 39 | VANESSA BAYLISS | F47 | |
| 161ST | 55:51:00 | 192 | LYN HOBBS | F57 | |
| 162ND | 56:03:00 | 41 | JANE PHILLIPS | F39 | |
| 163RD | 56:18:00 | 92 | BOB LAWS | M66 | |
| 164TH | 56:30:00 | 79 | JENNIFER VAUGHAN | F28 | |
| 165TH | 56:33:00 | 308 | UNKNOWN | | |
| 166TH | 56:35:00 | 84 | RUTH KENNEDY-GREEN | F34 | |
| 167TH | 56:36:00 | 221 | RADHIKA MC CATHIE | F36 | |
| 168TH | 56:37:00 | 49 | SHARON GILKES | F44 | |
| 169TH | 56:43:00 | 191 | JANE FELTBOWER | F58 | |
| 170TH | 56:49:00 | 83 | HAZEL MOORE | F39 | |
| 171ST | 56:55:00 | 48 | SARAH THOMAS | F36 | |
| 171ST= | 56:55:00 | 47 | CHRIS THOMAS | M35 | |
| 173RD | 57:03:00 | 251 | CLAIR HAYNES | F29 | |
| 174TH | 57:11:00 | 273 | PAUL CROOKS | M35 | |
| 175TH | 57:56:00 | 292 | AMY UNDERHILL | F | |
| 176TH | 58:00:00 | 26 | KATE ELKIN | F54 | |
| 177TH | 58:16:00 | 218 | SONIA HARRIS | F37 | |
| 177TH= | 58:16:00 | 207 | NICOLA HOGG | F40 | |
| 179TH | 58:17:00 | 210 | CAROLINE STIRLING | F39 | |
| 180TH | 58:26:00 | 91 | LIZ WARDELL | F45 | |
| 181ST | 58:28:00 | 75 | JO MASCARENHAS | F45 | |
| 181ST= | 58:28:00 | 27 | MICHAELA LANNNI | F45 | |
| 183RD | 59:41:00 | 302 | LAURENCE KYD | M74 | |
| 184TH | 01:00:17 | 3 | LAURA SNOOK | F45 | |
| 185TH | 01:00:19 | 29 | ANGELINA DYCHE | F31 | |
| 186TH | 01:00:21 | 246 | ROWENA HAYWARD | F35 | |
| 187TH | 01:00:24 | 315 | LOUISE MITCHELL | F33 | |
| 188TH | 01:00:29 | 152 | KEIRAN CONATY | M42 | TRIPLE 50 |
| 188TH= | 01:00:29 | 153 | KEIRAN FINNERTY | M26 | TRIPLE 50 |
| 190TH | 01:00:31 | 166 | CLAIRE LANE | F34 | |
| 190TH= | 01:00:31 | 304 | JO YARNALL | F42 | |
| 192ND | 01:01:15 | 55 | PHILIP WHITEHEAD | M33 | |
| 193RD | 01:01:21 | 313 | LINDA THOMAS | F51 | |
| 194TH | 01:01:32 | 24 | ROBERTA EVANS | F40 | |
| 195TH | 01:01:58 | 135 | MANDY HANSON | F42 | PEEL RR |
| 196TH | 01:02:30 | 125 | ALEXANDRA HORSLEY | F29 | |
| 197TH | 01:02:45 | 263 | TRACY ELSDON | F34 | |
| 197TH= | 01:02:45 | 264 | BARBARA HUNT | F34 | |
| 199TH | 01:03:19 | 256 | CRAIG GIBSON | M36 | |
| 200TH | 01:03:34 | 11 | LAURA BUNN | F32 | |
| 201ST | 01:04:07 | 174 | BRIAN TOMALIN | M52 | |
| 202ND | 01:04:13 | 115 | MONICA FRANCE | F38 | |
| 203RD | 01:04:18 | 212 | CAROLINE EVANS | F52 | |
| 203RD= | 01:04:18 | 222 | ALISON ROUND | F37 | |
| 203RD= | 01:04:18 | 217 | GILL STOKES | F47 | |
| 206TH | 01:04:27 | 228 | ANN-MARIE PRINCE | F36 | |
| 207TH | 01:04:29 | 272 | SOPHIE CAPPUYNS | F42 | |
| 208TH | 01:04:29 | 64 | CARRIE GIBSON | F30 | |
| 209TH | 01:04:31 | 65 | IAN GIBSON | M33 | |
| 210TH | 01:04:42 | 54 | ALLISON WHITEHEAD | F39 | |
| 211TH | 01:04:55 | 257 | ASAKO SHINOHARA | F36 | |
| 212TH | 01:04:57 | 163 | HARVINDER BHOGAL | F29 | |
| 213TH | 01:05:09 | 112 | JO CURRIE | F33 | |
| 214TH | 01:05:20 | 43 | JANET BRAYLEY | F58 | |
| 214TH= | 01:05:20 | 137 | ALAN BRAYLEY | M64 | |
| 216TH | 01:05:26 | 89 | PETER CARMAN | M49 | |
| 217TH | 01:05:35 | 88 | SALLY WETTON | F45 | |
| 218TH | 01:05:45 | 270 | TIM HOARE | M44 | |
| 219TH | 01:05:58 | 6 | MATTHEW HIPKISS | M14 | |
| 220TH | 01:06:12 | 187 | ESTHER WEAVER | F32 | |
| 221ST | 01:06:20 | 33 | DANIELLE WATTISON | F25 | |
| 221ST= | 01:06:20 | 32 | DEAN WATTISON | F40 | |
| 223RD | 01:07:24 | 121 | CLAIRE PARFITT | F22 | TEAM MINTY |
| 224TH | 01:07:52 | 181 | DIANE BURKE | F48 | |
| 225TH | 01:10:59 | 294 | NAOKO GIBBS | | |
| 225TH= | 01:10:59 | 69 | LAURA STEWARD | F32 | |
| 227TH | 01:12:32 | 278 | IAN WESTBURY | M | |
| 228TH | 01:12:33 | 279 | CRAIG MAY | M | |
| 229TH | 01:13:28 | 58 | HAYLEY CAMPBELL | F29 | |
| 230TH | 01:13:42 | 57 | VICKI JEYNES | F26 | |
| 230TH= | 01:13:42 | 310 | MELISSA MICHAELS | F27 | |
| 232ND | 01:20:19 | 60 | MELANIE KAMDAH | F28 | |