Results and Photos – Xtreme Challenge – 5th Feb 2012
SNOW JOKE AS HALL ROMPS HOME
The Xtreme Challenge held on Sunday February 5th at the Catton Hall Estate near Alrewas attracted a field of 200+ entrants and the arctic conditions caused by up to 3 inches of snow on the Saturday before only served to encourage more effort and human bravado from the exertions of the hardy runners that took part.
The course, an approximate 10k in length consisted of a 2 lap circuit of the estate grounds and was made up of steep gradients, deadly declines, wicked man-made obstacles more suited for equine athletes, tunnels, 12 foot high hay bales, icy water that saw some athletes have to virtually skate over, but as things 'warmed up' others had to wade through up to their chests and all laced with that magic ingredient… deep snow!!


First person home was Uttoxeter RR athlete Robert Hall, second last year but now triumphant in a time of 39:15, the only sub 40 min runner in the field. He was chased home by Alistair Gorrie who finished in 40:29 with Jacob Fry coming in third in 41.21.
First of the many women taking part was Stafford Triathlon Club's Jen Seager in 50:49 who finished in front of Hallamshire Harriers' Emily Morton in 52:46 with Joanna Rooney third in 53:24. A special well done to Dan Gibson aged 13, who came 29th!
Kevin Wilson (of organisers KP Events) was delighted with such a good turn out on such a bitterly cold and snowy morning:
"On Saturday night before as the blizzard raged we thought did we want to postpone it but people were calling, texting, emailing us and everyone said to carry on with it if we could, it was after all an Xtreme event, and boy the challenge was Xtreme indeed. We are seriously looking at another similar but even more extreme event at the same venue, so watch this space"
Photos from Xtreme Challenge 2012
You can view and purchase photos of this event HERE. Just send an email to griffking96@aol.com telling us which photos you would like (the IMG numbers).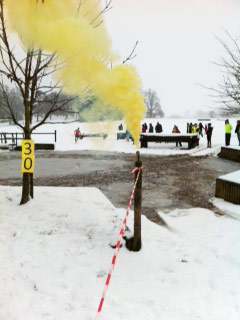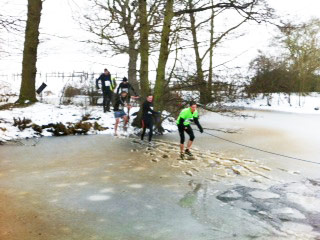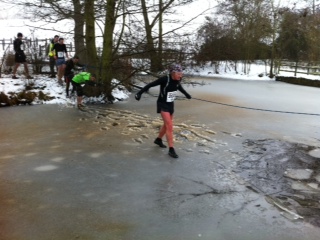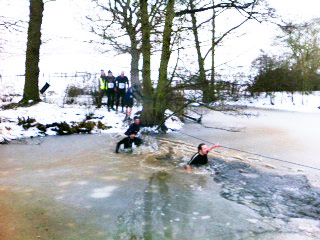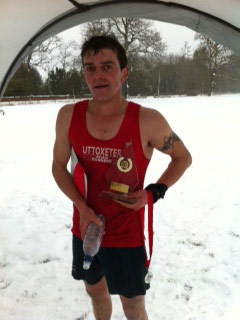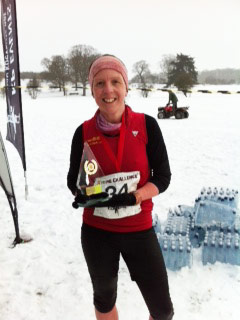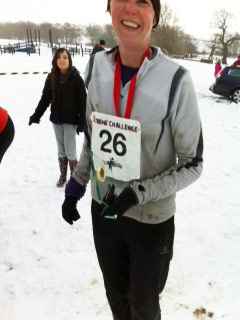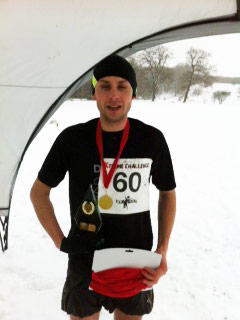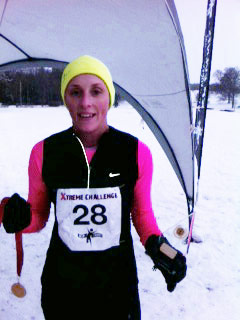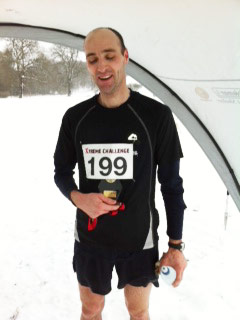 | | | | | | |
| --- | --- | --- | --- | --- | --- |
| POSITION | TIME | RACE No. | NAME | GENDER/AGE | CLUB/TEAM |
| 1ST | 39:15:00 | 20 | Robert Hall | M/28 | Uttoxeter R.R. |
| 2ND | 40:29:00 | 60 | Alistair Gorrie | M/34 | |
| 3RD | 41:21:00 | 199 | Jacob Fry | M | |
| 4TH | 44:26:00 | 96 | James Barlow | M/28 | |
| 5TH | 44:29:00 | 70 | Marc Wrigley | M/43 | Hatton Darts |
| 6TH | 45:36:00 | 29 | Scott Ballinger | M/36 | |
| 7TH | 45:42:00 | 203 | Neil Caswell | M | |
| 8TH | 46:39:00 | 124 | Eamon O'Hanlon | M/46 | Burton A.C. |
| 9TH | 46:41:00 | 12 | Steve Brown | M/40 | |
| 10TH | 47:31:00 | 214 | Jon White | M | |
| 11TH | 47:37:00 | 74 | Mike Stokes | M/47 | |
| 12TH | 48:04:00 | 193 | Simon Ward | M/41 | |
| 13TH | 48:04:00 | 9 | Justin Trotman | M/41 | |
| 14TH | 48:10:00 | 30 | Richard Cash | M/45 | |
| 15TH | 48:14:00 | 84 | Paul Matthews | M/38 | |
| 16TH | 48:20:00 | 47 | Michael Hyde | M/44 | |
| 17TH | 48:52:00 | 71 | Rob Clark | M/42 | |
| 18TH | 48:55:00 | 155 | Joe Sawyer | M/34 | |
| 19TH | 48:56:00 | 180 | James Coombes | M/26 | |
| 20TH | 49:29:00 | 88 | Neil Handley | M/43 | |
| 21ST | 49:39:00 | 165 | Richard Cowton | M/36 | |
| 22ND | 49:56:00 | 55 | Thomas Halcarz | M/27 | |
| 23RD | 50:23:00 | 201 | David Taroni | M | |
| 24TH | 50:49:00 | 34 | Jen Seager | F/34 | Stafford Triathlon |
| 25TH | 50:50:00 | 35 | Ben Foster | M/35 | Stafford Triathlon |
| 26TH | 51:33:00 | 49 | Paul Burke | M/39 | Aldridge R.C. |
| 27TH | 51:33:00 | 101 | Martin Winstanley | M/39 | |
| 28TH | 51:56:00 | 92 | Jack Rose | M/17 | |
| 29TH | 52:38:00 | 85 | Dan Gibson | M/13 | |
| 30TH | 52:39:00 | 76 | Steve McKendrick | M/47 | |
| 31ST | 52:42:00 | 25 | Luke Morton | M/44 | |
| 32ND | 52:43:00 | 118 | Alan Watson | M/50 | |
| 33RD | 52:44:00 | 83 | Andrew Windle | M/29 | |
| 34TH | 52:44:00 | 26 | Emily Morton | F/40 | Hallamshire Harriers |
| 35TH | 52:55:00 | 125 | Peter Rix | M/46 | |
| 36TH | 53:12:00 | 11 | Craig Smith | M/39 | |
| 37TH | 53:13:00 | 7 | Daniel Vines | M/35 | |
| 38TH | 53:19:00 | 215 | Karl Auley | M/32 | |
| 39TH | 53:24:00 | 28 | Joanna Rooney | F/27 | |
| 40TH | 54:05:00 | 143 | Laura Appleby | F/29 | |
| 41ST | 54:35:00 | 43 | Garry Sailsman | M/43 | |
| 42ND | 55:14:00 | 105 | Nick Reidy | M/42 | |
| 43RD | 55:33:00 | 200 | Phil Smith | M | |
| 44TH | 55:37:00 | 166 | Danny Wan | M/28 | |
| 45TH | 55:48:00 | 97 | Paul Clenton | M/38 | |
| 46TH | 55:55:00 | 75 | Brennan Gray | M | |
| 47TH | 56:11:00 | 87 | Barrett Franklin | M/42 | |
| 48TH | 56:13:00 | 116 | Gareth Jones | M/31 | |
| 49TH | 56:41:00 | 106 | Adrian Hitchin | M/30 | |
| 50TH | 57:40:00 | 38 | Malcolm Ward | M/47 | |
| 51ST | 57:42:00 | 205 | Kevin Marsh | M | |
| 52ND | 57:47:00 | 145 | Simon McGreavy | M/33 | |
| 53RD | 57:52:00 | 146 | Matthew Lloyd | M/33 | |
| 54TH | 57:53:00 | 44 | Gareth Huges | M/30 | |
| 55TH | 57:57:00 | | UNKNOWN | | |
| 56TH | 58:02:00 | 113 | John Paul Harpin | M/35 | |
| 57TH | 58:08:00 | 152 | Michelle Boult | F/43 | |
| 58TH | 58:23:00 | 98 | Paul Rollins | M/33 | |
| 59TH | 58:25:00 | 42 | Heidi Hunt | F/38 | |
| 60TH | 59:17:00 | 204 | Jonathan Neachell | M | |
| 61ST | 59:31:00 | 126 | Steve Burr | M/52 | |
| 62ND | 59:33:00 | 135 | Andy Hough | M/47 | |
| 63RD | 59:39:00 | 54 | Abigail Halcarz | F/25 | |
| 64TH |   01.00:36 | 53 | Lynda Revill | F/55 | |
| 65TH |   01.00:47 | 173 | Tim Maundrell | M/24 | |
| 66TH |   01.00:52 | 31 | Ruth Dickson | F/33 | |
| 67TH |   01.02:17 | 207 | Gareth Roberts | M | |
| 68TH |   01.03:03 | 168 | Alex Robinson | F/44 | |
| 69TH |   01.03:03 | 169 | Sam Skelton | F/39 | |
| 70TH |   01.03:04 | 103 | Angela Clark | F/47 | |
| 71ST |   01.03:04 | 131 | Peter Jones | M/35 | |
| 72ND |   01.03:10 | 182 | Chris Wilson | M/30 | |
| 73RD |   01.03:11 | 211 | James Wilson | M/32 | |
| 74TH |   01.03:12 | 188 | Alex Wilson | M/22 | |
| 75TH |   01.04:29 | 174 | Shaun Phillips | M/38 | |
| 76TH |   01.04:49 | 163 | Symone Day | F/42 | |
| 77TH |   01.04:57 | 162 | Lisa Wright | F/33 | |
| 78TH |   01.05:01 | 130 | Gary Conway | M/35 | |
| 79TH |   01.05:25 | 66 | John Hanson | M/50 | Peel R.R. |
| 80TH |   01.05:37 | 142 | Alan Pallett | M/43 | |
| 81ST |   01.05:54 | 213 | Tracey Taylor | F | |
| 82ND |   01.06:00 | 176 | Heather Cliffe | F/36 | |
| 83RD |   01.06:10 | 82 | Matthew Leech | M/40 | |
| 84TH |   01.06:55 | 153 | Norman Harding | M/63 | Barrow Runners |
| 85TH |   01.07:09 | 68 | Ian Grigg | M/52 | Peel R.R. |
| 86TH |   01.07:19 | 21 | Sarah Brown | F/41 | |
| 87TH |   01.07:19 | 198 | Sarah Henson | F/42 | |
| 88TH |   01.08:26 | 189 | Fiona Hamilton | F/34 | RAF Triathlon |
| 89TH |   01.08:26 | 190 | Douglas Hamilton | M/45 | |
| 90TH |   01.08:49 | 207 | Gareth Roberts | M | |
| 91ST |   01.09:00 | 164 | Nikita Mirosin | M/22 | |
| 92ND |   01.09:05 | 33 | Adam Kesterton | M/26 | |
| 93RD |   01.11:32 | 144 | Toby Verriour | M/41 | |
| 94TH |   01.11:32 | 107 | Juliet Halfhead | F/37 | |
| 95TH |   01.11:56 | 208 | Anna Riley | F | |
| 96TH |   01.11:56 | 202 | Carolyn Caswell | F | |
| 97TH |   01.13:00 | 18 | Katharine Harper | F/38 | |
| 98TH |   01.13:00 | 154 | Diana Glover | F/47 | |
| 99TH |   01.16:18 | 57 | Sue Fairburn | F/39 | Peel R.R. |
| 100TH |   01.16:18 | 52 | Marcus Fairburn | M/34 | Peel R.R. |
| 101ST |   01.16:18 | 65 | Tracy Elsdon | F/35 | Peel R.R. |
| 102ND |   01.16:39 | 185 | Wayne Kelleher | M/41 | |
| 103RD |   01.16:39 | 148 | Rachel Swailes | F/31 | |
| 104TH |   01.17:03 | 51 | Ian Price | M/51 | |
| 105TH |   01.17:07 | 127 | Jeanette Rotchell | F/43 | |
| 106TH |   01.17:15 | 99 | Victoria Radcliffe | F/28 | |
| 107TH |   01.17:15 | 100 | Ross Murray | M/30 | |
| 108TH |   01.20:34 | 86 | Andy Gibson | M/50 | |
| 109TH |   01.20:39 | 192 | Heidi Elliott | F/38 | |
| 110TH |   01.23:47 | 133 | Billy Cliffe | M/37 | |
| 111TH |   01.25:25 | 149 | Margaret Leedhan | F/52 | |
| 112TH |   01.25:25 | 212 | Sean O'Brien | M | |
| 113TH |   01.27:10 | 209 | Anna Robey | F/31 | |
| 114TH |   01.27:10 | 210 | Chris Robey | M/30 | |
| 115TH |   01.29:01 | 114 | Anthony Doolan | M/24 | |
| 116TH |   01.29:01 | 111 | Stuart Rowley | M/32 | |
| 117TH |   01.31:49 | 196 | David Wright | M/33 | |
| 118TH |   01.31:49 | 195 | Sue Wright | F/31 | |
| 119TH |   01.31:49 | 160 | Michelle Greenfield | F/33 | |
| 120TH |   01.32:14 | 120 | Kenneth Herr | M/55 | |
Late starter 00:52:59 No.41 Georgios Partsinevlos M/31 (arrived on a motorbike having traveled from Newcastle upon Tyne this morning)