Results – Florette Fradley 2k and 10k March 11th 2012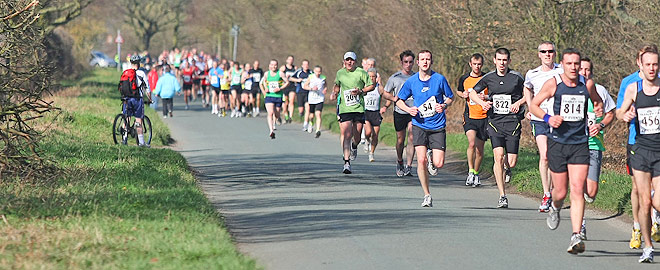 Click here to see the 10k race results. Click MORE to see the results of the 2k. Click here to see Fradley 3/2012 PHOTOS. Over 860 runners took part in the Florette Fradley 10k on Sunday March 11th 2012 – a 20% increase on last year.
Royal Sutton AC athlete Nick Corker lead a record field of nearly 900 athletes home last Sunday (March 11th) in the FLORETTE FRADLEY 10K. Corker set a fast pace from the start and was always in the front two as he and Ashley Hurdman were together at the end of the first lap but Corker then eased away to win in a time of 32:37 with Hurdman second in 33:20 and Richard Whitelegg of Hinckley AC in 3rd at 33:32. First woman home was Long Eaton RC's Sarah Harris in 35:36 finishing a very creditable 16th overall and she was followed by Derby AC athlete Rachel Olivant in 38:08 with Foxy Dawson 3rd in 38:13. In the Florette Fradley Junior 2k, the race was won by Harry Whitelake in 8:02, first girl home was Lucy Harris in 8:30.
Kevin Wilson of organizers KP Events was delighted to see how popular the event has become: "Entries were 20% up on 2011 which in turn was a record entry in itself so it's good to see Fradley being on the map so to speak and great for Florette to be seen in such a positive light as sponsors, the bag and water bottle given to every participant was a very popular move".
Mercury reader Heath Rhodes finished his first ever 10k in 1hr 8mins and he had a great time and enjoyed the experience:"I have to say the Lichfield Health Club have been priceless with advice and training techniques. Normally I would have had to pay a personal trainer for this service and the club consider it part of their basic service. On Sunday I pulled up at Fradley and went straight to the Hall to register. All was very quick and professional helped along by great weather and really friendly people. I'd got new running shoes and was armed with Ministry of Sound 'Back to the Old School' on my a borrowed iPod. I started and remembered the advice of not starting to quick. I have to say that after 2K I felt really breathless. I took my headphones off and realised that everyone was breathing very similarly which made me feel like I wasn't totally unfit. Anyway I really got into my stride and got a great buzz on coming down the first 5km straight to where everyone was cheering. By about 7k I really had got into my stride and although breathless, I was not gasping like some. I did have to walk a bit because my iPod kept playing the same tune over and over and I had to try and get it off repeat. At the end I felt great – almost euphoric, it was a real buzz I have to say. I have loved the experience. I must also say a word about how fantastic the event is for Fradley and how patient Fradley people were with the traffic and the roads being blocked by people of all sorts of shapes and sizes doddering along. Respect to the those that lapped me who must of finished at around 30 to 40 minutes. Incredible. Great day and very well organised – I can see how people get addicted".
Fradley 2k Results March 2012.
Click here to see the 10k race results
| | | | | |
| --- | --- | --- | --- | --- |
| Position | Time | Race No. | Name | Gender |
| | | | | |
| 1st | 08:02 | 276 | Harry Whitelake | M |
| 2nd | 08:06 | 282 | Michael Butler | M |
| 3rd | 08:16 | 260 | Calvin Atkinson | M |
| 4th | 08:30 | 275 | Lucy Harris | F |
| 5th | 08:45 | 277 | Ellen Shore | F |
| 6th | 08:50 | 259 | Libby Dunne | F |
| 7th | 09:03 | 269 | Sam Mycroft | M |
| 8th | 10:02 | 261 | Gurman Marwa | M |
| 9th | 10:52 | 273 | Poppy Mead | F |
| 10th | 11:01 | 268 | Leyla Atkinson | F |
| 11th | 11:21 | 274 | Katie Mead | F |
| 12th | 11:50 | 278 | Jake Bailey | M |
| 13th | 11:52 | 280 | Millie Gibbons | F |
| 14th | 12:19 | 253 | Niamph Denver | F |
| 15th | 12:20 | 254 | Izzy Otton | F |
| 16th | 12:24 | 251 | Poppy Denver | F |
| 17th | 12:25 | 250 | Laura Denver | F |
| 18th | 12:29 | 284 | Unknown | |
| 19th | 12:29 | 283 | Unknown | |
| 20th | 12:38 | 279 | Evie Gibbons | F |
| 21st | 13:07 | 263 | Angie Richardson | F |
| 22nd | 13:11 | 264 | Helen Thorpe | F |
| 23rd | 13:27 | 258 | Donna Bott | F |
| 24th | 13:28 | 257 | Teresa Russell | F |
| 25th | 16:54 | 256 | Neve (?) Collins | F |
| 26th | 16:55 | 255 | Chris Collins | M |
In addition there were a number of late starters:-
| | | | | |
| --- | --- | --- | --- | --- |
| | 07:54 | 271 | Myles O'Hanlon | M/10 |
| | 08:10 | 270 | Mollie O'Hanlon | F/11 |
| | 13:00 | 272 | Caydon Fairburn | M/6 |
| | 15:20 | 281 | Zoe Rippon | F/11 |