News – WHITEHOUSE BACK FOR DASH BATTLE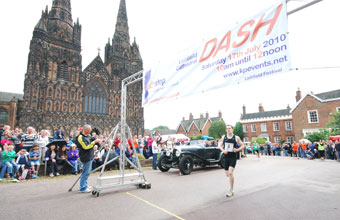 2010 Florette Lichfield Dash winner James Whitehouse of Birchfield Harriers ( pic attached) is back to endeavour to win the title back at this year's event of Saturday June 30th in Cathedral Close Lichfield.
The Dash is taking place on the day that the Olympic Torch comes to the city and the Torch arrives in Cathedral Close at 9.30am approx and is then followed at 10am by the programme of support races leading to the 14th staging of the unique Florette Lichfield Dash at 12 noon.
The prospect of last year's winner Elliot Giles also of Birchfield Harriers not making it due to an Achilles injury is sure to make Whitehouse a hot favourite to regain his crown and win the special £100 prize for the winner something the Birchfield Harrier will find very appealing and with Olympic 400m Silver Medallist Roger Black also in attendance as an ambassador for sponsors Florette, Kevin Wilson of organisers KP Events is sure that the 2010 winner will be pumped up to win back the Dash crown;
I'm sure James will be completely focused on winning this special Dash event in Olympic Year and we simply had to have a cash prize on offer to attract a quality field and also offer an extra initiative in such a special year too. which we'll announce in full next week, but he'll be up there as a favourite with Elliot at best a 50%50 chance of being fit. Having Roger Black in attendance will be very special and crowds are predicted to be huge to welcome the Torch before we start so the challenge to us is to keep the crowds in The Close till the Dash is over, we have some special plans to do just that!
Entries for all the support races at the Florette Lichfield Dash from 10am onwards are now available for junior sprints, 400m, Elite Senior Mile and junior and senior relays too, fees are £2.50 for junior events and between £5 and £20 a team for the relays. All monies raised on the day will go the WeLoveLichfield Fund Charity.
As well as the athletics at the Dash there will be street dancing displays by the youngsters at the Elite School of Performing Arts in the city, displays by the Tennis Freestyle Team a new and exciting innovations taking Tennis onto the Street, and then other coaching activities and a sponsored bikeathon with staff from Lichfield Health and Fitness Club.