Results – The Florette Lichfield Dash 30th June 2012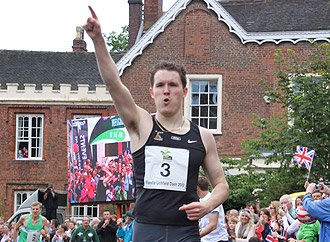 WHITEHOUSE TRIUMPHS AS CROWDS REACH RECORD LEVELS
The Florette Lichfield Dash attracted records crowds on the day the Olympic Torch and Olympic legend Roger Black came to Lichfield and the bumper audience were treated to a race where 2010 winner James Whitehouse of Birchfield Harriers was able to erase the memories of his narrow defeat by club mate Elliot Giles last year and breeze home first and just beat the 12 noon chimes into the bargain.
As in 2010, Cannock and Stafford athlete Ashley Wickett pushed Whitehouse all the way after challenging on the bend coming into the home straight of Cathedral Close but he was always struggling to catch the Birchfield flyer and such was the herculean effort Wickett collapsed near the finish line but was able to recover and cross the line in second place. Latvian athlete Andis Grindialis was third and promising young female athlete Ellie Howat was fourth.
Olympic silver 400m medallist in 1996 Roger Black, was able to attend the events in The Close all morning on behalf of sponsors Florette, and he was involved signing autographs, giving tips to junior athletes and starting the main Dash itself before presenting Whitehouse with the Olympic inspired 3 Spire Dash trophy created by Lichfield's own world-renowned Arthur Price Ltd.
Results from the day
FLORETTE LICHFIELD DASH 2012
1 James Whitehouse (Birchfield Harriers) 58.2 (within chimes)
2 Ashley Wickett (Cannock & Stafford AC)
3 Andis Grindialis (Latvia)
4 Ellie Howat (Birchfield Harriers)
Savvy Marketing Junior Sprint Series
U8s 1 Jack Oates 2 Francesca Tooth 3 Lanson Bridges U10s 1 Archie Johnson 2 Jack Taylor 3 Will Johnson
U12s 1 Katie Sansoni 2 Unknown 3 Alice Mellor
U15s 1 Aiden Hogan
Waitrose Lichfield Junior 400m Series
U8s 1 Jack Oates 2 Max Beveridge 3 Francesca Tooth
U10s 1 James Mackenzie 2 Archie Johnson 3 Ellie Turner (first girl)
U12s 1 Katie Sansoni 2 Ryan Green 3 Alice Mellor U15s 1 Kieran Morboys 2 Katie Wickett
CTC Physiotherapy Man v Bike
Will Penn (Bike) beat Jack Childs by 2 seconds
Colliers Jaguar Invitation Mile
1 Phil Clamp (Tipton Harriers)
Dains Fun Relay
1 Lichfield Friary Tennis Club
Eezee Gym Club Relay
1 Birchfield Harriers
KP Events apologises for any discrepancies in results