NEWS – KINGSBURY WATER PARK 10k IS ON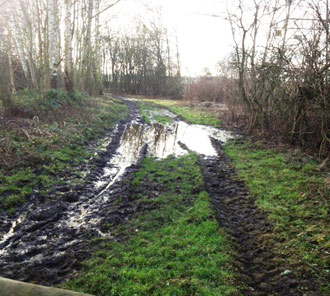 This Sunday's (January 6th 10.30a.m) KINGSBURY WATER PARK 10K event is scheduled to go ahead as planned.
We have visited the venue again today (Thursday January 3rd) and cycled and run the route to have a better idea as to how conditions were underfoot and although the route is very wet and very muddy on the offroad sections, generally the situation overall is best summed up in the adjective 'CHALLENGING' !!!
By far the worst section on the whole course is a 200m long off road area just after the start (reprised early on lap 2) which is extremely boggy (see photo above) and unavoidable, we recommend wearing off road/fell shoes if possible for the whole event if you can, you will probably find that you will be 'bogged down' literally on some sections so please be prepared.
We will update the website again between now and Sunday if we have any more information later that we think is relevant.
To reiterate there are two minor consequences of the weather will affect the event. Firstly, some overspill car parking areas may be out of use due to the wetness of the grass but the Park now has new parking areas available so we are confident there is enough space to park vehicles but watch out for signs to any parking restricted areas.
Secondly, we won't finalise the route until as close as possible to the event date (6th) to allow all the route we follow to dry out as much as possible, it may well be that there areas where we won't be able to use, if this is the case it may be that the route is slightly under or over the 10k distance, we will announce this on the morning. Please understand that we are pleased that all areas are accessible for runners but that one or two minor aspects of the route may not be and we'll need to adjust the final route accordingly.
Finally, entries will be accepted on the day, please arrive at 9.30am or before, new runners who have registered to run on Sunday can collect their race number from the registration desk on the day.
Thank you for your patience, understanding and support.
KP Events wishes all our customers, friends and colleagues, a very happy 2013 and please visit our website regularly and read our e-newsletters because we have plenty of positive news to announce in the weeks and months to come, 2013 will be an exciting year for the team at KP Events!!!