Results – Kingsbury Water Park 10k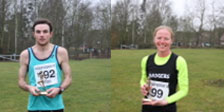 2 Bournville Harriers triumphed at the CTC PHYSIOTHERAPY KINGSBURY WATER PARK 10K on Sunday 6th Jan with Sam Chatwin (pictured) taking the prize in the very wet and muddy conditions in a creditable time of 39:07 secs ahead of his team mate Bradlee Todd who was second home in 39:45.
First female home was Nivette Mullan in 44:17 (pictured) followed home by Ute Baird who was second female home in 44:39. Kevin Wilson of KP Events paid tribute to all the runners who turned up and took part round such a challenging course; "Conditions underfoot were just dreadful today, we had kept runners aware of the conditions through the website regularly so everyone came prepared for mud, sweat and more mud, but people were very resilient and vast majority had a good run and left happy to have got their first run in 2013 out of the way!!"

VIEW and PURCHASE PHOTOS: Kingsbury Water Park 10k Jan 2013. Follow the link, locate images that interest you and purchase prints online. As well as ordering prints you can turn them into a wide variety of memorabilia including, postcards, mugs, mouse mats, canvas prints, coasters, iPhone cases and a whole lot more.
Here are the full set of results from today's (January 6th) CTC PHYSIOTHERAPY KINGSBURY WATER PARK 10k:
| | | | |
| --- | --- | --- | --- |
| Number | Name | Time | |
| 192 | Sam Chatwin | 39:07:00 | 1st Male |
| 291 | Bradlee Todd | 39:55:00 | 2nd Male |
| 206 | Damien Taylor | 41:26:00 | 3rd Male |
| 297 | Chris Glen | 42:22:00 | |
| 246 | Mark Stokes | 42:41:00 | |
| 292 | Mike Shelton | 24:44:00 | |
| 296 | Jon Mould | 43:04:00 | |
| 194 | David Southwell | 43:40:00 | |
| 99 | Nivette Mullan | 44:17:00 | 1st Female |
| 238 | Peter Dennett | 44:34:00 | |
| 286 | Ute Baird | 44:39:00 | 2nd Female |
| 197 | Stephen Rooks | 44:49:00 | |
| 185 | Steve Snook | 44:58:00 | |
| 293 | Garath Mason | 45:13:00 | |
| 164 | Tom Price | 45:44:00 | |
| 298 | Jon Price | 45:46:00 | |
| 188 | James Dyer | 45:58:00 | |
| 122 | Matthew Bragg | 46:25:00 | |
| 191 | Andrew Price | 46:45:00 | |
| 199 | Jason Fisher | 46:46:00 | |
| 115 | Carl Holyoak | 46:49:00 | |
| 224 | Jon Hartland | 47:05:00 | |
| 123 | Steve Jones | 47:08:00 | |
| 213 | Mark McCann | 47:18:00 | |
| 140 | Andy Lines | 47:21:00 | |
| 56 | Dominic Ashton | 47:32:00 | |
| 59 | Malcolm Ward | 47:49:00 | |
| 243 | Craig Mitchell | 47:50:00 | |
| 227 | Gary Bailey | 47:52:00 | |
| 274 | Olivia Stacey | 48:01:00 | 3rd Female |
| 279 | David Jackson | 48:28:00 | |
| 116 | Gary Woodhouse | 48:28:00 | |
| 218 | Richard Lewis | 48:37:00 | |
| 189 | Joanna Rooney | 48:41:00 | |
| 95 | John Morgan | 48:49:00 | |
| 79 | Angelique Mellor | 48:51:00 | |
| 216 | Monica Lampart | 48:58:00 | |
| 271 | Adie Kirkham | 49:10:00 | |
| 98 | Elizabeth Peel | 49:17:00 | |
| 106 | Neal McCathie | 49:21:00 | |
| 250 | Richard Hill | 49:28:00 | |
| 77 | Jonathan Green | 49:31:00 | |
| 289 | Claire Lunt | 49:39:00 | |
| 201 | Brad Lockwood | 49:42:00 | |
| 231 | David Henley | 49:44:00 | |
| 255 | Nick Hanson | 49:56:00 | |
| 172 | Mary Hobin | 50:04:00 | |
| 221 | Ian Stafford | 50:06:00 | |
| 121 | Craig Jinks | 50:09:00 | |
| 220 | Michael Russel | 50:47:00 | |
| 141 | Andrew Greaves | 50:48:00 | |
| 142 | Robert Green | 51:03:00 | |
| 132 | Serena Baker | 51:20:00 | |
| 147 | Samantha Bourne | 51:42:00 | |
| 91 | Mark Barnett | 52:04:00 | |
| 235 | Inna Atkinson | 52:25:00 | |
| 186 | John Fallows-smith | 52:33:00 | |
| 24 | Lorna Hewertson | 52:47:00 | |
| 223 | Dawn Foster | 53:28:00 | |
| 266 | Philip Cooke | 54:43:00 | |
| 177 | Toni Stokes | 54:47:00 | |
| 215 | Robert Gillan | 54:54:00 | |
| 124 | Alex Wayne | 54:55:00 | |
| 256 | Mick Wilson | 55:01:00 | |
| 148 | Clive Fenn | 55:04:00 | |
| 290 | Madaline Peacock | 55:05:00 | |
| 114 | Ayden Underwood | 55:17:00 | |
| 277 | Mike Johns | 55:32:00 | |
| 283 | ?? | 55:43:00 | |
| 242 | Chris Davies | 55:49:00 | |
| 100 | Ben Mullan | 55:52:00 | |
| 211 | Chris Hobbs | 56:14:00 | |
| 198 | Katherine Bradley | 56:16:00 | |
| 88 | Patrick Cleall | 56:17:00 | |
| 260 | Martyn Candy | 56:28:00 | |
| 272 | Karen Stangoe | 56:28:00 | |
| 237 | Jon Astbury | 56:47:00 | |
| 28 | Edward Morris | 57:26:00 | |
| 245 | Daniel Watson | 57:32:00 | |
| 138 | Christopher Price | 57:37:00 | |
| 156 | Michelle Boult | 57:45:00 | |
| 223 | Matt Dixon | 57:46:00 | |
| 11 | Claire Jones | 57:59:00 | |
| 21 | Craig Barratt | 58:03:00 | |
| 20 | Kathryn Wil | 58:03:00 | |
| 50 | Charlotte Hewer | 58:26:00 | |
| 83 | Rachel Howe | 58:32:00 | |
| 196 | Lisa Shapter | 58:59:00 | |
| 110 | Sharon Rowley | 59:10:00 | |
| 5 | Kirsty Johnston | 59:20:00 | |
| 157 | Beth Hanson | 59:25:00 | |
| 96 | Jason Holden | 59:30:00 | |
| 89 | Maggi Savin | 59:37:00 | |
| 295 | Mark Locke | 60:02:00 | |
| 49 | Christie Foster | 60:27:00 | |
| 282 | Katherine Tomkins | 60:30:00 | |
| 228 | Micheaela Kerr | 60:30:00 | |
| 294 | M Deeming | 60:45:00 | |
| 167 | Harry Chapman | 61:06:00 | |
| 127 | Claire Bishop | 61:07:00 | |
| 210 | Lyn Hobbs | 61:14:00 | |
| 125 | Will Spilsbury | 61:22:00 | |
| 81 | Hannah Maltby | 61:24:00 | |
| 284 | ?? | 61:35:00 | |
| 129 | Simon Harris | 61:40:00 | |
| 183 | Jacob Small | 61:40:00 | |
| 261 | Karen Heywood | 62:18:00 | |
| 3 | Robert Tyrrell | 62:27:00 | |
| 67 | Richard Spilsbury | 62:44:00 | |
| 63 | Eddie Jones | 63:35:00 | |
| 264 | Daniel Stredder | 64:50:00 | |
| 265 | Amy Stredder | 64:50:00 | |
| 244 | Simon Tibbetts | 65:03:00 | |
| 247 | Anna Nuttall | 65:03:00 | |
| 86 | Kate Warwick | 65:14:00 | |
| 84 | David Pritchard | 65:47:00 | |
| 193 | Claire Filmer | 66:18:00 | |
| 225 | Deborah Hartland | 66:18:00 | |
| 137 | Trish Gilligan | 67:34:00 | |
| 195 | Claire Walker | 69:41:00 | |
| 128 | Emma Symons | 70:10:39 | |
| 287 | Nicola Manning | 70:51:00 | |
| 90 | David Lott | 71:16:00 | |
| 42 | Nichola Morton | 72:52:00 | |
| 230 | Rowena Woodward | 74:33:00 | |
| 281 | Susan Causer | 74:40:00 | |
| 288 | Andy Manning | 80:05:00 | |
| 209 | Sandra Lloyd | 82:06:00 | |
| 285 | Sarah Coleman | 82:32:00 | |
| 80 | Peter Carman | 87:51:00 | |
| 169 | Fiona Gater | 89:01:00 | |