Results – The Waitrose Lichfield Half-Marathon May 2013
ALLINSON A WINNER BORN AND BREAD
Leicester Corinthian AC's Daniel Allinson stormed to a straightforward win of the 3rd Waitrose Lichfield Half Marathon today in a gun to tape victory that saw him come home in a impressive 1:12:26. Locals were impressed when Lichfield running Club's man in form Richard O'Sullivan flew the flag for the city by coming home second in a good time of 1:18:53 followed in third place by BRAT Club's Brendan Fitzpatrick in 1:19:35. First female home was Spa Striders Jo Kirby in 1:31:24.
Kevin Wilson of organisers KP Events was pleased with how the event had gone: "Once again fantastic weather shone on the event literally, the temperature probably ideal and a cooling breeze to boot. Crowds round the route were bigger than ever especially in Whittington, Fradley and the finish on Stowe Field saw several hundred people turn out to cheer runners home, a great event for the city and the area, bigger and better in 2014″
Approx 20 Soldiers from the Mercian Regiment (formerly 1st Battalion The Staffordshire Regiment) took part and have raised at least £2000 for their charity. The Mercian Regiment are to receive New Colours in a ceremony on the 6th June in Worcester. See full story.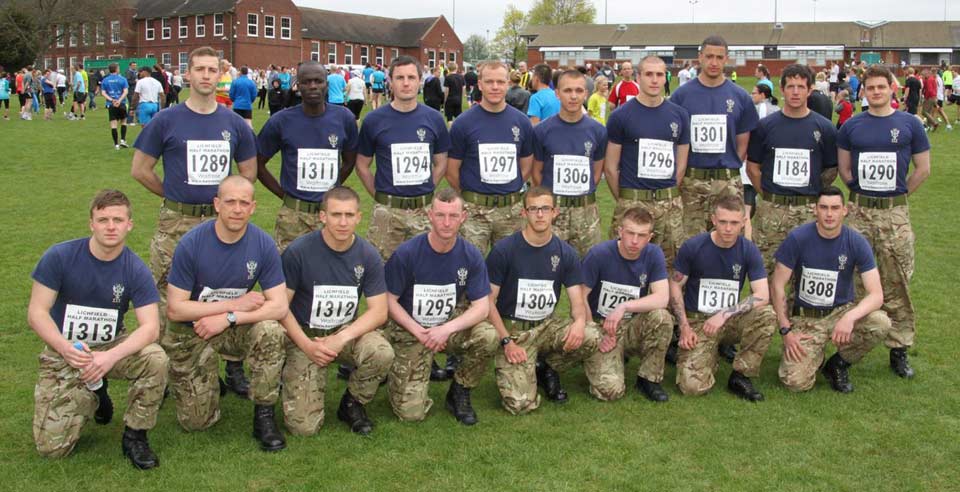 First 3 Men's Chip Times
DANIEL ALLINSON 01:12:26
RICHARD O'SULLIVAN 01:18:53
BRENDAN FITZGERALD 01:19:37
First 3 Women's Chip Times
JO KIRBY 01:31:24
JENNY HALL 01:34:05
STEPHANIE ILSLEY 01:34:16

Use the links below to locate the photos that interest you and purchase prints online. You can also order a wide variety of memorabilia including, postcards, mugs, mouse mats, canvas prints, coasters, iPhone cases and a whole lot more.