Event – 7 in Seven Bike Ride – Sunday 29th Sept 2013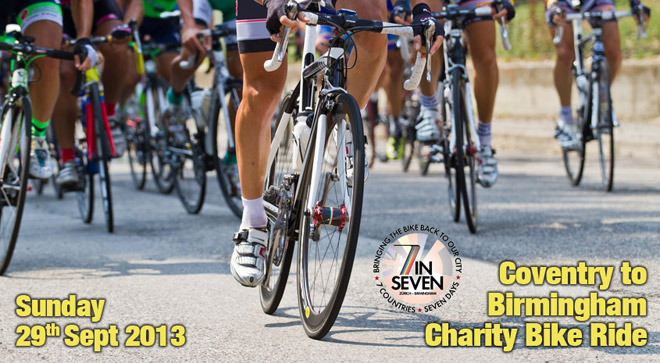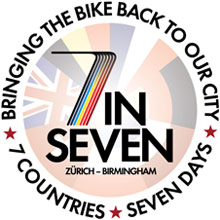 7 in Seven Bike Ride – Final Leg. In aid of the charity "Help Harry Help Others"
Sunday 29th September 2013 – Ricoh Arena Coventry – Birmingham – 30 miles
Join the team of dedicated cyclists for the final leg of this fantastic charity bike ride.
KP Events exclusively bring you the unique opportunity to take part in the West Midland's largest cycle event of 2013 and help raise many thousands of pounds for Birmingham's very own Help Harry Help Others.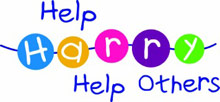 Entrants will join the last day of an Epic 700 mile cycle challenge covering 7 countries in 7 days from Zurich to Birmingham.
The last day Celebration ride participants will cycle from The Ricoh Arena in Coventry via drinks stops in Meriden and onto Edgbaston Cricket ground where all riders will congregate and be accompanied by a Police escort for the last 1.5 miles into Broad Street Birmingham.

On your arrival into Centenary Square you will be greeted by friends, family and supporters of the charity including The Lord Mayor of Birmingham and special guests and a Festival celebrating 'Bringing the bike back to Birmingham' organised by Birmingham City Council.
You will be joined by famous Birmingham based TV, Radio, and sporting personalities on the ride that will help to make the cycling event a once in a lifetime experience and one not to be missed.
The Final Final Leg on Sunday 29th September 2013 will depart at 11:30am from The Ricoh Arena via Meriden into Birmingham. Registration starts from 9.30am
Riders are invited to enter for a fee of £30 with a discretionary fund-raising target of £200-£300 for each family. Each rider will receive a commemorative medal, technical T shirt and special HHHO wristband for taking part.
You have to be 18 or over to participate and physically fit enough to ride 30 miles. You can ENTER HERE Online now.
What is the 7 in Seven Bike Ride
It's an initiative to encourage the West Midlands community to dust down their bikes and get involved in the largest charity cycle event in our region, and raise many thousands for charity.
The bicycle is used far less in our city than any other European city. We want to change this, in effect 'bring the Bike back to our City' we want to inspire the community of the West Midlands to dust down their bikes and participate in the largest charity bike event of its kind here in Birmingham.
We want to remind the community how enjoyable cycling is, promote cycling as a sport, pass time and a suitable means of transport, reducing congestion on our roads, but also remind people the healthy lifestyle and wellbeing that cycling brings.
7inSeven is suitable for all ages and fitness levels. We want to inspire 7,000 people to collectively ride 77,777 miles (equivalent to 3 times around the world) all of which are recorded on our website by participating in our 7inSeven core event, corporate and community challenges and donating a mile at our 'Harry Training Hubs'. Raise over £100,000 for West Midlands children's cancer charity Help Harry Help Others.
7inSeven will take high profile West Midlands based cyclists from a variety of professional backgrounds to include TV, radio, sporting and corporate professionals from Zurich to Birmingham through seven countries over 700 miles in 7 days arriving back in Birmingham. Cyclists will have the option of participating all 7 days, last three days from Eindhoven (300 miles) or the last day from Coventry to Birmingham (30 miles).
A celebration event will be held in Centenary Square on our arrival back to Birmingham where a host of West Midlands based personalities will join us. We will have in place a 'rolling traffic restriction' on Broad Street, Birmingham, and a festival organised by Birmingham City Council celebrating our arrival and the bike in Birmingham. It is anticipated 200 riders will participate on the last day.
About "Help Harry Help Others"
The initiative will raise money for local charity HelpHarryHelpOthers (HHHO), the fund set up in the memory of Birmingham schoolboy Harry Moseley, who died of a brain tumour in October 2011 after fighting to raise money to help those suffering from brain cancer. Headed by Harry's mother Georgie, HHHO is helping to achieve all the goals that Harry himself put in place. HelpHarryHelpOthers was chosen as this year's charity because of Harry's selfless and kind character, alongside his determination to achieve something great. Harry Moseley was someone that we can all take inspiration from. READ MORE ABOUT HHHO
This entry was posted by Alexander on August 6, 2013 at 12:45 pm, and is filed under Past Events. Follow any responses to this post through RSS 2.0.Both comments and pings are currently closed.