Results – Tamworth 10k – 13th Oct 2013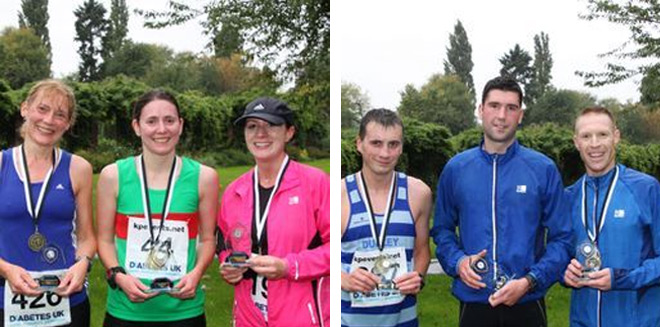 SEAN BYRNES THE OPPOSITION AT TAMWORTH 10K
A record turn out on a thoroughly miserable autumnal day helped make the 3rd annual Tamworth 10k in aid of Diabetes UK a roaring success as Tamworth AC's own local hero Sean Byrne won his home town 10k in a breathtaking display of front running from the start to romp home in 32:37, and he was pleased with his outstanding performance in the pouring rain:
Great to win an event that won plaudits in Runners World Top 5 10k's in 2012, the turnout today was unbelievable considering the weather and I really enjoyed the race and the atmosphere.Brilliant.
Byrne was followed home by 2011 winner Phil Clamp of Tipton Harriers in 34:44 with Benjamin Foster third in 35:08 (first 3 men pictured).
The female race was won by Jo Kirby in 40:55 with Jill McGee in 42:27 and Julie Gilmore came third in 44:44 (first 3 women pictured).

Use the links below to locate the photos that interest you and purchase prints online. You can also order a wide variety of memorabilia including, postcards, mugs, mouse mats, canvas prints, coasters, iPhone cases and more.
FULL RESULTS:
Please note: Where it says "Unknown" the runner was not wearing their number at the finishing line
| | | | | |
| --- | --- | --- | --- | --- |
| Position | No. | Name | Gender | Time |
| 1 | 192 | Sean Byrne | M | 32:37:00 |
| 2 | 437 | Phil Clamp | M | 34:44:00 |
| 3 | 387 | Benjamin Foster | M | 35:08:00 |
| 4 | 352 | Robert Meredith | M | 35:16:00 |
| 5 | 339 | Garry Payne | M | 36:09:00 |
| 6 | 401 | James Coombs | M | 36:16:00 |
| 7 | 171 | Damien Taylor | M | 36:41:00 |
| 8 | 61 | Ben Evans | M | 36:51:00 |
| 9 | 235 | Darren Redmond | M | 37:29:00 |
| 10 | 133 | Warren Bell | M | 38:11:00 |
| 11 | 398 | Robert Gibbons | M | 38:24:00 |
| 12 | 336 | Simon Craddock | M | 38:45:00 |
| 13 | 54 | Paul Ross | M | 38:50:00 |
| 14 | 65 | W. Trugeon-smith | M | 38:55:00 |
| 15 | 424 | Raymond McWilliams | M | 39:00:00 |
| 16 | 412 | Emerson Hayes | M | 39:10:00 |
| 17 | 111 | Justin Haywood | M | 39:19:00 |
| 18 | 407 | Adam Pennock | M | 39:31:00 |
| 18 | 438 | Steve Rames | M | 39:38:00 |
| 20 | 153 | Matthew Dumelow | M | 39:49:00 |
| 21 | 374 | Martyn Barrett | M | 39:52:00 |
| 22 | 164 | Christopher Collis | M | 39:53:00 |
| 23 | 124 | Ashley Baldwin | M | 40:00:00 |
| 24 | 416 | Chris Long | M | 40:19:00 |
| 25 | 280 | Phil Evans | M | 40:31:00 |
| 26 | 295 | Richard Taylor | M | 40:47:00 |
| 27 | 60 | Brian Preston | M | 40:48:00 |
| 28 | 44 | Jo Kirby | F | 40:55:00 |
| 29 | 123 | John Morgan | M | 41:09:00 |
| 30 | 434 | Stephan Hollis | M | 41:16:00 |
| 31 | 212 | Jack Blakemore | M | 41:35:00 |
| 32 | 197 | Paul Smith | M | 41:44:00 |
| 33 | 33 | Derek Bolton | M | 41:46:00 |
| 34 | 163 | Brian Currier | M | 41:50:00 |
| 35 | 425 | Frank Herald | M | 42:03:00 |
| 36 | 58 | John Fallows Smith | M | 42:14:00 |
| 37 | 426 | Jill McGee | F | 42:27:00 |
| 38 | 258 | David Chambers | M | 42:34:00 |
| 39 | 159 | Simon Langdon | M | 42:35:00 |
| 40 | 373 | Aidan Thompson | M | 42:46:00 |
| 41 | 409 | Melvin Griffiths | M | 43:08:00 |
| 42 | 393 | Stephen Inman | M | 43:12:00 |
| 43 | 360 | David Page | M | 43:15:00 |
| 44 | 211 | James Meah | M | 43:21:00 |
| 45 | 222 | Paul Pegg | M | 43:32:00 |
| 46 | 385 | John Phillips | M | 43:34:00 |
| 47 | 265 | Michelle Davis | M | 43:36:00 |
| 48 | 130 | Carl McAuley | M | 43:37:00 |
| 49 | 298 | Jozsef Kun | M | 43:38:00 |
| 50 | 423 | Tony Dutton | M | 43:42:00 |
| 51 | 207 | Chris Upton | M | 44:14:00 |
| 52 | 305 | Calladan Ballard | M | 44:22:00 |
| 53 | 301 | Neal McCathie | M | 44:23:00 |
| 54 | 310 | Mark Lewis | M | 44:27:00 |
| 55 | 98 | Andy Christian | M | 44:37:00 |
| 56 | 191 | Julie Pilmore | F | 44:44:00 |
| 57 | 162 | Rob Tipping | M | 45:05:00 |
| 58 | 56 | Daniel Fleming | M | 45:11:00 |
| 59 | 271 | Esther Mccullagh | F | 45:28:00 |
| 60 | 391 | Neil Gourlay | M | 45:35:00 |
| 61 | 270 | Bob Humphries | M | 45:37:00 |
| 62 | 244 | Paul Wolfe | M | 45:40:00 |
| 63 | 181 | Nigel Atkins | M | 45:45:00 |
| 64 | 351 | Adam Hancocks | M | 45:51:00 |
| 65 | 427 | David Williams | M | 45:54:00 |
| 66 | 422 | Steve Rogers | M | 45:56:00 |
| 67 | 96 | Tom Lindley | M | 45:57:00 |
| 68 | 51 | Matt Powell | M | 45:57:00 |
| 69 | 411 | Mark Till | M | 46:06:00 |
| 70 | 210 | Brian Mcmulkin | M | 46:08:00 |
| 71 | 119 | Kurt Hatwell | M | 46:09:00 |
| 72 | 176 | Ian Shell-Macleod | M | 46:11:00 |
| 73 | 381 | Simon Butlin | M | 46:14:00 |
| 74 | 24 | Jaun Manuel Vera Bacallado | M | 46:28:00 |
| 75 | 376 | Martyn Bibby | M | 46:32:00 |
| 76 | 120 | Ben Dalton | M | 46:34:00 |
| 77 | 135 | Adrien Hitchen | M | 46:39:00 |
| 78 | 148 | Ian Stafford | M | 46:44:00 |
| 79 | 201 | Sam Dalton | M | 46:48:00 |
| 80 | 207 | Chris Upton | M | 46:49:00 |
| 81 | 377 | Nick Fletcher | M | 46:54:00 |
| 82 | 383 | Nikki Reeves | F | 46:55:00 |
| 83 | 31 | Mark Bradley | M | 46:59:00 |
| 84 | 249 | Dave Webb | M | 47:04:00 |
| 85 | 379 | Andy Benton | M | 47:12:00 |
| 86 | 180 | Tom Randell | M | 47:17:00 |
| 87 | 281 | Chris Whitehouse | M | 47:20:00 |
| 88 | 251 | Richard Franks | M | 47:24:00 |
| 89 | 290 | Richard Rutter | M | 47:24:00 |
| 90 | 174 | Steven Hooper | M | 47:30:00 |
| 91 | 442 | David Grant | M | 47:31:00 |
| 92 | 429 | A. Banister | M | 47:33:00 |
| 93 | 242 | Andy Howard | M | 47:38:00 |
| 94 | 100 | Mark Smith | M | 47:42:00 |
| 95 | 206 | John Beesley | M | 47:46:00 |
| 96 | 23 | Mike Mason-Williams | M | 47:50:00 |
| 97 | 297 | Adrian Corcoran | M | 47:51:00 |
| 98 | | Unknown | | 47:52:00 |
| 99 | 67 | Simon Heaven | M | 47:57:00 |
| 100 | 428 | I. Bentley | M | 47:58:00 |
| 101 | 203 | Craig Jinks | M | 47:58:00 |
| 102 | 90 | Emily Nash | F | 47:58:00 |
| 103 | 348 | Steven Pike | M | 48:20:00 |
| 104 | 157 | Liam Lewis | M | 48:24:00 |
| 105 | 200 | David Williams | M | 48:26:00 |
| 106 | 114 | Robert Drew | M | 48:27:00 |
| 107 | 161 | Simon Taylor | M | 48:28:00 |
| 108 | 400 | Oliver Silk | M | 48:29:00 |
| 109 | 99 | Steven Shute | M | 48:32:00 |
| 110 | 92 | Christine Joseph | F | 48:35:00 |
| 111 | 215 | Steven Williams | M | 48:36:00 |
| 112 | 255 | Paul Gofton | M | 48:37:00 |
| 113 | 147 | Dilip Patel | M | 48:37:00 |
| 114 | | Unknown | | 48:41:00 |
| 115 | 261 | Andrew Plummer | M | 48:46:00 |
| 116 | 420 | Ian Cooper | M | 48:51:00 |
| 117 | 421 | Stacey Alan | F | 48:59:00 |
| 118 | 250 | Rod Street | M | 49:08:00 |
| 119 | 247 | Paul Whitacre | M | 49:10:00 |
| 120 | 8 | Robert Boland | M | 49:12:00 |
| 121 | 127 | Pete Rees | M | 49:16:00 |
| 122 | 330 | Steven O'Shea | M | 49:22:00 |
| 123 | 415 | Tim Willis | M | 49:29:00 |
| 124 | 149 | Wayne Kelleher | M | 49:34:00 |
| 125 | 417 | Hannah Newman | F | 50:02:00 |
| 126 | 419 | Paul Cooper | M | 50:05:00 |
| 127 | 209 | Tim Baker | M | 50:18:00 |
| 128 | 26 | Alan Wooldridge | M | 50:21:00 |
| 129 | 94 | Carl Moulding | M | 50:24:00 |
| 130 | 199 | Geraint Jones | M | 50:30:00 |
| 131 | 155 | Claire Ashmead | F | 50:32:00 |
| 132 | 291 | Simon Rowley | M | 50:39:00 |
| 133 | 268 | Kevin Cummins | M | 50:40:00 |
| 134 | 286 | Stephen Fanthom | M | 50:43:00 |
| 135 | 178 | Andrew Mooney | M | 50:44:00 |
| 136 | 253 | John Sage | M | 51:02:00 |
| 137 | 367 | Ashley Taylor | M | 51:03:00 |
| 138 | 57 | Patrick Cleall | M | 51:04:00 |
| 139 | 278 | Ria Baxendale | F | 51:13:00 |
| 140 | 141 | Simon Miller | M | 51:16:00 |
| 141 | 289 | Neil Overton | M | 51:16:00 |
| 142 | 288 | Elliot Honey | M | 51:20:00 |
| 143 | 13 | Lee Hargrave | M | 51:40:00 |
| 144 | 359 | Ian Neill | M | 51:45:00 |
| 145 | 256 | Mike Harrison | M | 52:10:00 |
| 146 | 179 | Rob Stephenson | M | 52:16:00 |
| 147 | 52 | Joanne Cunningham | F | 52:22:00 |
| 148 | 35 | Kevin Long | M | 52:27:00 |
| 149 | 322 | Ste Schike | M | 52:28:00 |
| 150 | 84 | Johanna Sherwood | F | 52:34:00 |
| 151 | 62 | Anne Wells | F | 52:35:00 |
| 152 | 444 | Dave Seller | M | 52:37:00 |
| 153 | 10 | Mark Gardner | M | 52:46:00 |
| 154 | 343 | Judith Ghotra | F | 52:53:00 |
| 155 | 349 | John Wright | M | 53:02:00 |
| 156 | 317 | Dan gregory | M | 53:09:00 |
| 157 | 366 | Andy Male | M | 53:10:00 |
| 158 | 299 | Rebecca Buckley | F | 53:11:00 |
| 159 | 260 | Liam Buckler | M | 53:14:00 |
| 160 | 29 | Luke Whitworth | M | 53:23:00 |
| 161 | 151 | Kwok Cheung | M | 53:29:00 |
| 162 | 302 | Louise Wilkinson | F | 53:36:00 |
| 163 | 378 | Julie Ward-Rotherham | F | 53:37:00 |
| 164 | 113 | John Croal | M | 53:45:00 |
| 165 | 321 | Luce Schike | F | 53:53:00 |
| 166 | 177 | Avril Mooney | F | 53:55:00 |
| 167 | 223 | Roy Murkett | M | 54:01:00 |
| 168 | 77 | Dave Hill | M | 54:02:00 |
| 169 | 361 | Ellie Harris | F | 54:13:00 |
| 170 | 97 | Kate Kristian | F | 54:14:00 |
| 171 | 365 | Andy Edwards | M | 54:44:00 |
| 172 | 204 | Wendy Wood | F | 54:57:00 |
| 173 | 139 | Jenny Holden | F | 55:01:00 |
| 174 | 205 | John Wood | M | 55:02:00 |
| 175 | 402 | Alex Holmes | M | 55:03:00 |
| 176 | 293 | Val Law | F | 55:07:00 |
| 177 | 79 | Stephan Kitchen | M | 55:19:00 |
| 178 | 132 | Paul Eaton | M | 55:19:00 |
| 179 | 355 | Kelly Gilleland | F | 55:21:00 |
| 180 | 436 | Sophie Lewis | F | 55:22:00 |
| 181 | 408 | Gabrielle Smith | F | 55:23:00 |
| 182 | 190 | Eddy Jones | M | 55:34:00 |
| 183 | 303 | Mark Cowley | M | 55:41:00 |
| 184 | 369 | Perri Griffin | F | 55:53:00 |
| 185 | 285 | Ian Myatt | M | 55:56:00 |
| 186 | 283 | Laura McEnzie | F | 55:57:00 |
| 187 | 93 | Victoria Mayes | F | 56:00:00 |
| 188 | 28 | Clive Winters | M | 56:04:00 |
| 189 | | Unknown | | 56:14:00 |
| 190 | 248 | Ann Whiteacre | F | 56:18:00 |
| 191 | 95 | Ray Brown | M | 56:20:00 |
| 192 | | Unknown | | 56:23:00 |
| 193 | 85 | Graham Wood | M | 56:27:00 |
| 194 | 131 | Rachel McAuley | F | 56:28:00 |
| 195 | 414 | Victoria Hank | F | 56:28:00 |
| 196 | 307 | Luke Jackson | M | 56:37:00 |
| 197 | 410 | Steffen Gallivan | M | 56:51:00 |
| 198 | 76 | Stephany Hill | F | 56:55:00 |
| 199 | 364 | Karen Payne | F | 56:56:00 |
| 200 | 337 | David Brown | M | 56:58:00 |
| 201 | 64 | Jonathon Humphries | M | 56:59:00 |
| 202 | 156 | Carl Wilson | M | 56:59:00 |
| 203 | 440 | James Clarke | M | 57:11:00 |
| 204 | 403 | Michael Green | M | 57:14:00 |
| 205 | 402 | Alex Holmes | M | 57:14:00 |
| 206 | 294 | Sarah Smith | F | 57:27:00 |
| 207 | 333 | David Ross | M | 57:28:00 |
| 208 | 332 | Debbie Van Rhyn | F | 57:28:00 |
| 209 | 313 | Elspeth Attwood | F | 57:29:00 |
| 210 | 266 | John Coats | M | 57:30:00 |
| 211 | 18 | Helen Tyrell | F | 57:36:00 |
| 212 | 356 | Julie Hyde | F | 57:37:00 |
| 213 | 394 | Gary Jenkins | M | 57:40:00 |
| 214 | 78 | Gabriella McMillan | F | 57:41:00 |
| 215 | 129 | Kim Brown | F | 57:42:00 |
| 216 | 102 | Suzannah King | F | 57:48:00 |
| 217 | 431 | Robert Smith Baker | M | 57:52:00 |
| 218 | 216 | Claire philip | F | 57:55:00 |
| 219 | 112 | Julie Mole | F | 58:13:00 |
| 220 | 311 | Peter Shearer | M | 58:14:00 |
| 221 | 188 | Carrie Gibson | F | 58:16:00 |
| 222 | 441 | Jayne Alsop | F | 58:22:00 |
| 223 | 109 | Andy Lewis | M | 58:34:00 |
| 224 | 196 | Fran Hitchen | F | 59:02:00 |
| 225 | 382 | Kate Kift | F | 59:17:00 |
| 226 | 117 | Susan Bowes | F | 59:20:00 |
| 227 | 345 | Paul Daniels | M | 59:32:00 |
| 228 | 140 | Nick Nicholls | M | 59:33:00 |
| 229 | 371 | Simon Butler | M | 59:34:00 |
| 230 | 357 | Justin Grigg | M | 59:34:00 |
| 231 | 38 | Lucy Cope Hall | F | 59:39:00 |
| 232 | 37 | Lucy Golby | F | 59:39:00 |
| 233 | 128 | Emma West-Eggar | F | 59:40:00 |
| 234 | 318 | Mary Rabone | F | 59:41:00 |
| 235 | 106 | Michael Finch | M | 59:47:00 |
| 236 | 40 | Paul Redmond | M | 59:49:00 |
| 237 | 296 | Stuart Gregory | M | 59:56:00 |
| 238 | 443 | Katy Craithe | F | 01:00:02 |
| 239 | 137 | Paul Rollins | M | 01:00:09 |
| 240 | 160 | Catherin Langden | F | 01:00:13 |
| 241 | 11 | Bev Chadburn | F | 01:00:19 |
| 242 | 32 | Emmett Graham | M | 01:00:33 |
| 243 | 221 | Jo Yarnall | F | 01:00:35 |
| 244 | 167 | Paula Rogers | M | 01:00:37 |
| 245 | 150 | Karen Fenna-Jones | M | 01:00:39 |
| 246 | 300 | Alison Banks | F | 01:00:42 |
| 247 | 265 | Michelle Davies | M | 01:00:43 |
| 248 | 372 | Helen Hunt | F | 01:00:57 |
| 249 | 20 | Claire Gartshore | F | 01:01:04 |
| 250 | 390 | Sharon Orton | F | 01:01:07 |
| 251 | 435 | Gorgina Dann | F | 01:01:08 |
| 252 | 176 | Ian Shell-macleod | M | 01:01:10 |
| 253 | 175 | Rekha Shell=Macleod | F | 01:01:11 |
| 254 | 433 | Linzi Kemp | F | 01:01:23 |
| 255 | 432 | Carolyn Atherton | F | 01:01:23 |
| 256 | 80 | Gail McMillan | F | 01:01:24 |
| 257 | 445 | Amanda Easling | F | 01:01:25 |
| 258 | 48 | Lyndsy Orton | F | 01:01:27 |
| 259 | 87 | Laura Abolins | F | 01:01:29 |
| 260 | 88 | Ben Abolins | M | 01:01:29 |
| 261 | 289 | Neil Overton | M | 01:01:30 |
| 262 | 257 | Faye Purcell | F | 01:01:31 |
| 263 | 89 | Russell Dabb | M | 01:01:36 |
| 264 | 219 | Amdanda Mayall | F | 01:01:40 |
| 265 | 218 | Mike Mayall | M | 01:01:40 |
| 266 | 327 | Roger Page | M | |
| 267 | 323 | Jemma Nash | F | 01:01:52 |
| 268 | 320 | Rob Schike | M | 01:01:53 |
| 269 | 230 | Kelvin Elliot | M | 01:01:59 |
| 270 | 5 | Sally Hancox | F | 01:02:24 |
| 271 | 439 | Ian Draper | M | 01:02:42 |
| 272 | 331 | Heather Bailey | F | 01:02:45 |
| 273 | 172 | Joanne Ferreday | F | 01:02:57 |
| 274 | 195 | Mandy Stanton | F | 01:02:57 |
| 275 | 341 | Elizabeth Smith | F | 01:03:02 |
| 276 | 413 | Janice Woods | F | 01:03:15 |
| 277 | 399 | Edward Lane | M | 01:03:16 |
| 278 | 105 | Alanah Durkan | F | 01:03:17 |
| 279 | 104 | Bev Finch | F | 01:03:24 |
| 280 | 274 | James Russell | M | 01:04:00 |
| 281 | 275 | Suzanne Russell | F | 01:04:06 |
| 282 | 316 | Naddy Onions | F | 01:04:07 |
| 283 | | Unknown | | 01:04:35 |
| 284 | 82 | Samantha Ruscoe | F | 01:04:54 |
| 285 | 237 | Sarah Corcoran | F | 01:04:54 |
| 286 | 418 | Laura Bailey | F | 01:04:54 |
| 287 | 353 | Faye Perry | F | 01:05:27 |
| 288 | 273 | Rachel Page | F | 01:06:00 |
| 289 | 246 | Katy Fox | F | 01:06:26 |
| 290 | 269 | Samanth Harris-Fox | F | 01:06:26 |
| 291 | 315 | Caz Southwell | F | 01:06:36 |
| 292 | 7 | Michael Hughes | M | 01:06:53 |
| 293 | 6 | Stuart Maund | M | 01:06:53 |
| 294 | 340 | Ed Goodwin | M | 01:07:12 |
| 295 | 430 | Tracey McLaughlin | F | 01:07:34 |
| 296 | 36 | Maggie Long | F | 01:07:44 |
| 297 | 347 | Catherine Potter | F | 01:07:48 |
| 298 | 25 | Rachell Shufflebothom | F | 01:07:53 |
| 299 | 319 | Andy Macleod | M | 01:07:57 |
| 300 | 202 | Elaine Chapman | F | 01:08:01 |
| 301 | 395 | Beneesha Rattu | F | 01:08:14 |
| 302 | 144 | Darren Kelly | M | 01:08:57 |
| 303 | 91 | Kate Kelly | F | 01:08:57 |
| 304 | 328 | Sue Roden | F | 01:09:51 |
| 305 | 354 | Mick Roden | M | 01:09:51 |
| 306 | 136 | Helen Dixon | F | 01:10:27 |
| 307 | 9 | Pete Tomkins | M | 01:11:05 |
| 308 | 4 | Maria Macallum | F | 01:11:14 |
| 309 | 405 | Lisa Holmes | F | 01:11:19 |
| 310 | 404 | Mathew Holmes | M | 01:11:19 |
| 311 | 101 | Ceren Smith | F | 01:11:26 |
| 312 | 46 | Laura Cooper | F | 01:12:43 |
| 313 | 74 | Delyse Starr | F | 01:13:10 |
| 314 | 334 | Lisa Perkins | F | 01:13:10 |
| 315 | 314 | Gary Williams | M | 01:14:11 |
| 316 | 214 | Martin Smith-Baker | M | 01:14:15 |
| 317 | 338 | Patrick Killeen | M | 01:23:43 |
| 318 | 308 | Louise Sumnall | F | 01:25:12 |