Results – Lichfield Half-Marathon 2014
BEDNALL BEDS DOWN FOR HALF-MARATHON VICTORY
The 4th annual Lichfield Half-Marathon in association with Virgin Active witnessed a win for Alec Bednall who took the lead between 3 and 4 miles and then simply ran away in fine style to finish on Stowe Field in 1;16;26 and have over 2 minutes in hand over second placed James Coombes from Lichfield Running Club in 1;18;42 who had a narrow win over 3rd placed Alastair Payne in 1;18;50.
The women's race was won by Hannah Bridger in 1;27;05 who was well in front of second placed Deborah Gilman in 1;29;50 with Alice Bradshaw-Smith in third in 1;31;08.
Kevin Wilson of organisers KP Events was delighted with the event and the atmosphere created; "Lichfield and the surrounding villages of Whittington and Fradley really turned out in big numbers to support the half marathon and it was great to experience a real buzz at the finish on Stowe Field under the gaze of the city's magnificent cathedral, truly unique a finish as there is to any running event in the UK and the city can be proud to host an event that pulls in over 3000 people in runners and friends and family, really fantastic all round"
NEW TROPHY HANDED OVER
The newly named Geraldine Agnew Trophy was presented to winner Alec Bednall (2nd left) by brother Phillip Cass. Geraldine, a marathon runner and gym manager at Lichfield Health and Fitness Club in the city, tragically died of a brain aneurysm on holiday in Vietnam in December 2013 and organisers KP Events felt it would be a fitting tribute to rename the trophy in her honour.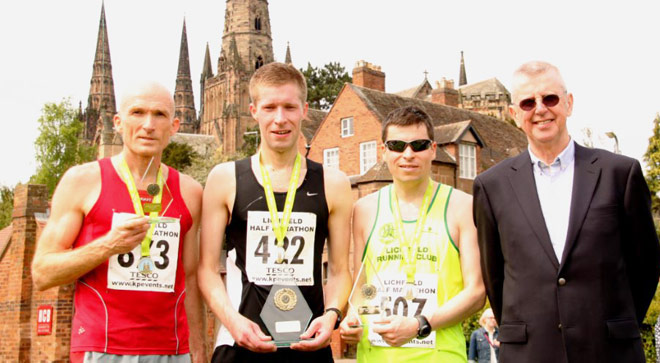 Use the links below to locate the photos that interest you and purchase prints online. You can also order a wide variety of memorabilia including, postcards, mugs, mouse mats, canvas prints, coasters, iPhone cases and more.
Full Results can be found HERE
Click MORE for Mini Marathon Results

Mini Marathon Results:
| | | | |
| --- | --- | --- | --- |
| pos. | Name | race no. | Time |
| 1 | LIBBY DUNNE | 26 | 4.59 |
| 2 | BROOKE WILSON | 5 | 5.01 |
| 3 | TOBY BALLINGER | 2 | 5.37 |
| 4 | DECLAN RILEY | 14 | 5.52 |
| 5 | KIERA COOKSEY | 25 | 5.53 |
| 6 | ROSCO COOKSEY | 13 | 6.11 |
| 7 | EDWARD BERRY | 1 | 6.29 |
| 8 | ADAM CROMPTON | 24 | 6.29 |
| 9 | OWEN ULFIG | 10 | 7.06 |
| 10 | DARCIE WILSON | 6 | 7.07 |
| 11 | OLIVER HARPER | 16 | 7.26 |
| 12 | BETHAN MIDDLETON | 11 | 7.27 |
| 13 | RUPERT SWAILES | 21 | 7.38 |
| 14 | RACHEL SWAILES | 23 | 7.41 |
| 15 | GRACE LISTER | 12 | 7.44 |
| 16 | NICHOLE PARR | 28 | 8.08 |
| 17 | LEA NIGHTINGALE | 17 | 8.46 |
| 18 | ROCKY MAQUIRE | 4 | 8.47 |
| 19 | KATRINA PARR | 27 | 9.07 |
| 20 | WILLIAM LERWILL | 19 | 9.19 |
| 21 | KYLE HARRISON | 20 | 9.24 |
| 22 | EMILY SCHONAGE | 7 | 9.3 |
| 23 | ANNA HARPER | 15 | 9.45 |
| 24 | MATHEW TURNELL | 31 | 9.53 |
| 25 | KELLY SCHONAGE | 8 | 10.13 |
| 26 | MADDY SWAILES | 22 | 10.32 |
| 27 | ANNA SUTTON | 29 | 10.35 |
| 28 | LUCY SUTTON | 30 | 19.59 |
| 29 | CHARLES O`BRIEN | 32 | 11.49 |
| 30 | SEAN O`BRIEN | 33 | 11.57 |
| 31 | JOYCE MANNING | 35 | 12.04 |
| 32 | MELVIN MANNING | 36 | 12.12 |
| 33 | HOLLY FERGUSSON | 34 | 12.15 |
| 34 | SADIE FERGUSSON | 37 | 12.19 |
| 35 | EMMA STOCKER | 18 | 12.51 |