Archive for
August, 2011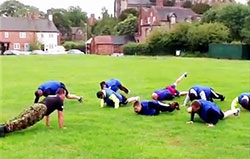 KP FITNESS is being re-vamped and re-launched to coincide with the advent of Olympic Year 2012.
Still using the experience and expertise of Ciaron Ford, a practicing Army Fitness Training Instructor with over 10 years experience working with our other REPs qualified Personal Trainers, we are busy preparing our winter programme which will be announced via the website soon.
Sessions will continue to be on Sunday mornings 10.30am – 11.30am meeting on Stowe Field in Lichfield when Ciaron and other team members will be present to explain and demonstrate what is on offer and this will then be followed by weekend/weekday evening lo-cost sessions at Catton Hall Estate near Alrewas, just off the A38 north of Lichfield, and other venues in and around the city plus moving the initiative into Tamworth in early 2012 too. Your first session is free, subsequent sessions costs will be announced soon
The City Centre Athletics Event due to take place in Lichfield on Sunday August 28th has unfortunately had to be cancelled.
Kevin Wilson of organisers KP Events explains the reasons behind the decision:
It was always going to be difficult to stage this first event of its kind in the city at a time of year when other events were taking place and so many people were on holiday, so we were finding it difficult to stage, also personal circumstances were a key factor in making the decision to cancel, hopefully in 2012 we'll be able to find a suitable slot to launch the event again.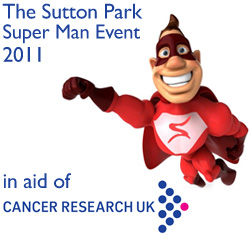 9km Super Man running event in aid of Cancer Research UK
Is there a Superhero in your family? Do you have the powers to take on a 9km run, scramble under a cargo net, avoid a soaking and sprint through a field of foam? – Whilst dressed as a Superhero? More importantly – want to help raise funds for Cancer Research UK whilst doing so?
Register to receive your event fundraising pack, including sponsor form, event programme and running number. The fund raising pack will help you get your sponsors.
Open to Super Women and Men over 14 years old.