Archive for
April, 2012

Olympic 400m silver medalist Roger Black met the 2011 Florette Lichfield Dash winner Elliot Giles of Birchfield Harriers on his recent visit to Florette's Fradley UK HQ. He was there to promote this year's Dash event on Saturday June 30th, the day when the Olympic Torch comes to Lichfield.
Roger Black will be in attendance to support all the races throughout the morning of the 30th and will be offering coaching tips especially to youngsters taking part in the junior races leading up to the Florette Lichfield Dash itself at 12 noon where he'll be introducing the field of athletes to the crowds in the build up.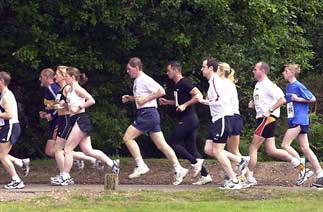 We're back in the popular Sutton Park venue for our third year and our second with our friends as sponsors Alpha Sports in Lichfield, a sports shop that understands the needs and requirements of runners. You can now register for this event.

Last year, when warm weather was forecast we rerouted the course to take in the more shaded and wooded areas of the Park which afforded runners less contact with direct sunlight and we'll stay with this course this year as your feedback to was so positive.
Sutton Park is a popular venue  especially in the summer months so be aware of other park users at all times and remember the Park has wildlife roaming free including cattle, and there will be lots of walkers, cyclists and dogs.
This event starts 4 years, 10 months, 25 days, 23 hours, 52 minutes, 26 seconds ago

The Waitrose Lichfield Half-Marathon 2012
It's on Sunday the 6th May 2012, starts 10.30am at King Edward VI School.
Sorry, this event is now full and we cannot accept any further entries on the day.
Runners who entered on or after 30th April will need to collect their numbers on the morning of the event
There is also a 1.3 mile Mini Marathon around Stowe Fields.
See: ROAD CLOSURE NOTICE
Info: DOWNLOAD THE HALF_MARATHON INFO SHEET
See: CERTIFICATE OF COURSE ACCURACY
START TIME: 10.30am
STARTS: King Edward VI School, Upper St. John Street, Lichfield, Staffordshire
FINISHES: Stowe Fields. Lichfield
ENTRY FEE: £20 Club Runner/ £22 Non Club Runner
NO ENTRIES ON THE DAY (except Mini Marathon)
INSURANCE: Full Public Liability
Goodie Bags for all finishers including commemorative glass paper weight
TROPHIES to first 3 men & first 3 women
Click MORE – for news, further information, route map, and photos and video from last year's Half-Marathon.