Archive for
October, 2013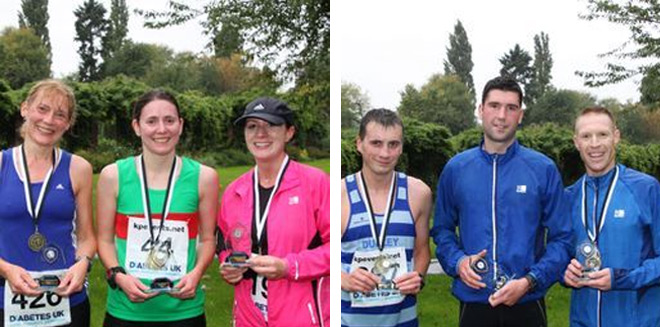 SEAN BYRNES THE OPPOSITION AT TAMWORTH 10K
A record turn out on a thoroughly miserable autumnal day helped make the 3rd annual Tamworth 10k in aid of Diabetes UK a roaring success as Tamworth AC's own local hero Sean Byrne won his home town 10k in a breathtaking display of front running from the start to romp home in 32:37, and he was pleased with his outstanding performance in the pouring rain:
Great to win an event that won plaudits in Runners World Top 5 10k's in 2012, the turnout today was unbelievable considering the weather and I really enjoyed the race and the atmosphere.Brilliant.
Byrne was followed home by 2011 winner Phil Clamp of Tipton Harriers in 34:44 with Benjamin Foster third in 35:08 (first 3 men pictured).
The female race was won by Jo Kirby in 40:55 with Jill McGee in 42:27 and Julie Gilmore came third in 44:44 (first 3 women pictured).

Use the links below to locate the photos that interest you and purchase prints online. You can also order a wide variety of memorabilia including, postcards, mugs, mouse mats, canvas prints, coasters, iPhone cases and more.



In November we'll be holding our 4th 10k off-road race at Kingsbury Water Park – a beautiful venue belonging to Warwickshire County Council situated in the beautiful Warwickshire countryside between Tamworth and Sutton Coldfield.
The 10k is an approximate distance due to the nature of the course and is a two lap race following a route that is mainly off road through magnificent scenery. Two laps of footpaths, grass tracks and a short tarmac section twisting around the lakes and pools of the water park, with a section alongside the river. Race start time is 10.30am.