Archive for
July, 2016

Burntwood High Street was transformed into a Push Kart track last Saturday (16th July 2016) as hundreds of townsfolk braved the unseasonal drizzly weather to see teams of 3 and 4 take to the Tarmac in their individually designed and built karts and race each other to decide the various categories that were being decided on the day.
Local heroes Craig and Chris Danby took a break from their global travels on robotic adventures to show the crowds their new robot FOXIC which will feature soon on the new series of Robot Wars on BBC2 later this month. Cllr Pam Stokes Vice Chairman of Burntwood Town Council who engaged local company KP Events to organise the event was around to give out the prizes and get showered in the champagne Grand Prix style as she handed out trophies.
The winners were Team Helmets, second were Wolf Pack and third were The Forresters.
Other category winners were; Speed Demons winners: Wolf Pack. Best Dressed Kart winners: Burntwood Road Sweepers. Best Crash winners: Rawlings Tyres.
Kevin Wilson of KP Events was delighted with how things turned out; "The weather wasn't great but the crowds were brilliant, the teams really joined in the fun and gave them some brilliant action and above all, everyone involved really bought into what we were trying to do; provide free entertainment on a summer's afternoon in Burntwood".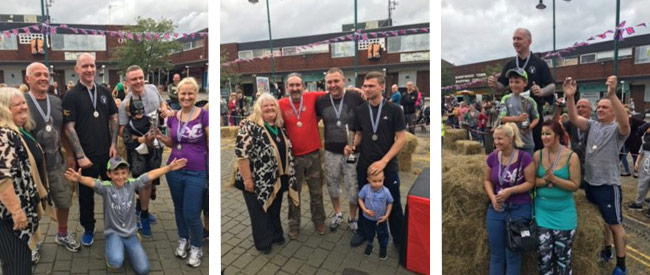 This Saturday marks the final day of athletics at the Rio Olympic Games so it's fitting that the Lichfield Dash sponsored by St Johns House is back for the first time since the Olympic Torch visited the event in June 2012 and as the city welcomes back its favourite sporting occasion, organisers KP Events have been working to ensure that the morning itself is an entertaining celebration of sporting activities set in the closed to traffic Cathedral Close as everything builds to the conclusion of the Chariots of Fire inspired 12 noon race against time as a field of high class sprinters race each other and the 12 o'clock chimes.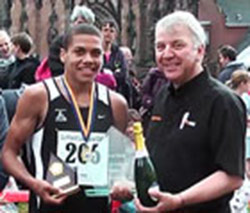 2011 Lichfield Dash winner Eliot Giles of Birchfield Harriers (pictured collecting his dash trophy in 2011) carried on his promising athletics career by winning a bronze medal in the 800m at the Olympic Stadium in Amsterdam in the European Athletics Championships, 10th July 2016.
Now 22 years old, his progress since his dead-heat win over fellow Birchfield Harriers James Whitehouse was the closest finish in any Dash since it all started in 1998 and founder Kevin Wilson of organisers KP Events has already invited him back to the relaunched Lichfield Dash on Saturday August 20th;
"I have spoken to Eliot about a month ago and lined him up, his coach and his on track commitments permitting , to be back this year and I am still hopeful as he wants to be back and he loved his win in 2011 and the crowd took to him, he was a very popular winner. He'll now focus on being on the plane to Rio and if he's got the qualifying time then he'll be our number 1 over 800m so he'll be going and we'll look out for him especially as KP Events ambassador Meghan Beesley misses out on her place for GB in the 400m hurdles due to injury."
The relaunched Lichfield Dash sponsored by St Johns House Lichfield is on Saturday August 20th in Cathedral Close starts at 10 a.m with childrens 100m and 400m races and junior relays, with a special mile race for adults, cycling races with Lichfield Cycling Club and Lichwheel'd plus a wheelchair race with the Lords Taverners, the day's charity of choice for organisers KP Events. All building the unique atmosphere before the main event, the Chariots of Fire inspired race against the chimes at 12 noon with a field of high quality club athletes on view.