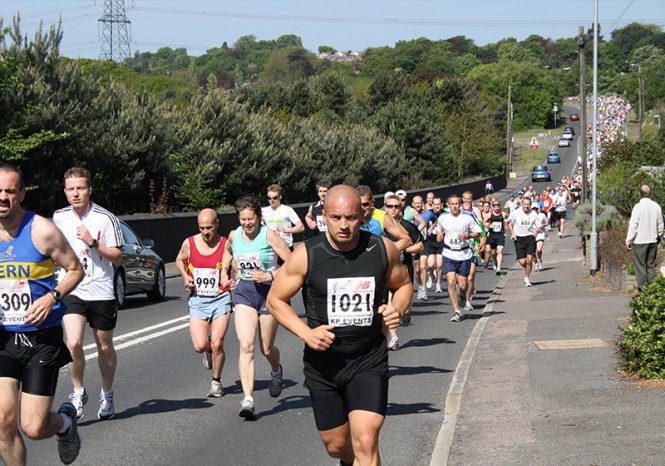 The Lichfield Half Marathon will take place on Sunday 1st October 2023 at 10:30am. This is the eleventh year it has been staged, the event has a great reputation among runners and now attracts in excess of 1500 competitors.
The Lichfield Half Marathon is located in the historic market city of Lichfield, famous for its three spired cathedral and Dr Johnson's birthplace (author of the first English dictionary). Lichfield is located 16 miles north of Birmingham and easily accessible via the M6 Toll, A51 and A38.
Event starts: in 3 months, 21 days, 22 hours, 15 minutes, 59 seconds.
The Lichfield Half Marathon will start from playing fields in front of King Edward VI School. Turn left on to the A51 and proceed along Tamworth Road.
The route will take runners towards and through Whittington and then on through rural roads past the outskirts of Fradley, before heading back towards Lichfield via Netherstowe, and finally ending at Stowe Fields which is situated between Stowe Pool and the Cathedral.
The first three runners of the Women's and Men's races will be presented with trophies. Every finisher will be presented with a medal showing their participation in the Lichfield Half Marathon. Refreshment stations will be situated at several places around the course. The race will use chip timings.
PLEASE NOTE: If you would like to enter this race under the "Run For Buddy Bag Foundation" or "Run St Giles Hospice" at the reduced entry price, then you are agreeing to raise a minimum of £100.00 in sponsorship for the charity/good cause. You are also agreeing for your contact details to be shared with them.
START
Start area for the Half Marathon: King Edwards VI School Lichfield, Upper St John Street, Lichfield, Staffordshire.
Postcode for Sat Nav: WS14 9EE
PARKING
You will find plenty of parking at King Edwards VI, but please arrive in plenty of time as we expect large numbers of vehicles, and long queues. Please use these car parks and do NOT park on the local streets. Please come 'ready to run' as changing is limited, and we cannot provide shower facilities for the numbers involved.
FINISH LINE
The finish line for the Half Marathon is situated on Stowe Fields off Stowe Rd, near the city centre, Lichfield WS13 6AQ. This is only just over a mile walk from the start, and where your car is parked. An easy walk back for those aching legs, but we also have a free return coach service. Look out for signs.
PRIZES
Prizes will be awarded as soon as possible after the races. First 3 men and first 3 women only this year.
RESULTS
Results will be published on the day or soon afterwards, and will also be available on our website
RACE CHIPS
RACE CHIPS Please note we will be using timing chips, so we can give you very accurate results. This chip is now attached to the back of your race number.
ROUTE
Kind Edwards School (Start)
Upper St Johns Street
Tamworth Road
Common Lane
Main Street Whittington
Burton Road
Stockford Lane
Fine Lane
Fradley Lane
Church Lane
Hay End Lane
Gorse Lane
Netherstowe Lane
Eastern Avenue
Brownsfield Road
Stowe Road Stowe Field (Finish)