Sports Event Management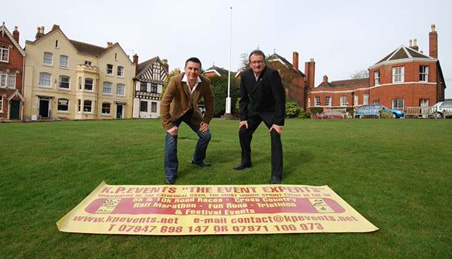 KP Events is a specialist community and sports events management company run by Paul Griffin and Kevin Wilson.
Formally Sport 1st Events, the team have managed numerous events including the Lichfield Half-Marathon, Xtreme Challenge all-terrain, Fradley 10k, Sutton Park 10K, Kingsbury Water Park 10k and The Lichfield Dash.
Based in the center of the UK, in the city of Lichfield, KP Events has a long pedigree of sporting events going back to 1998 when they created the unique Lichfield Cathedral Dash. The Dash attracts people from all of the UK. A key event of Lichfield's sporting (and cultural) calendar, the 'Dash' is a flagship event – raising money for numerous local charities.
The unique Lichfield Cathedral Dash is scheduled for June, we have the Xtreme Challenge at Catton Park in February, the Fradley 10k in March, the Lichfield Half-Marathon in May, Tamworth 10k in October, the Kingsbury Water Park in November. Possible other events will be announced as and when we get firm details.
KP Events is firmly established as a leading provider of top class running events in the West Midlands with plans to expand further afield over the next decade.
Paul Griffin
Paul loves running and has played just about every sport you can think of. He has played competitive badminton for many years, and has trained in several martial arts. He has competed in many running and triathlon events over every distance.
He has also participated in the Great North Run, the London Marathon and Tough Guy, to mention just a few.
When not running, jumping or trying another sport, Paul is a successful businessman across Lichfield, South Staffordshire and Birmingham. Paul lives in Staffordshire with his wife and two children. Paul first met Kevin in 1999 and decided to form KP Events together and develop it into a forward-thinking sports events company.
Kevin Wilson
Kevin is best known in the events business as the founder and organiser of the famous Lichfield Cathedral Dash.
Since 1998 this unique event is held every July as part of the Lichfield International Festival. Kevin has also taken the 'dash concept' to other Cathedral venues in York, Lincoln, Durham and Birmingham since 2003.
Kevin has been involved in the Fradley 10k since 2002 and it has been in KP Event's portfolio since 2011 along with the Tamworth 10k, Kingsbury Water Park 10k, Sutton Park 10k, the Xtreme Challenge plus a number of corporate and community events such as the Burntwood Kart Derby and Wakes Activity Day.