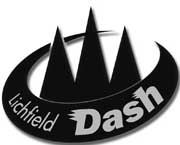 The Lichfield Dash Roll of Honour
1998  PAUL THOMPSON  BIRCHFIELD HARRIERS
1999  CARL WARREN      BIRCHFIELD HARRIERS
2000  MARK ANSLOW     TIPTON HARRIERS
2001  ANTHONY JONES   TAMWORTH A.C
2002  JAMES THIE          CARDIFF A.C
2003  STEVE BLAGDON    LINCOLN & WELLINGTON A.C
2004  STEVE BLAGDON    LINCOLN & WELLINGTON A.C
2005  STEVE BLAGDON   LINCOLN & WELLINGTON A.C
2006  STEVE BLAGDON   LINCOLN & WELLINGTON A.C
2007  CHRIS TAYLOR    HALLAMSHIRE HARRIERS
2008  JAMES TROLLOP   BIRCHFIELD HARRIERS
2009  JIMMY WATKINS  CARDIFF A.C
2010  JAMES WHITEHOUSE  BIRCHFIELD HARRIERS
2011  ELLIOT GILES  BIRCHFIELD HARRIERS
Our Film Made About The Lichfield Dash 2010:
The above film is an embedded YouTube video. If it jitters you need to update your Adobe Flash Player plugin to the latest version and also maybe update your internet browser. Firefox, Internet Explorer 8, Internet Explorer for Windows 7, Opera, Safari. If this doesn't work – your computer, internet service, or router/modem may need upgrading. Don't forget to clear your browser cache regularly.
The History of The Dash
The Most Unique Sprint Event In The UK
Remember the famous quadrangle scene in the Oscar winning film Chariots of Fire, where Olympic rivals Harold Abrahams and Eric Liddell race each other to the chimes of a Cambridge College clock?
In 1924 Cambridge College was the venue, but for the last twelve years Lichfield Cathedral close, has been the place to witness this most unique of sporting events. Thanks to the efforts of local events organisers K.P. Events, the Lichfield Festival Dash is alive and kicking!
First run in 1998, the Festival Dash is a completely unique sporting occasion. Invited athletes race the 12 noon chimes on the second Saturday of the city's International Festival and the crowds flock to Cathedral Close to watch a race against time come alive in a spectacle of speed, strength and true Corinthian endeavour.
The Winners from 1998 to 2010
The first ever Dash in 1998 was won by GB 400m international Paul Thompson of Birchfield Harriers.
Central TV captured the drama of the dash 1999 where Tipton Harriers athlete Mark Anslow collapsed on the finishing line to allow GB international and Birchfield Harrier Carl Warren through to win the coveted City Jewellers Trophy awarded to the dash winner.
But true to form, Mark returned to challenge Carl again in July 2000 for the coveted dash title and to mark the occasion of the millennium, all race athletes were wearing Chariots of Fire style outfits of the 1920's period.
In 2001, Mark was back to defend his crown and once again a breathtaking finish thrilled the record crowd as Mark was tipped at the finish by local runner Anthony Jones from Tamworth AC.
Major energy supplier nPower came on board as sponsor of the dash in 2002 and in the first year of their sponsorship, the race was won by GB 1500m International and Cardiff AC's James Thie and in the same year, nPower took the dash to new venues such as the magnificent setting of Durham Cathedral where Thie once again took the honours in front of a big local crowd.
In 2003, the Dash arrived in Lincoln where local Lincoln Wellington AC athlete Steve Blagdon took the honours and then he came to Lichfield and blew all opposition away at the Festival dash. A first ever York dash then took place alongside the Minster in Deans Park and Birchfield Harrier Danny Brandwood won the coveted dash title.
For 2004 once again we included dash events in Lincoln, Lichfield and York with Lincoln Wellington's Will Strangeway, the county 800m champion, taking the title at his home venue only for Steve Blagdon to retain his crown in Lichfield and one of the UK's top 400m stars Richard Buck of Nestle Rowntree AC emerging victorious in York. Birmingham Cathedral hosted a dash in October 2004 with Chris Taylor of Hallamshire Harriers beating Steve Blagdon in a tight close finish.
2005 saw another new dash venue added with Grimsby staging the event in April. Trafford AC's Lawrence Baird powered home in front of a large local crowd. Back in Lichfield, Steve Blagdon took his revenge on Chris Taylor and won the Festival dash title for a third consecutive time and kept the City Jewellers Trophy.
And in 2006, Blagdon just kept on to his crown with an emphatic 4th title but then he turned his sporting attention to rugby league, allowing Chris Taylor to return to Lichfield in July 2007 and take the dash title for the first time but a wedding prevented him from defending the crown in the events 10th anniversary year in 2008 and in the truly spectacular circumstances caused by rain for the first time in dash history, Lichfield athlete James Trollop of Birchfield Harriers took advantage of main rival James Whitehouse's fall on the final bend which let another Birchfield athlete Marc Turner in to 2nd place.
The 2009 Dash had a fantastically close finish with Cardiff AC's GB 800m athlete Jimmy Watkins just catch his club mate Harry Jones on the line to snatch the dash title for Wales.
Cycling events in The Dash from 2009
In 2009, we introduced cycling events for the first time, featuring local junior sprint talent from around the region's cycling clubs, leading to the introduction of a main cycling dash in 2010 plus plans again being drawn up to return the dash to other UK venues in the build up to 2012.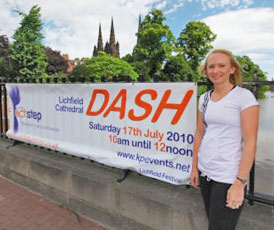 Female athlete set to take on the men in The Dash 2010
(written June 2010) (update July 2010: Amy came 6th)

A touch of girl power will be added to The Dash in 2010; Lichfield based Amy Frith joins her male counterparts in the Techstep sponsored event on July 17 2010. And the Tamworth AC athlete looks set to give her rivals something to think about having won a AAA Under 20 bronze medal in the 800m indoor national championships in 2002.
Twenty-four-year-old Amy is only the second female to compete in the event, the first being Meryl Dodd in the inaugural 1998 event.
Amy said:
"I have watched the Dash on many occasions and always wanted a go.  I spoke to organiser Kevin Wilson who had no hesitation in giving me my race number.  I've been training hard and look forward to running in this extraordinary event."
Kevin, director of Dash organisers KP Events added:
"I'm delighted that Amy can join us for the 2010 Dash.  The race has been male dominated since 1999 so it's about time we had a female competitor and what makes it extra special is that Amy's home town is Lichfield."
Amy's entry has inspired the organisers to search for more female racers. The Friary Grange Leisure Centre Junior Dash event at 11am will now become a bi-annual  event, starting this year with it being open to junior female athletes only.
Kevin explained:
"Since we introduced the Junior Dash in 2008, we have discussed making it girls one year, boys the next so we are officially making it so this year. There are a number of very talented young female athletes including Ellie Howat of Birchfield Harriers for example, and their race will be as competitive as any boys and likely to be even more exciting."
To qualify, athletes must be at secondary school (up to 18 years) in the Lichfield district and it's open to any female athlete regardless of time, or distance event.