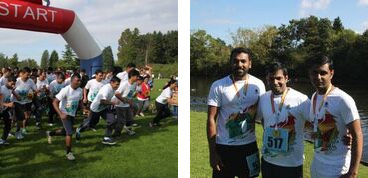 KP Events once again helped international IT company Wipro work with its UK partner this year Npower to stage the UK legs of their SPIRIT OF WIPRO runs which take place on the same day globally, this year on SUNDAY SEPTEMBER 20th and in 2015 these were held simultaneously in Leeds and Solihull with hundreds of employees with their friends and family turning up to enjoy the festival atmosphere in the late summer sunshine.
KP Events director Paul Griffin summed up the success at both events: "We have worked with WIPRO now since 2013 and each year the UK events grow and grow, everyone is so enthusiastic and we have children as young as four taking part, we have face painters, bouncy castles as well as refreshments laid on for all participants and the atmosphere is just so unique, we all thoroughly enjoyed ourselves and we look forward to having a 3rd event in 2016 in London".
Pictures show the start at Leeds Spirit of WIPRO with the 3 male winners of the 5k.