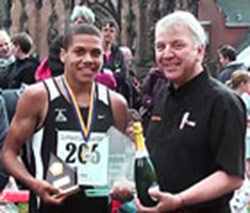 2011 Lichfield Dash winner Eliot Giles of Birchfield Harriers (pictured collecting his dash trophy in 2011) carried on his promising athletics career by winning a bronze medal in the 800m at the Olympic Stadium in Amsterdam in the European Athletics Championships, 10th July 2016.
Now 22 years old, his progress since his dead-heat win over fellow Birchfield Harriers James Whitehouse was the closest finish in any Dash since it all started in 1998 and founder Kevin Wilson of organisers KP Events has already invited him back to the relaunched Lichfield Dash on Saturday August 20th;
"I have spoken to Eliot about a month ago and lined him up, his coach and his on track commitments permitting , to be back this year and I am still hopeful as he wants to be back and he loved his win in 2011 and the crowd took to him, he was a very popular winner. He'll now focus on being on the plane to Rio and if he's got the qualifying time then he'll be our number 1 over 800m so he'll be going and we'll look out for him especially as KP Events ambassador Meghan Beesley misses out on her place for GB in the 400m hurdles due to injury."
The relaunched Lichfield Dash sponsored by St Johns House Lichfield is on Saturday August 20th in Cathedral Close starts at 10 a.m with childrens 100m and 400m races and junior relays, with a special mile race for adults, cycling races with Lichfield Cycling Club and Lichwheel'd plus a wheelchair race with the Lords Taverners, the day's charity of choice for organisers KP Events. All building the unique atmosphere before the main event, the Chariots of Fire inspired race against the chimes at 12 noon with a field of high quality club athletes on view.