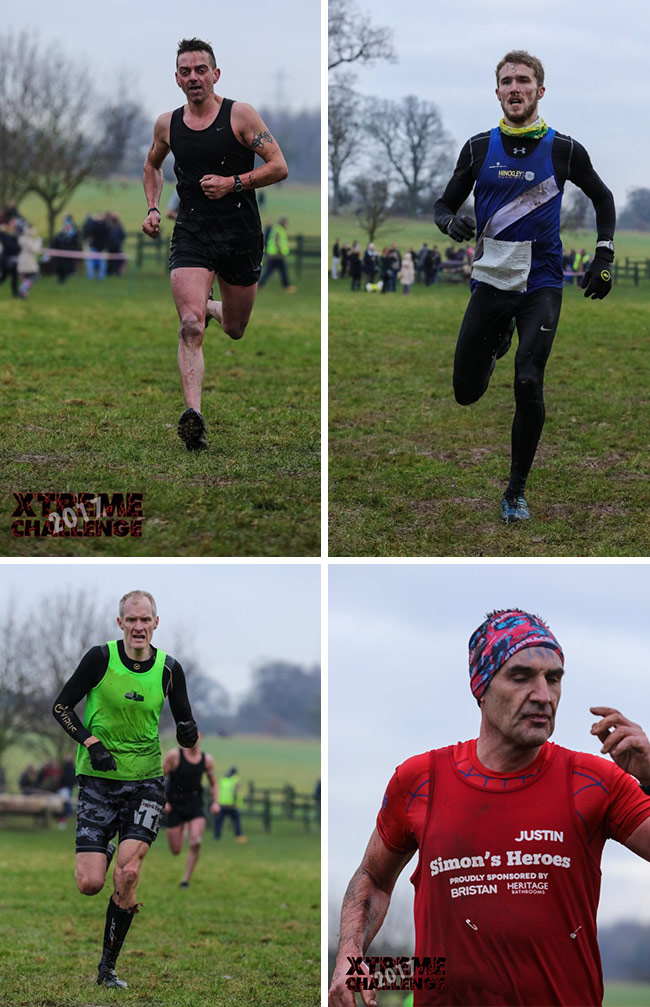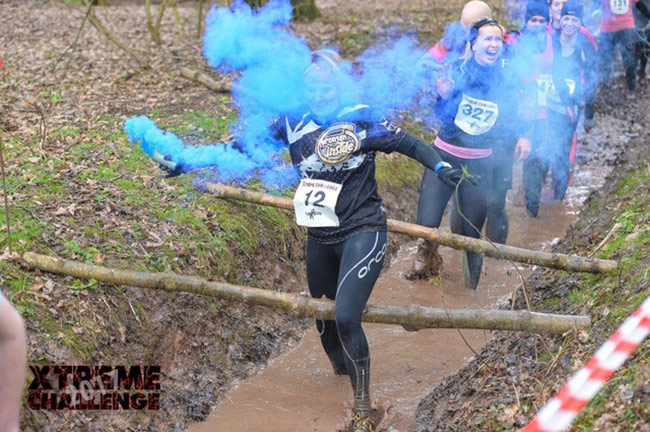 Trollope realises his XTREME DREAM
The Xtreme Challenge at Catton Hall Estate in South Derbyshire was won by Will Trollope in 56:04 seconds in the traditionally muddy conditions but with a record field, lots of enthusiastic spectators on a cold but dry February morning.
Second home was Adam Carney in 56:15 and Robert Hall was 3rd in 56:17. First female home was Dominique Searle in 1:06:49 with Laura Appleby 2nd in 1:16:07 and Charlotte Cronin 3rd in 1:17:39. For FULL RESULTS, click 'MORE' below.
Once again organisers had restyled the 10k course with water canon feature, newly placed electric fence, a tyre clamber and a hanging cargo net draped lowly over a water feature and, in typical Xtreme Challenge tradition the guys and gals whooped and hollered their way around!!
All participants can gain free download to photographs to use on social media platforms and this can be done by going to www.curleyphotography.co.uk and clicking on CREATE AN ACCOUNT following the link instructions. All photographs downloaded for social media use will have the exclusive XTREME CHALLENGE logo watermark featured on the photos. Anyone wanting to purchase non watermarked photographs can do so by following the links on the same website. Any queries can be answered at 07977175684 from Monday February 6th onwards.
Full Results…
| | | | | |
| --- | --- | --- | --- | --- |
| Position | number | | | time |
| 1 | 13 | William Trollope | M | 00:56:07 |
| 2 | 113 | Adam Carney | M | 00:56:15 |
| 3 | 406 | Robert Hall | M | 00:56:17 |
| 4 | 385 | Jesse Betts | M | 00:56:53 |
| 5 | 61 | Leighton Plank | M | 00:57:13 |
| 6 | 93 | Will Raiment | M | 00:59:10 |
| 7 | 291 | Christian Davidson | M | 00:59:16 |
| 8 | 386 | Gavin Hammond | M | 01:00:28 |
| 9 | 105 | Richard Holden | M | 01:01:20 |
| 10 | 231 | Nick Hughes | M | 01:01:22 |
| 11 | 120 | Mark Jarvis | M | 01:01:25 |
| 12 | 261 | Steve Miller | M | 01:01:52 |
| 13 | 405 | Carl Hollyoak | M | 01:02:03 |
| 14 | 135 | Justin Hayward | M | 01:02:05 |
| 15 | 114 | Jason Allen | M | 01:02:23 |
| 16 | 205 | Stephen Titmarsh | M | 01:03:41 |
| 17 | 211 | Stuart Neail | M | 01:03:55 |
| 18 | 337 | Kyle Catlin | M | 01:04:01 |
| 19 | 274 | Darren Bentley | M | 01:04:23 |
| 20 | 329 | Chris Rodgers | M | 01:04:58 |
| 21 | 220 | Jason Jacob | M | 01:06:47 |
| 22 | 225 | Dominique Searle | F | 01:06:49 |
| 23 | 303 | David McCallum | M | 01:08:19 |
| 24 | 287 | Farmer | M | 01:09:28 |
| 25 | 64 | Chris Onions | M | 01:09:29 |
| 26 | 236 | Stuart Harwood | M | 01:09:54 |
| 27 | 85 | Jim Jeffcoat | M | 01:09:54 |
| 28 | 227 | Paul Franks | M | 01:10:04 |
| 29 | 226 | Matthew Dibbens | M | 01:10:09 |
| 30 | 241 | Allan Sherwood | M | 01:10:11 |
| 31 | 28 | Matthew Jones | M | 01:10:12 |
| 32 | 397 | Griff Cook | M | 01:10:15 |
| 33 | 336 | Victor Catlin | M | 01:10:32 |
| 34 | 237 | Stefan Martin | M | 01:10:34 |
| 35 | 187 | Ashley Watts | M | 01:10:53 |
| 36 | 387 | C Easton | M | 01:11:05 |
| 37 | 111 | Stephen Krasnowski | M | 01:12:03 |
| 38 | 412 | A. N. Other | M | 01:12:31 |
| 39 | 360 | Neil Handley | M | 01:12:53 |
| 40 | 167 | Joelyon Towey | M | 01:12:53 |
| 41 | 65 | Scott Upton | M | 01:13:25 |
| 42 | 234 | Tom Wilson | M | 01:13:54 |
| 43 | 331 | Mark Lisgo | M | 01:14:04 |
| 44 | 262 | Mark Williams | M | 01:14:08 |
| 45 | 401 | Anthony Doolan | M | 01:14:09 |
| 46 | 91 | Brian McMulkin | M | 01:14:10 |
| 47 | 382 | Danny Worrall | M | 01:14:57 |
| 48 | 127 | Paul Martin | M | 01:15:05 |
| 49 | 81 | Mat Langston | M | 01:15:05 |
| 50 | 238 | John Jenkins | M | 01:15:05 |
| 51 | 11 | Grant Hughes | M | 01:15:20 |
| 52 | 279 | Griffith Jones | M | 01:15:39 |
| 53 | 186 | Laura Appleby | F | 01:16:07 |
| 54 | 299 | Phil Sanders | M | 01:17:11 |
| 55 | 373 | Andrew Manderfield | M | 1:17:12` |
| 56 | 308 | Tim Hough | M | 01:17:13 |
| 57 | 31 | Paul Stanley | M | 01:17:22 |
| 58 | 195 | Charlotte Cronin | F | 01:17:39 |
| 59 | 49 | Adam Price | M | 01:18:26 |
| 60 | 298 | Sean O'Brien | M | 01:18:45 |
| 61 | 295 | Martin Weir | M | 01:19:02 |
| 62 | 384 | Mark Johnson | M | 01:19:18 |
| 63 | 342 | Gregory Hopkinson | M | 01:19:18 |
| 64 | 161 | Andrew Mitchell | M | 01:19:37 |
| 65 | 50 | Richard Vinnicombe | M | 01:20:14 |
| 66 | 138 | Emma Busby | F | 01:21:23 |
| 67 | 160 | Joe Tresadern | M | 01:21:40 |
| 68 | 311 | Kurt Bartlett | M | 01:21:46 |
| 69 | 162 | Robert Hicks | M | 01:21:55 |
| 70 | 249 | Hayley Record | F | 01:22:46 |
| 71 | | Emma Hughes | F | 01:23:32 |
| 72 | 106 | Kevin Jupp | M | 01:24:25 |
| 73 | 395 | Rachel Craft | F | 01:24:57 |
| 74 | 42 | Darren Williams | M | 01:25:01 |
| 75 | 391 | James Evans | M | 01:25:26 |
| 76 | 389 | Andrew Hood | M | 01:25:26 |
| 77 | 314 | Michelle Wood | F | 01:25:27 |
| 78 | 315 | Fdavid Palmer | M | 01:25:27 |
| 79 | 92 | Craig Birch | M | 01:25:29 |
| 80 | 316 | Matthew Hill | M | 01:26:09 |
| 81 | 324 | Andrew Hogkiss | M | 01:26:29 |
| 82 | 404 | Rob Young | M | 01:27:19 |
| 83 | 243 | Emma Massa | F | 01:27:39 |
| 84 | 258 | Harj Sanghera | M | 01:27:49 |
| 85 | 388 | James Griffiths | M | 01:28:07 |
| 86 | 189 | Michael Gill | M | 01:28:08 |
| 87 | 277 | Samuel Day | M | 01:28:27 |
| 88 | 361 | Dave Thompson | M | 01:28:31 |
| 89 | 275 | Paige Green | F | 01:28:48 |
| 90 | 276 | Richard Green | M | 01:28:59 |
| 91 | 362 | Jennie Shrewsbury | F | 01:29:01 |
| 92 | 126 | Wayne Curtis | M | 01:29:11 |
| 93 | 302 | Andrew Liston | M | 01:29:15 |
| 94 | 217 | Kerry Hobbis | F | 01:29:22 |
| 95 | 23 | Jessie Cope | F | 01:29:23 |
| 96 | 301 | Christopher Liston | M | 01:29:41 |
| 97 | 229 | Lee Fuller | M | 01:29:42 |
| 98 | 207 | Tony Wade | M | 01:29:42 |
| 99 | 22 | Julie Cope | F | 01:29:44 |
| 100 | 206 | Mark Nelson | M | 01:29:51 |
| 101 | 341 | Katy Twigg | F | 01:30:05 |
| 102 | 75 | Katie Joyce | F | 01:30:06 |
| 103 | 374 | Johnathon Edgerton | M | 01:30:37 |
| 104 | 312 | Steve Burr | M | 01:30:51 |
| 105 | 379 | Caroline Hill | F | 01:30:51 |
| 106 | 380 | Paul Hill | M | 01:30:51 |
| 107 | 197 | Shelley Hemsley | F | 01:31:05 |
| 108 | 140 | Daniel Hiscoke | M | 01:31:25 |
| 109 | 33 | Tony Goodman | M | 01:31:23 |
| 110 | 290 | Jennifer Thompson | F | 01:31:24 |
| 111 | 134 | Paul Ellis | M | 01:31:35 |
| 112 | 118 | Trudie Ann Allen | F | 01:31:39 |
| 113 | 239 | Darren Court | M | 01:31:40 |
| 114 | 305 | Andy Hough | M | 01:31:41 |
| 115 | 158 | Nic Cooley | M | 01:31:45 |
| 116 | 183 | Richard Booth | M | 01:31:56 |
| 117 | 289 | Damien Gultig | M | 01:32:25 |
| 118 | 346 | Daniel Poar | M | 01:32:26 |
| 119 | 137 | Matt Gilbert | M | 01:34:20 |
| 120 | 334 | Gary Simons | M | 01:35:06 |
| 121 | 398 | Wendy McCristal | F | 01:35:18 |
| 122 | 343 | Lorraine Hopkinson | F | 01:35:26 |
| 123 | 148 | Lee Sullivan | M | 01:35:29 |
| 124 | 335 | Sophie Hogson | F | 01:35:47 |
| 125 | 73 | Neil Weyham | M | 1:1:35:49 |
| 126 | 240 | Paul Horton | M | 01:36:29 |
| 127 | 267 | Thomas Selby | M | 01:36:56 |
| 128 | 164 | Carl Muldal | M | 01:37:16 |
| 129 | 166 | Catherine Summers | F | 01:37:16 |
| 130 | 363 | Aaron Brown | M | 01:37:26 |
| 131 | 369 | John McGowam | M | 01:37:26 |
| 132 | 88 | Davy Taylor | M | 01:37:36 |
| 133 | 216 | Thomas Griffin | M | 01:37:46 |
| 134 | 45 | Kris Corns | M | 01:37:46 |
| 135 | 44 | Sarah Hargreaves | F | 01:38:32 |
| 136 | 43 | Lindsay Ann Heald | F | 01:38:32 |
| 137 | 125 | Richard Markland | M | 01:38:39 |
| 138 | 345 | Samantha Griffiths | F | 01:39:08 |
| 139 | 344 | Lee Tompson | M | 01:39:08 |
| 140 | 402 | James Harrigan | M | 01:39:29 |
| 141 | 74 | Nicholas Noyes | M | 01:41:22 |
| 142 | 394 | Rachel Shirtliff | F | 01:41:22 |
| 143 | 143 | James Randall | M | 01:41:43 |
| 144 | 21 | Kiaran MrAvoy | M | 01:42:48 |
| 145 | 242 | Emma Thomas | F | 01:43:16 |
| 146 | 173 | Tracey Bristoll | F | 01:43:16 |
| 147 | 72 | Jamie Quinn | F | 01:43:34 |
| 148 | 403 | James Barwell | M | 01:44:12 |
| 149 | 340 | David Baines | M | 01:44:15 |
| 150 | 282 | Jennifer Whiting | F | 01:46:31 |
| 151 | 283 | Mark Lea | M | 01:46:31 |
| 152 | 338 | Lottie Cooper | F | 01:46:44 |
| 153 | 339 | Frances Scarisbrick | F | 01:46:46 |
| 154 | 116 | Gaynor Webb | F | 01:47:01 |
| 155 | 117 | Julian Webb | M | 01:47:01 |
| 156 | 281 | Will Godfrey | M | 01:47:05 |
| 157 | 150 | Travis Mahoney | M | 01:47:37 |
| 158 | 151 | Ron Mahoney | M | 01:47:37 |
| 159 | 265 | Daniel Bosworth | M | 01:48:07 |
| 160 | 20 | Samantha Grant | F | 01:49:15 |
| 161 | 15 | Zoe Jones | F | 01:49:17 |
| 162 | 182 | Claire MacLachlan | F | 01:49:22 |
| 163 | 131 | Jenna Watson | F | 01:51:01 |
| 164 | 132 | Alan Watson | M | 01:51:01 |
| 165 | 332 | Catherine Hobbs | F | 01:51:01 |
| 166 | 179 | Kelly Prescott | F | 01:51:31 |
| 167 | 168 | Maggie Hayward | F | 01:51:31 |
| 168 | 57 | Wayne Measures | M | 01:51:40 |
| 169 | 56 | Paul Measures | M | 01:51:40 |
| 170 | 393 | Kerry Healey | F | 01:52:23 |
| 171 | 156 | Chris Allsopp | M | 01:52:23 |
| 172 | 130 | Andy Sillman | M | 01:52:42 |
| 173 | 196 | Joanne Knight | F | 01:52:45 |
| 174 | 124 | Paul Cocksedge | M | 01:52:47 |
| 175 | 144 | Martyn Bowden | M | 01:52:48 |
| 176 | 349 | Nicola Kinson | F | 01:53:09 |
| 177 | 407 | Sam Wakelin | F | 01:53:09 |
| 178 | 323 | Brad Burt | M | 01:53:34 |
| 179 | 327 | Helena Bodo | F | 01:53:34 |
| 180 | 66 | Leanne Plank | F | 01:53:49 |
| 181 | 365 | Henry Kingdon | M | 01:53:50 |
| 182 | 364 | Isobel Potts | F | 01:53:50 |
| 183 | 367 | Christopher Pyle | M | 01:53:50 |
| 184 | 366 | Elizabeth Pyle | F | 01:53:50 |
| 185 | 284 | Anna Marlow | F | 01:54:06 |
| 186 | 411 | Caitlin Coles | F | 01:54:30 |
| 187 | 390 | Ben Robertson | M | 01:54:31 |
| 188 | 39 | Steve Gilbert | M | 01:54:31 |
| 189 | | Alan Moore | M | 01:54:31 |
| 190 | 12 | Aileen Hughes | F | 01:55:43 |
| 191 | 51 | Stuart Conopo | M | 01:56:15 |
| 192 | 48 | Paul Longbottom | M | 01:56:15 |
| 193 | 383 | Archie Willumsen | M | 01:56:40 |
| 194 | 307 | Jordan Parker | F | 01:56:40 |
| 195 | 306 | Gary Conway | M | 01:57:43 |
| 196 | 58 | Tom Measures | M | 01:58:02 |
| 197 | 100 | Gemma Rhodes | F | 01:58:20 |
| 198 | 104 | Natasha Roberts | F | 01:58:36 |
| 199 | 272 | Kerri Campbell | F | 01:58:47 |
| 200 | 273 | Beth Clarke | F | 01:58:47 |
| 201 | 89 | Neil Boulton | M | 01:59:20 |
| 202 | 90 | Jane Boulton | F | 01:59:20 |
| 203 | 30 | Sarah Morris | F | 02:00:38 |
| 204 | 200 | Michelle Conway | F | 02:00:38 |
| 205 | 201 | Debbie Jenkins | F | 02:00:38 |
| 206 | 244 | Sonia Scott | F | 02:00:44 |
| 207 | | A>N>other | F | 02:00:50 |
| 208 | 235 | Nicola Child | F | 02:01:14 |
| 209 | 269 | Lynsey Tolley | F | 02:01:15 |
| 210 | 268 | Jade Clarke | F | 02:01:15 |
| 211 | 119 | Gary Butler | M | 02:01:18 |
| 212 | 245 | Bev Murray | F | 02:01:43 |
| 213 | 333 | Darren Ratcliffe | M | 02:01:59 |
| 214 | 270 | Naomi Walker | F | 02:02:02 |
| 215 | 248 | Benjamin Woods | M | 02:02:05 |
| 216 | 70 | John nHart | M | 02:02:32 |
| 217 | 76 | Emma Hicken | F | 02:02:32 |
| 218 | 71 | Andrew Betts | M | 02:02:32 |
| 219 | 69 | Roger Featherstone | M | 02:02:32 |
| 220 | 392 | Lloyd Mardenborough | M | 02:02:44 |
| 221 | 102 | Richard Drakeley | M | 02:02:44 |
| 222 | 101 | Claire O'Brien | F | 02:02:49 |
| 223 | 175 | Nick Evans | M | 02:02:52 |
| 224 | 96 | Adrian Round | M | 02:02:55 |
| 225 | 280 | Harry Criss | M | 02:03:24 |
| 226 | 97 | Andrea Parkinson | F | 02:03:32 |
| 227 | 98 | Ian Parkinson | M | 02:03:32 |
| 228 | 293 | Stephen Warden | M | 02:04:05 |
| 229 | 107 | Katrina Jones | F | 02:04:06 |
| 230 | 108 | Nicole Fletcher | F | 02:04:06 |
| 231 | 77 | Stuart Pope | M | 02:04:06 |
| 232 | 78 | Jennifer Leathwood | F | 02:05:10 |
| 233 | 358 | Kate Wedgwood | F | 02:05:10 |
| 234 | 359 | Rebecca Gilmore | F | 02:05:10 |
| 235 | 294 | Mark Robinson | M | 02:05:45 |
| 236 | 233 | Richard Young | M | 02:06:20 |
| 237 | 121 | Kirsty Jones | F | 02:06:58 |
| 238 | 213 | Richard Miszczycha | M | 02:07:12 |
| 239 | 259 | Mark Stanyer | M | 02:07:20 |
| 240 | 188 | Craig Smith | M | 02:07:21 |
| 241 | 110 | Ian Goode | M | 02:07:28 |
| 242 | 288 | Claire Gibbins | F | 02:07:48 |
| 243 | 278 | David Stevenson | M | 02:07:59 |
| 244 | 19 | Ross Spurrier | M | 02:08:04 |
| 245 | 16 | Simon Heaven | M | 02:08:04 |
| 246 | 18 | Nicholas Adams | M | 02:08:04 |
| 247 | 309 | Joseph Edwards | M | 02:08:04 |
| 248 | 17 | Jack Hamill | M | 02:08:04 |
| 249 | 152 | Tracey Brookes | F | 02:08:11 |
| 250 | 154 | Alan Page | M | 02:08:11 |
| 251 | 174 | Chris Brookes | M | 02:08:11 |
| 252 | 37 | Scot Freeman | M | 02:08:20 |
| 253 | 194 | Becky Vine | F | 02:08:20 |
| 254 | 191 | Collette Jones | F | 02:08:20 |
| 255 | | Carol | F | 02:08:24 |
| 256 | 254 | Gareth Laver | M | 02:08:24 |
| 257 | 399 | Charlotte Wayard | F | 02:08:27 |
| 258 | 46 | Stuart Mrpherson | M | 02:08:49 |
| 259 | 41 | John King | M | 02:08:49 |
| 260 | 142 | Sergio Barbosa | M | 02:08:49 |
| 261 | 354 | Joanna Potts | F | 02:08:49 |
| 262 | 350 | Stacey Easton | F | 02:08:56 |
| 263 | 184 | Jackie Eales | F | 02:08:56 |
| 264 | 185 | Steve Rutherford | M | 02:08:56 |
| 265 | 296 | Claire Oldham | F | 02:11:22 |
| 266 | 87 | Emma Robins | F | 02:14:47 |
| 267 | 67 | Anthony Robins | M | 02:14:47 |
| 268 | 157 | Andrew Tresadern | M | 02:15:09 |
| 269 | 218 | Simon Franks | M | 02:15:09 |
| 270 | 409 | Claire Langley | F | 02:15:59 |
| 271 | 408 | Ann Derry | F | 02:15:59 |
| 272 | 326 | Victoria Worrall | F | 02:15:59 |
| 273 | 32 | Rob Blant | M | 02:16:44 |
| 274 | 256 | Mark Hobbs | M | 02:17:19 |
| 275 | 253 | Shaun Borrill | M | 02:17:50 |
| 276 | 400 | Shaun Thompson | M | 02:17:50 |
| 277 | 320 | Tracey Quinn | F | 02:18:32 |
| 278 | 133 | Kim Holbrook | F | 02:20:56 |
| 279 | 103 | Adam Jenkins | M | 02:21:07 |
| 280 | 172 | Alex Shaw | F | 02:21:07 |
| 281 | 169 | Sonia Young | F | 02:21:26 |
| 282 | 99 | Paul Murphy | M | 02:21:26 |
| 283 | 171 | Sandra Barbosa | F | 02:21:26 |
| 284 | 351 | Katie Aucote | F | 02:21:26 |
| 285 | 352 | Matthew Aucote | M | 02:21:26 |
| 286 | 353 | Melanie Bennett | F | 02:21:26 |
| 287 | 210 | Andrea Bowley | F | 02:21:52 |
| 288 | 221 | James Bland | M | 02:21:56 |
| 289 | 109 | Jenee Goode | F | 02:24:24 |
| 290 | 222 | Hannah Stone | F | 02:24:58 |
| 291 | 83 | Amanda Jones | F | 02:24:58 |
| 292 | 147 | Lisa Heath | F | 02:26:01 |
| 293 | 141 | Stuart Golbey | M | 02:26:01 |
| 294 | 368 | Donna Westwood | F | 02:26:06 |
| 295 | 176 | Steph Bradbury | F | 02:26:09 |
| 296 | 177 | Nichola Albutt | F | 02:26:53 |
| 297 | 178 | Colin Albutt | M | 02:26:56 |
| 298 | 146 | Emily Westwood | F | 02:26:56 |
| 299 | 136 | Andrew Hales | M | 02:26:30 |
| 300 | 219 | June Jacob | F | 02:39:55 |
| 301 | 223 | Nina Freer | F | 02:39:55 |