The Lichfield Half Marathon – Sunday the 6th May 2018
ALL 'ONLINE' ENTRIES RECEIVED ON OR AFTER TUESDAY 1st MAY WILL BE FOR RACE NUMBER 'COLLECTION-ONLY' ON SUNDAY MORNING FROM OUR REGISTRATION DESK (will not be posted).
ENTRIES AVAILABLE ON THE DAY
There will be entries available on the day. The Registration Tent will be open from 9am on the day on King Edwards School Field off Upper St John Street in the city. There is plenty of parking available on the school site, follow the signage as you enter the school.
RESULTS AND PHOTOGRAPHS
Official results will be available soon after the race at www.stuweb.co.uk, go to the homepage and click on the Lichfield Half Marathon link. Official photographs will be available at www.charleswhittonphotography.com soon after the event. Click on the Lichfield Half Marathon link. Results and photographs of winners will be posted on KP Events website and social media platforms later on Sunday May 6th.
READ the 2018 Lichfield Half Marathon info sheet
START TIME: 10.30am.
STARTS AT: King Edward VI School, Upper St. John Street, Lichfield, Staffordshire.
FINISHES AT: Stowe Fields. Lichfield.
INSURANCE: Full Public Liability.
GOODIE BAGS: for all finishers.
TROPHIES to first 3 men and first 3 women.
Refreshment stations will situated at several places around the course.
The race will use chip timings.
HYPERION PRIZES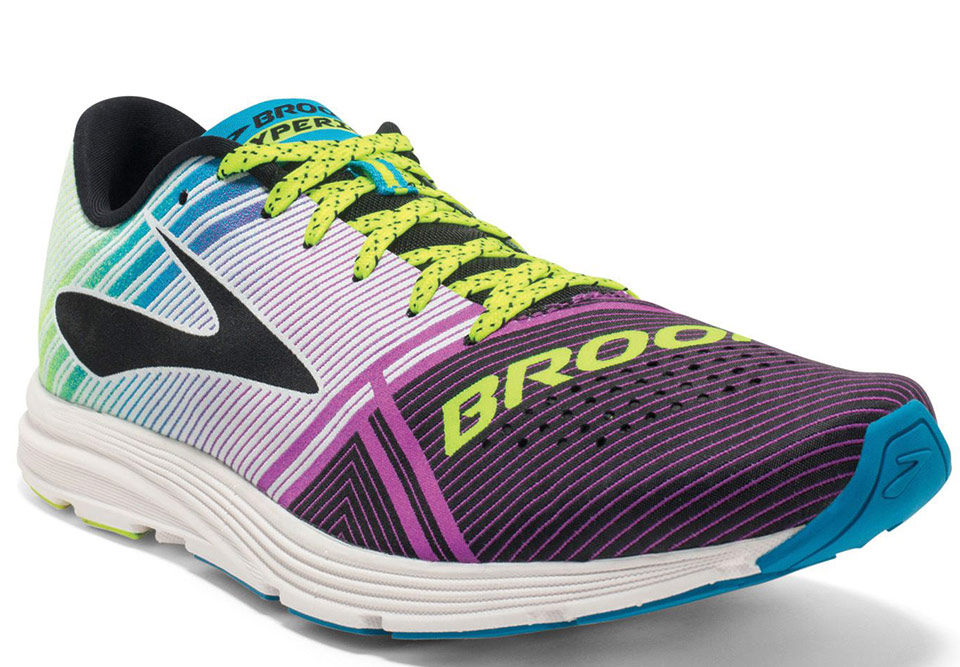 The first man and woman finishing Lichfield Half Marathon Sunday May 6th will each pick up a pair of the highly rated Brooks Hyperion running shoe (RRP £90) courtesy of specialist running wear shop RUNNING FORM in Burton on Trent.
KP Events and Running Form work together closely to offer the running fraternity in the Midlands a quality service in all aspects of running from equipment to computerised gait analysis that's the best in the region. For more information call Phil and his team on 01283 563331 or go to www.running-form.co.uk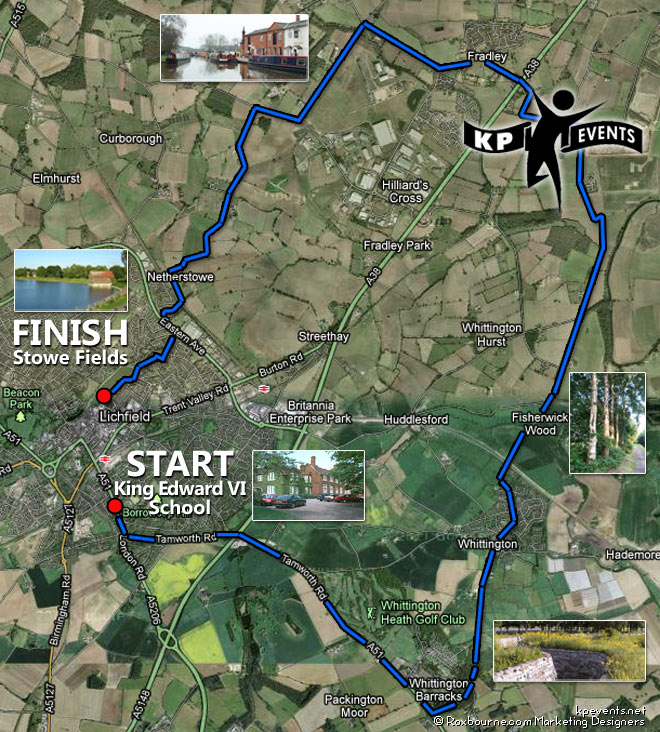 WARM WEATHER WARNING
Temperatures are forecast this Sunday's Lichfield Half Marathon to reach as high as 22c. Our advice to runners is to make sure hydrate sufficiently before the race starts. Water stations will situated every 5k with additional water given to our First Aid team and key marshals round the course. Our First Aid teams are aware of the potential for runners to experience a reaction to the warm weather. Please alert a marshal if you need assistance, they are all in touch with our Event Control team and First Aiders.
Level Crossing Safety

In the Lichfield Half Marathon runners will negotiate a railway level crossing just before the 8 mile mark. KP Events takes the safety at this crossing seriously so please take some time to learn how to use a crossing appropriately it will only increase your personal safety. Read more about level crossing safety.
In 2017 for the first time since the first event in 2011 runners had to stop at Fine Lane Level crossing at 71/2 miles. We had a team to timekeepers who dealt effectively with the situation.
This year, Network Rail have informed us only 3 trains are scheduled, the final one at 9.47 am. However, last year a train on another line hit a cow causing trains to be diverted to the Fine Lane line. This year if an emergency situation arises again we have transponders and a technician from Stuweb located at the crossing and he will activate the first transponder and runners chip times will be registered and stopped, only to be resumed when a runner passes through the second transponder to resume their run. This will then be picked up at the finish on the race computer. KP Events hopes an emergency at Fine Lane won't materialise. If it does we are ready to deal with it even more effectively.
ROAD CLOSURES AND TRAFFIC MANAGEMENT
The LICHFIELD HALF MARATHON will lead to temporary road closures and traffic management arrangements in and around the city on the day, these are:
Stowe Rd/St Michaels Rd/St Chads Rd – these will be closed with diversions in place from 10.00am until 3.00pm approx.
Stockford Lane Whittington and Netherstowe Lane from Curborough Sprint Course are closed 10.00am to 3.00pm approx.
Traffic will be managed by police and operatives outside King Edwards School to Common Lane Whittington from 10.30am to 10.45am.
Traffic will be managed by police and operatives at Whittington Village Main St cross roads from 10.45am to 11.45am.
Traffic will be managed by police and operatives at Fradley Tesco Depot Roundabout from 11.15am to 1.30pm approx.
There will be parking restrictions in place in Whittington Village Main Street on Saturday 5th May 7.00pm until 12 noon on Sunday May 6th approx, and in Netherstowe Rd on Saturday 5th May 7.00pm until 2.00pm on Sunday May 6th approx. KP Events apologies for any inconvenience caused.
Additional Info
The first three runners of the Ladies and Gents races will be presented with trophies. Every finisher will be presented with a medal showing their participation in the Lichfield Half Marathon along with a goody bag. The winner will also be awarded THE GERALDINE AGNEW MEMORIAL TROPHY in honour of the marathon runner and Lichfield resident who died suddenly in December 2013 whilst on holiday in Thailand.
Prizes will be awarded as soon as possible after the races. Trophies to first 3 men and first 3 women runners. Please note we will be using timing chips, so we can give accurate results. This chip is attached to the back of a runners race number.
The highly popular Lichfield Half Marathon attracts in excess of 1,500 competitors. It is located in the historic market city of Lichfield, famous for its three spired cathedral and Dr Johnson's birthplace (author of the first English dictionary). Lichfield retains an unspoilt quality with many listed buildings leaving a Georgian legacy. The city is located 16 miles north of Birmingham and easily accessible via the M6 Toll and A38.
The start area for the Lichfield Half Marathon is King Edwards VI School in Lichfield Staffordshire, this is located on Upper St. John Street, Lichfield, Staffordshire. Post Code for sat nav is WS14 9EE.
There will be plenty of parking at the venue, and signposts will be up. Please use these car parks and do not park on the local streets. Please arrive in good time and "ready to run" as changing is limited and we cannot provide shower facilities for the numbers involved.
Please note: the Lichfield Half Marathon will start with a rolling road block for the first 2 miles, at the back will be a sweeper vehicle, if runners fall behind this vehicle they'll be expected to run on pavements where possible.
There is a train track crossing on the Half Marathon route and we are working with Network Rail to best manage this crossing on the day. In the unlikely event that trains need to be diverted through this crossing we have a team of timekeepers in place to manage that situation similar to how it is managed at the Leicester Marathon every year.
The finish line for the Half Marathon is situated on Stowe Fields off Stowe Rd near the city centre, Lichfield WS13 6AQ Staffordshire, West Midlands. This is only just over a mile walk from the start, and where cars are parked. There is a free return coach service from Stowe Field back to King Edwards School.