CARNEY CONQUERS CATTON CHALLENGE
Today's (February 25th) Xtreme Challenge at Catton Hall Estate in South Derbyshire saw Adam Carney storm the mud laden, wind swept, winter heavy obstacle challenged 10k course to win in a fantastic time of 51:19, close to a course record.
Richard Holden finished second in 52:27 with Rhys Jeremiah in third 54:17. First female athlete home was Jess Orton in 1:05:17 with Natalie Lawrence second in 1:07:48 and Lasma Blazevica third in 1:20:02. See the FULL RESULTS below (click "more").
A live video of the race is available on our Facebook page.
Photos
We have a lot of photos from this year's Xtreme; taken by students of South Staffordshire College. You can download the zip files below (approx 40 photos per batch).
Batch 1
Batch 2
Batch 3
Batch 4
Photography credits: Rohan Sahota, Molly Dix, Harry Matthews, Holly Griffiths, Beckii Whiting.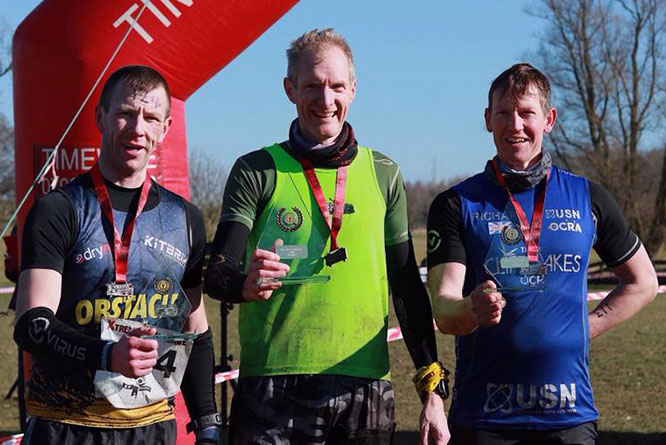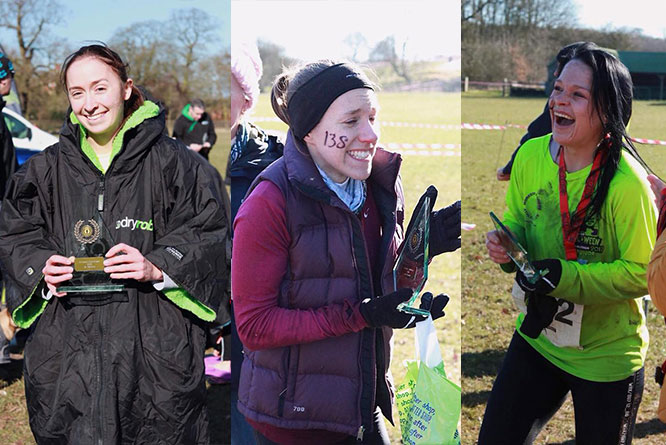 FULL RESULTS
| | | | | |
| --- | --- | --- | --- | --- |
| Number | Time | Name | Gender | Age |
| 125 | 0.51.19 | Adam Carney | m | 44 |
| 113 | 0.52.27 | Richard Holden | m | 52 |
| 124 | 0.54.17 | Rhys Jeremiah | m | 34 |
| 130 | 0.55.13 | Steve Miller | m | 42 |
| 82 | 0.56.52 | Stuart Neail | m | 42 |
| 30 | 0.57.24 | Michael  Gill | m | 42 |
| 80 | 0.58.52 | David McCallum | m | 36 |
| 40 | 0.59.31 | Matt Langston | m | 37 |
| 35 | 0.59.42 | Craig Walker | m | 36 |
| 72 | 0.59.54 | C. Easton | m | 46 |
| 45 | 1.00.14 | Kevin Jupp | m | 43 |
| 19 | 1.00.22 | Nicholas Noyes | m | 32 |
| 94 | 1.00.28 | James Allen | m | 40 |
| 55 | 1.00.34 | Steven Mesham | m | 46 |
| 27 | 1.01.16 | Robert Kena | m | 37 |
| 84 | 1.01.57 | Mitchell Peitchard | m | 34 |
| 62 | 1.01.58 | Stuart Harwood | m | 40 |
| 90 | 1.02.14 | Jobie Holloway | m | 38 |
| 74 | 1.02.47 | Neil Handley | m | 49 |
| 146 | 1.03.19 | Stephen Baker | m | 33 |
| 144 | 1.04.27 | Liegh Tate | m | 34 |
| 143 | 1.04.28 | Rich Latham | m | 34 |
| 142 | 1.04.29 | Chris Kaylor | m | 34 |
| 81 | 1.04.59 | Andrew Barnes | m | 37 |
| 39 | 1.05.17 | Jess Orton | f | 29 |
| 38 | 1.05.20 | Tom Wilson | m | 30 |
| 54 | 1.06.58 | Mike Holt | m | 40 |
| 105 | 1.07.42 | Karl Plater | m | 30 |
| 139 | 1.07.44 | Chris Wan | m | 21 |
| 138 | 1.07.48 | Natalie Lawrence | f | 22 |
| 77 | 1.08.47 | Daniel Smith | m | 39 |
| 100 | 1.10.30 | Jack Speake | m | 17 |
| 41 | 1.10.31 | Kyle Smith | m | 16 |
| 156 | 1.10.51 | Jason Phillpots | m | |
| 155 | 1.11.17 | Jason Philpotts | m | 36 |
| 127 | 1.11.32 | Damien Warren | m | 35 |
| 15 | 1.11.41 | Craig Howes | m | 37 |
| 53 | 1.12.11 | Frazer Austin | m | 18 |
| 157 | 1.13.01 | Leon Edwards | m | 37 |
| 140 | 1.14.33 | Keith Carter | m | 48 |
| 13 | 1.14.35 | Andrew Greeham | m | 56 |
| 119 | 1.15.24 | Richard Williams | m | 36 |
| 118 | 1.15.24 | Mark Williams | m | 34 |
| 93 | 1.17.10 | Jack Turner | m | 25 |
| 137 | 1.17.25 | Joshua Goddard | m | 28 |
| 110 | 1.17.37 | Matthew Barker | m | 27 |
| 101 | 1.17.55 | Mark Spittle | m | 38 |
| 6 | 1.18.47 | Thomas Small | m | 28 |
| 112 | 1.18.47 | Jonathon Butler | m | 29 |
| 70 | 1.19.20 | Daniel Hiscoke | m | 29 |
| 52 | 1.19.31 | Tony Goodman | m | 57 |
| 106 | 1.19.36 | Craig Emery | m | 34 |
| 129 | 1.19.43 | Daniel Kunkel | m | 33 |
| 102 | 1.20.02 | Lasma Blazevica | f | 27 |
| 87 | 1.20.19 | Faith Morgan | f | 42 |
| 86 | 1.20.19 | Greg Hopkinson | m | 17 |
| 116 | 1.20.19 | Steven Leeming | m | 46 |
| 50 | 1.21.07 | Anne Marie Atherton | f | 27 |
| 51 | 1.21.07 | Laura Farside | f | 29 |
| 43 | 1.21.54 | Stuart Golby | m | 46 |
| 134 | 1.22.25 | Katie Joyce | f | 35 |
| 4 | 1.22.25 | Jess Cope | f | 14 |
| 161 | 1.22.31 | Robbie Coles | m | 34 |
| 108 | 1.24.12 | Rachel Weatherly | f | 40 |
| 120 | 1.25.27 | Denis Corkery | m | 43 |
| 96 | 1.25.44 | Stuart Pope | m | 42 |
| 3 | 1.25.48 | Jullie Cope | f | 49 |
| 162 | 1.25.49 | Gary Simmons | m | 43 |
| 104 | 1.25.57 | Gareth Moseley | m | 41 |
| 95 | 1.26.26 | Rose Hemmings | f | 35 |
| 57 | 1.26.33 | Elliot Tunkiss | m | 17 |
| 11 | 1.26.55 | Wayne Measures | m | 29 |
| 9 | 1.26.59 | Paul Measures | m | 54 |
| 49 | 1.27.22 | Kris Corns | m | 36 |
| 123 | 1.27.41 | Chris Smith | m | 37 |
| 99 | 1.27.41 | Darren Wayte | m | 37 |
| 128 | 1.27.45 | Scott Pettingale | m | 38 |
| 21 | 1.28.56 | Marc Sullivan | m | 39 |
| 5 | 1.29.04 | Craig Holland | m | 27 |
| 75 | 1.29.51 | Craig Poxon | m | 29 |
| 76 | 1.29.51 | Mitch Walker | m | 29 |
| 83 | 1.30.08 | Ella Jupp | f | 36 |
| 109 | 1.30.08 | Stephanie Randall | f | 33 |
| 63 | 1.30.37 | Michk Greenhalgh | m | 32 |
| 47 | 1.30.44 | Laura Cremin | f | 33 |
| 46 | 1.30.51 | Sam Wrath | f | 33 |
| 147 | 1.30.55 | David Banes | m | 51 |
| 23 | 1.30.59 | Matt Smith | m | 27 |
| 17 | 1.32.46 | Scott Wood | m | 29 |
| 37 | 1.32.57 | Shane Brolon | m | 17 |
| 56 | 1.32.57 | Oliver Tisdale | m | 17 |
| 35 | 1.33.05 | | f | |
| 60 | 1.33.05 | Selina Chan | f | 35 |
| 91 | 1.33.08 | Andrew Hood | m | 40 |
| 92 | 1.33.08 | Matthew Preston | m | 40 |
| 73 | 1.34.28 | Chris Foster | m | 23 |
| | 1.34.28 | | m | |
| 148 | 1.38.57 | Lisa Webster | f | 39 |
| 149 | 1.38.58 | Amy Thompson | f | 28 |
| 158 | 1.39.40 | Aaron Kirkham | m | 33 |
| 65 | 1.39.41 | Adrienne Collard | f | 30 |
| 88 | 1.39.53 | Roger Badham | m | 56 |
| 89 | 1.39.53 | Sally Collard | f | 53 |
| 25 | 1.39.53 | Steve Gilbert | m | 45 |
| 126 | 1.39.53 | Owen Hedges | m | 28 |
| 152 | 1.39.53 | Helena Boda | f | 41 |
| 151 | 1.39.53 | Brad Burt | m | 39 |
| 150 | 1.39.53 | Smmy Moody | f | 26 |
| 131 | 1.39.53 | Gavin Coles | m | 39 |
| 29 | 1.39.53 | Stephen James | m | 41 |
| 28 | 1.39.53 | Richard Chalk | m | 44 |
| 22 | 1.40.12 | Adam Townsley | m | 26 |
| 44 | 1.40.17 | Dale Williamson | m | 27 |
| 36 | 1.40.22 | Grace Richards | f | 17 |
| 107 | 1.40.53 | Lee Aylett | m | 30 |
| 111 | 1.45.10 | Kathryn Hodgetts | f | 26 |
| 78 | 1.46.20 | Paul-Simon Brown | m | 38 |
| 77 | 1.46.30 | Daniel Smith | m | 39 |
| 42 | 2.01.12 | Andrew Hales | m | 53 |
| 141 | 2.01.12 | Jason Harris | m | 47 |
| 103 | 2.06.59 | Emma Farrington | f | 40 |
| 33 | 2.06.59 | Christine Blones | f | 49 |
| 17 | 2.06.59 | Sarah Williams | f | 50 |
| 115 | 2.06.59 | Marie Barley | f | 54 |
| 114 | 2.06.59 | Rebecca Douglas | f | 37 |