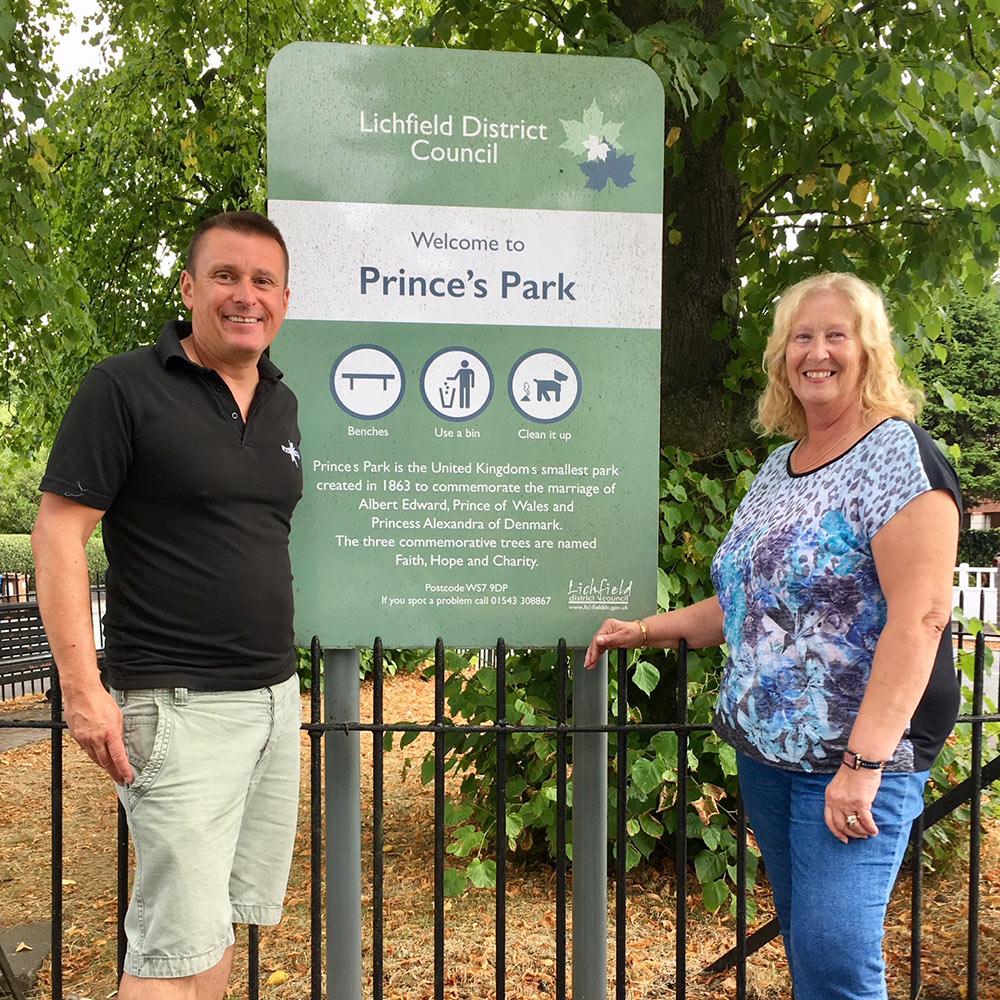 Paul Griffin of organisers KP Events and Cllr Heather Tranter Deputy Leader of Burntwood Town Council visit Princes Park in Burntwood to prepare the smallest park in the U.K. for the forthcoming Worlds Shortest Fun Run (WSFR) at the venue on Sunday September 9th 12.30pm start.
Last held in 2016 the WSFR will once again attempt to set a world record with Guinness Book of Records and Paul of KP Events is once again to attract hundreds of local families, friends, pets and people of all ages to turn up and have a go at the 55 steps distance for the Council's Charity of choice for 2018.
Staff from David Lloyd Fitness and Racquets Club in Lichfield will be to entertain the runners and spectators alike.
"At the last WSFR in 2016 the youngest runner was 3 months the oldest 93 which says everything about the event. People are in fancy dress, some do run, most walk, some dance round, some tumble round, some do it backwards, some crawl and it doesn't matter at all how you do it just do it for the Town Council's Chairman's own charity good cause. Its actually completely bonkers! Elvis turned up, The Stig was there, lots of princesses and fairies with cricketers and dancers, dressed up pooches and too many fancy dress costumes to count!! It really is a bunch of fun with medals for all to commemorate the day."
The World's smallest park recognised by the Guinness Book of Records is Mills End Park in Portland Oregon USA and in 2016 a transatlantic spat broke out when Kevin from KP Events called Mills End Park a 'gloried flowerpot' and questioned Portland's park status as a 'park' as it didn't have a fence round it, didn't have a bench and it couldn't be walked round.
With tongues very firmly in it's cheek Portland Parks Department countered by addressing Kevin's questions directly and making their park a 'real' park. The resulting media interest went viral and global with the World picking up this 'park wars' skirmish across the Atlantic!
In 2018 Burntwood Town Council whose 'patch' Prince's Park is situated in have had a replica of it made by a local community group made to the approximate dimensions of Mill's End Park and it will be officially unveiled to the World on Sunday September 9th before the WSFR begins at 12.30pm.
Kevin explains the significance of the replica: "Our replica of Prince's Park should now be seen as a rival to the title of World's Smallest Park and it will be situated inside the UK's smallest park on September 9th. How will Portland react? Lets see!" Watch this space!!!
Entry for the WSFR is £5 per adult (includes commemorative medal and goodie bag) £2.50 (children aged 4-15) and free for kids aged 3 and under.
People can register on the day and should contact paul@kpevents.net to register their interest with him.
ALL RUNNERS THAT HAVE ENTERED THE WORLDS SHORTEST FUN RUN AFTER THE 5TH SEPTEMBER WILL BE REQUIRED TO COLLECT THEIR RACE NUMBER ON SUNDAY FROM 12.30 ONWARDS