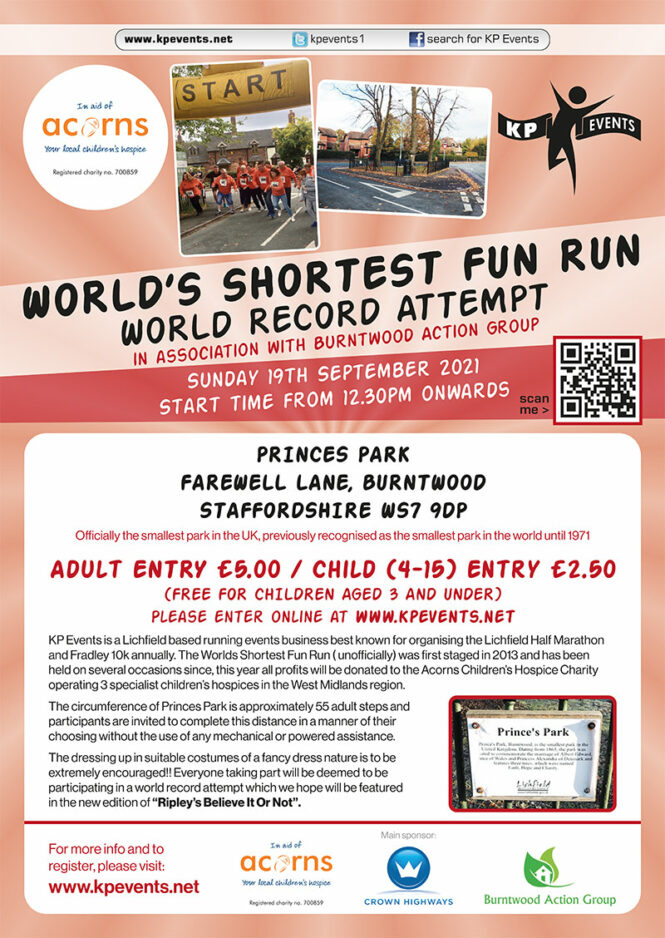 We're out to break a World Record again! The 2021 Worlds Shortest Fun Run will take place in Princes Park, Farewell Lane, Burntwood Staffordshire WS7 9DP.
We're starting at 12:30pm on Sunday the 19th, adult entry is £5 and child £2.50. Fancy dress encouraged. All profits will be donated to Acorns Childrens Hospice Charity.
KP Events have linked up with Strawberry Fields Farm and Coffee Shop in Coulter Lane Burntwood to offer people taking part in The World's Shortest Fun Run the opportunity to access their fabulous array of food coffee and unique recipe smoothies at a 15% discount off their usual prices both before and after the run has taken place. Simply show your race number to staff to qualify for this generous discount offer!!
If you have friends or family with you just tell the staff who they are, so they all get the discount offer!! The site is literally around the corner from Prince's Park with plenty of parking available.
You can book a table by calling 03337727403, demand is expected to be high, as Kevin Wilson of KP Events can vouch for, so book early.