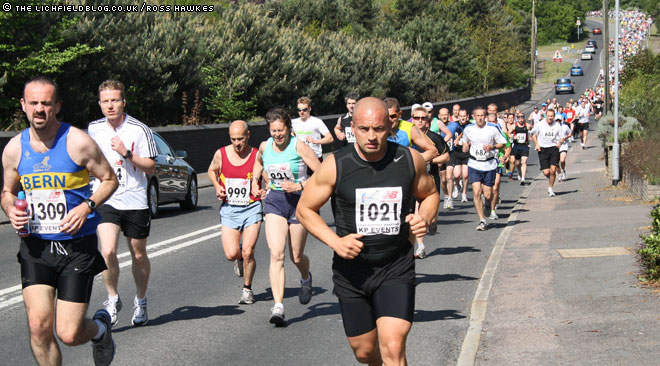 Salts Techstep Lichfield Half-Marathon – Sunday 1st May 2011
The first ever SALTS TECHSTEP LICHFIELD HALF-MARATHON drew a field of nearly 1,300 entrants to the city to take in the fantastic spring weather and the sights of Lichfield including its magnificent Cathedral under whose gaze the finish was situated as well as the beautiful rural areas of Whittington and Fradley villages.
Results, Video, Photos
The citizens of the city and surrounding areas turned out in their hundreds and even more crowded on to Stowe Field to cheer home the athletes – elite runners, committed club runners, first time half marathoners and even fun run joggers and walkers, all enjoying the inaugural event to the full.
Sponsors SALTS TECHSTEP provided a specialist BLISTER PIT STOP for any runners suffering problems en route and this was also repeated by their specialist team in the recovery area at the finish. They were busy ensuring blisters were expertly treated and aching feet soothed appropriately.
Peter Russell – Technical Director of Salts Techstep's education partner New Balance, one of the worlds leading makers of running shoes was on hand to present the prizes to the first three men and women along with Adrian Priest, Senior Production Manager at Salts Techstep.
Very well done to all those involved in the Lichfield Half Marathon. A really great event and very well organised. Very professional with excellent prizes. I was lucky enough to win it this year and would certainly recommend it to others. Patrick Stuart, Mens Winner.
Men
1st         Patrick Stuart from Bedford and County FC in a time of 1hr 16:07
2nd        Westbury Harrier Rich Collinson 1:16.56
3rd         Mark Rogers from Wigan Phoenix 1:18:43.
Women
1st         Sarah Johnson ( Trentham AC ) who finished 5th overall in a time of 1:19:33
2nd        Rebecca Harrison ( Cheadle Running Club ) 1:28:28
3rd         Linda Howell ( Bournville Harriers ) 1:29:39.
(Further results below)
The Junior Mini Marathon was won by Billy Hicks, the first girl was Alice Mellor. See full results of Mini-Marathon

This photo will enlarge if clicked: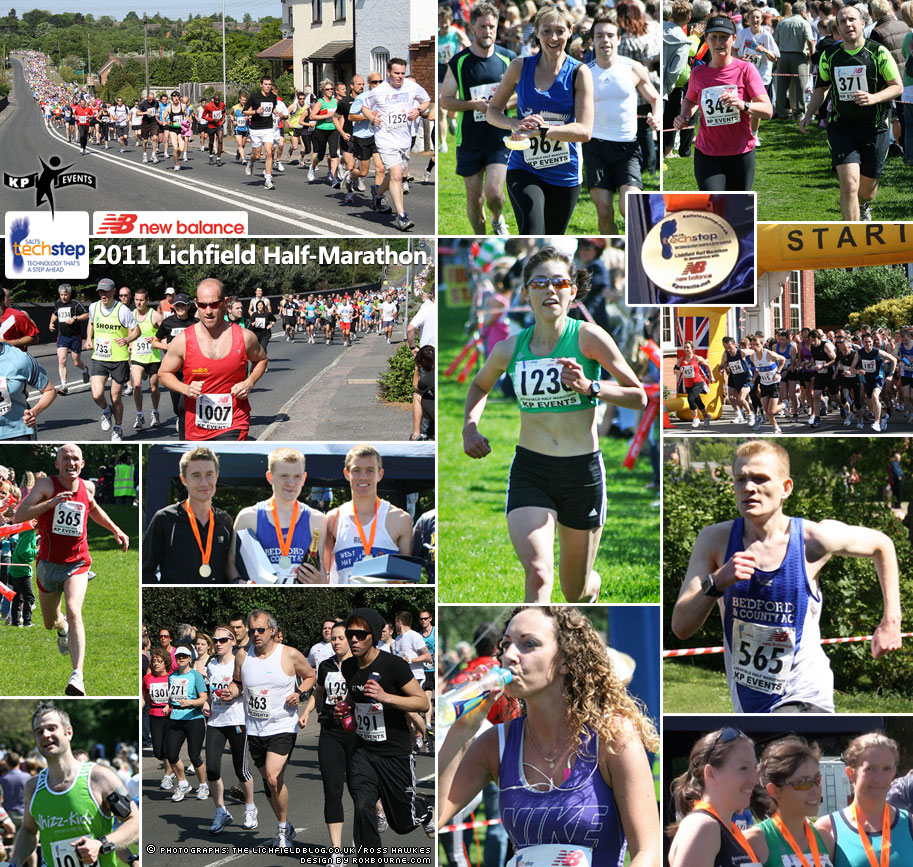 Photos courtesy of The Lichfield Blog
See more Half-Marathon photos in The Lichfield Blog's Flickr account

………………………………………………………………………………………………………………………….
POSITION | RACE No. | NAME | CAT. | CLUB | CHIP TIME | GUN TIME
1 565 PATRICK STUART M-17-18 bedford & county ac 01:16:07 01:16:08
2 815 RICH COLLINSON M-25-29 westbury harriers 01:16:56 01:16:58
3 842 MARK ROGERS M-40-44 wigan pheonix 01:18:41 01:18:43
4 365 ALASTAIR PAYNE M-40-44 01:18:57 01:18:59
5 1230 SARAH JOHNSON F-20-24 trentham r/c 01:19:33 01:19:34
6 1115 MARCUS MCDONALD M-30-34 burntwood triathlon club 01:20:31 01:20:39
7 1209 STEVE TOY M-25-29 01:22:10 01:22:14
8 734 SEBASTIAN HOBBS M-20-24 bournville harriers 01:22:18 01:22:21
9 516 BRIAN MAYNARD M-35-39 01:22:22 01:22:27
10 612 LEE GREEN M-35-39 01:21:56 01:22:48
11 1040 CHARLES HOWARD M-35-39 wootton road runners 01:23:35 01:23:37
12 1045 RICHARD SIMMS M-50-54 heanor running club 01:23:45 01:23:47
13 221 JASON CORNS M-40-44 01:24:28 01:24:28
14 513 PHILIP PIPER M-55-59 lichfield running club 01:24:49 01:24:53
15 211 STEVE PITT M-40-44 west bromwich harriers 01:24:50 01:24:59
16 730 ANDY LANE M-40-44 01:25:34 01:25:37
17 1084 WILLIAM ROE ROE M-CHECK AGE 01:26:26 01:26:29
18 957 STUART PEARSON M-40-44 bournville harriers 01:26:32 01:26:35
19 592 MARVIN MALIA M-35-39 sinfin running club 01:26:46 01:26:46
20 697 GREG SLATER M-45-49 01:26:37 01:26:48
21 350 JACK SEXTY M-20-24 01:27:02 01:27:04
22 1100 DOMINIC SCOTT M-45-49 01:27:24 01:27:26
23 1122 JON WOLFE M-35-39 lichfield running club 01:27:23 01:27:48
24 634 RYAN NOKES M-20-24 01:27:56 01:28:09
25 941 ADAM REYNOLDS M-30-34 01:28:12 01:28:17
26 236 KEVIN MINOGUE M-50-54 01:28:20 01:28:21
27 1225 DAVID LIDDALL M-35-39 royal sutton coldfield a c 01:28:14 01:28:30
28 883 GUY MAWSON M-40-44 fetch everyone rc 01:28:27 01:28:35
29 440 REBECCA HARRISON F-30-34 cheadle running club 01:28:38 01:28:40
30 212 ALEX PARKER M-30-34 01:28:37 01:28:43
31 534 MATTHEW GRANT M-35-39 village 01:28:34 01:28:52
32 1008 STEVE CLARKE M-40-44 amazing feet 01:28:11 01:28:59
33 1104 SIMON CRADDOCK M-25-29 serpentine running club 01:28:52 01:29:01
34 226 IAN DEMPSEY M-25-29 01:29:02 01:29:04
35 614 ROB HURLEY M-30-34 01:29:01 01:29:06
36 849 ANDREW SPOONER M-30-34 01:29:03 01:29:07
37 292 MATTHEW WHITEHOUSE M-35-39 01:29:36 01:29:39
38 357 LINDA HOWELL F-30-34 bournville harriers 01:29:39 01:29:43
39 375 RICHARD BAYLISS M-30-34 01:29:42 01:29:54
40 1269 GARETH STUBBS M-40-44 lichfield running club 01:29:56 01:30:09
41 1201 KEVIN PIPER M-30-34 01:30:05 01:30:11
42 983 PAVEL MIHALIC M-45-49 01:30:06 01:30:13
43 640 MARK ASHBY M-25-29 01:30:07 01:30:18
44 749 SEAN COCHRANE M-40-44 01:30:17 01:30:24
45 353 JAMES MILLINGTON M-40-44 01:30:20 01:30:27
46 256 IAN CROASDALE M-40-44 01:30:32 01:30:38
47 1237 DARREN BENTLEY M-35-39 01:30:57 01:30:57
48 953 MICK JAMES M-40-44 bournville harriers 01:31:04 01:31:06
49 579 TIMON SCHEVEN M-25-29 01:31:04 01:31:22
50 1264 DANIEL WILLIAMS M-30-34 01:31:17 01:31:32
51 736 ANDREW SHORTHOUSE M-45-49 01:31:36 01:31:43
52 1097 ALEX MASON M-30-34 vale royal athletic club 01:31:23 01:31:49
53 237 ANTHONY WHITE M-40-44 warrington tri club 01:31:46 01:31:50
54 950 ADRIAN GALE M-50-54 peel roadrunners 01:31:50 01:32:09
55 599 PETER PARKER M-55-59 royal sutton coldfield 01:32:18 01:32:20
56 532 GARY SUMNER M-30-34 01:32:25 01:32:27
57 1087 ASHLEY BOND M-30-34 01:32:26 01:32:30
58 956 STEVE FUDGE M-30-34 01:32:25 01:32:33
59 1067 LUKE SAXTON M-25-29 01:32:16 01:32:35
60 598 KENT WATSON M-45-49 erme valley harriers 01:32:34 01:32:40
61 571 JON ALCOCK M-35-39 01:32:38 01:32:42
62 1266 MICHAEL SMITH M-17-18 cannock and staffs 01:32:42 01:32:55
63 462 RICHARD DEAKIN M-30-34 01:32:40 01:33:05
64 51 CHRIS OWEN M-40-44 stafford harriers 01:33:09 01:33:12
65 795 PHILLIPPA MORRIS F-30-34 01:33:09 01:33:14
66 423 DANIEL WESTON M-25-29 01:33:04 01:33:35
67 1127 STEPHEN GRUBB M-45-49 aldridge running club 01:33:36 01:33:41
68 155 THOMAS STANLEY M-20-24 01:33:35 01:33:44
69 157 RICHARD STANLEY M-25-29 01:33:36 01:33:45
70 456 SARAH BLAND F-45-49 stratford on avon ac 01:33:37 01:33:46
71 285 CARL BAGGOTT M-35-39 01:33:49 01:33:50
72 1320 ERIK HAYTER M-20-24 01:33:28 01:34:00
73 728 TIM SLATER M-40-44 01:33:50 01:34:03
74 118 BRIAN MCMULKIN M-40-44 01:33:50 01:34:07
75 5 JAMES COOMBES M-25-29 01:34:10 01:34:13
76 1212 ROSS RILEY M-30-34 01:34:13 01:34:14
77 531 DENIS MORIN M-45-49 01:33:10 01:34:21
78 251 LEE ROGERS M-40-44 01:34:26 01:34:28
79 1336 MARTIN GEOFFREY M-30-34 01:32:52 01:34:30
80 741 IAN HARVEY M-35-39 reading roadrunners 01:34:26 01:34:34
81 981 ARTURS GOROVNOVS M-20-24 01:34:40 01:34:46
82 574 JAMES SPRAY M-30-34 sinfin r.c 01:34:48 01:34:50
83 814 XENOPHON TZAMBAZLES M-30-34 01:34:32 01:35:09
84 444 THOMAS BENNETT M-40-44 brat 01:35:18 01:35:23
85 1241 TREVOR ALLPORT M-55-59 midland masters 01:35:28 01:35:31
86 395 ANDREW HUMM M-25-29 01:35:28 01:35:34
87 72 GRAEME HEANAN M-40-44 01:34:12 01:35:40
88 1057 MARK ORME M-30-34 chase harriers 01:35:34 01:35:52
89 1283 ANDY WALSH M-25-29 lichfield running club 01:35:38 01:35:52
90 1043 IAN HELLINEUX F-35-39 sinfin r/c 01:35:52 01:35:54
91 83 CLIFF CARTWRIGHT M-45-49 lichfield rc 01:35:54 01:35:59
92 426 DAVID PEPLOW M-25-29 01:35:34 01:36:05
93 33 JAMES WATSON M-30-34 01:36:05 01:36:07
94 703 BEN DANIELS M-35-39 01:36:01 01:36:10
95 735 ROBERT ARNOLD M-30-34 01:36:20 01:36:29
96 1091 DAVID HODSON M-50-54 01:36:23 01:36:31
97 1244 RICHARD COWTON M-35-39 01:35:48 01:36:35
98 606 SAM PRIDDIN M-20-24 01:36:23 01:36:49
99 1280 MATT BROCKLEHURST M-35-39 01:36:48 01:36:58
100 596 MARK TAYLOR M-45-49 01:37:01 01:37:09