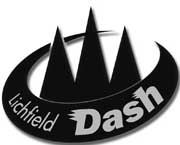 The Lichfield Dash – a KP Events Flagship
The UK's Most Unique Sprint Event
DATE – It takes place on Saturday the 16th July 2011, part of the Lichfield Festival.
PLACE – Lichfield Cathedral Close
WHAT HAPPENS – The Dash, The Elite Mile plus other races for adults and children, also cycling and displays. See timetable below and also what happened last year.
ENTRY – see timetable below
The Dash starts 12 years, 2 months, 17 days, 0 hours, 11 minutes, 45 seconds ago
Timetable
10.00am Junior Sprint Series (100m) sponsored by McDonalds
£2 per child per race, races for 8-15 year olds
10.30am Junior 400m Series (1 lap) sponsored by Alpha Sports
£2 per child per race, races for 8-15 year olds
11.00am The KP Fitness Junior Dash (16 years and under)
Entry via invitation only
11.10am MAN vs BIKE – the ultimate challenge sponsored by Friary Grange Leisure Centre
11.20am THE ELITE MILE sponsored by Keelys Solicitors
11.15am Junior Relays sponsored by The Lichfield Round Table
£5 per team of up to 4, 1 lap each
11.25am Senior Relays for local clubs, businesses and organisations sponsored by Lichfield Health and Fitness Club
£10 per team of up to 4, 1 lap each (entries welcome)
11.35am Demonstration Event
11.50am The Lichfield Dash Athletes Parade
11.59am The Salts Techstep Lichfield Dash
Registration is 20 minutes before each race in marquee in front of West Wing
Subject to alteration
Anyone wanting information on any aspect of the Dash 2011 should contact Kevin on 07971-100973
History of the Dash
Remember the famous quadrangle scene in the Oscar winning film Chariots of Fire, where Olympic rivals Harold Abrahams and Eric Liddell race each other to the chimes of a Cambridge College clock?
In 1924 Trinity College Cambridge was the venue, but for the last twelve years Lichfield Cathedral close, has been the place to witness this most unique of sporting events. Thanks to the efforts of local events organisers K.P. Events, the Festival Dash is alive and kicking!
First run in 1998, the Cathedral Dash is a completely unique sporting occasion. Invited athletes race the 12 noon chimes on the second Saturday of the city's International Festival and the crowds flock to Cathedral Close to watch a race against time come alive in a spectacle of speed, strength and true Corinthian endeavour.
The first ever Dash in 1998 was won by GB 400m international Paul Thompson of Birchfield Harriers.
Since then winners have included GB 400m international Richard Buck, GB 1500m international James Thie and GB 800m athlete Jimmy Watkins.
In 2011, Saturday July 16th will see the 13th running of the event in a year when Chariots of Fire celebrates its 30th anniversary and the Lichfield Festival, a time of year which coincides with the dash, also celebrates its 30th birthday!
The Elite Mile is being re-introduced at The Lichfield Dash.
Any athletes looking for an invitation to the Elite Mile should contact Kevin Wilson of KP Events on 07971100973.
This event will take place around The Close of Lichfield Cathedral at 11.20am as part of the Salts Techstep Lichfield Dash event. This year marks the 30th anniversary of the film which inspired The Dash – Chariots of Fire – and also the Lichfield Festival of which The Dash is a part, so this mile event will carry a very special prize.