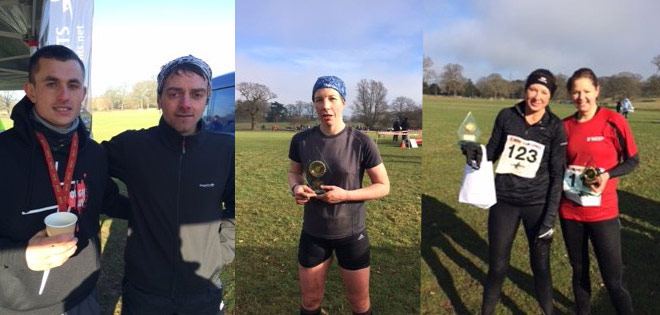 The 5th annual Xtreme Challenge sponsored by Lichfield Health and Fitness Club saw a record turn-out of enthusiastic adventurous runners take on even more obstacles, fences, freezing water, super electric shocks, mad mud, nature fights back timber-laden woods and inclines to die for and still they come back for more!!! Awesome guys, just awesome.
2014 winner Connor Hancock blazed a fast trail and was never going to be caught as he came home in 34:54 in perfect winter condition of cold, dry and sunny and last year's runner up and 2012 winner Robert Hall was second again in 39:20 with Paul Richards 3rd in 40:35.
First female home was Laura Appleby in 49:09 with Sophie Smith 2nd in 52:49 and Hannah Maidwell 3rd in 56:03.
Full Results are at the bottom of this post, click the MORE link.
You can see and buy photographs from the event at www.glenncurley.co.uk
Click MORE to see the full results.
| | | | | | |
| --- | --- | --- | --- | --- | --- |
| Position | Number | Name | Age | Sex | Time |
| 1 | 172 | Conor Hancock | 21 | M | 34.54 |
| 2 | 212 | Robert Hall | 31 | M | 39.20 |
| 3 | 180 | Paul Richards | 26 | M | 40.35 |
| 4 | 189 | James Coombes | 29 | M | 41.41 |
| 5 | 63 | Nigel Elson | 41 | M | 43.07 |
| 6 | 102 | Tadhg Buckley | 36 | M | 45.45 |
| 7 | 127 | Max Walter | 27 | M | 46.43 |
| 8 | 99 | Alistair Gower | 37 | M | 46.57 |
| 9 | 214 | Gavin Hammond | | M | 47.25 |
| 10 | 79 | Danny Worrall | 31 | M | 47.40 |
| 11 | 76 | Matt Jackson | 27 | M | 48.08 |
| 12 | 192 | Nick Hughes | 32 | M | 48.10 |
| 13 | 111 | Marc Buttin | 32 | M | 48.34 |
| 14 | 38 | Laura Appleby | 32 | F | 49.09 |
| 15 | 29 | Jade Hannoy | 38 | | 49.27 |
| 16 | 45 | Brian McMulkin | 44 | M | 49.38 |
| 17 | 213 | Lee Whitton | | M | 49.43 |
| 18 | 72 | Muddy Duck | 45 | M | 50.22 |
| 19 | 84 | Alasdair Kennedy | 19 | M | 50.22 |
| 20 | 71 | James Hall | 34 | M | 50.30 |
| 21 | 210 | Max McKendrick | 17 | M | 50.58 |
| 22 | 128 | Craig Walker | 33 | M | 51.17 |
| 23 | 170 | Michael Linskey | 46 | M | 51.21 |
| 24 | 109 | Steve Cramp | 33 | M | 51.47 |
| 25 | 3 | Paul Martin | 36 | M | 52.12 |
| 26 | 147 | Jack Austin | 21 | M | 52.39 |
| 27 | 121 | Martin Couzin | 38 | M | 52.41 |
| 28 | 157 | Sophie Smith | 24 | F | 52.49 |
| 29 | 148 | Halder Ali | 20 | M | 52.55 |
| 30 | 11 | Lee Frith | 39 | M | 52.59 |
| 31 | 131 | Mike Holt | 37 | M | 53.06 |
| 32 | 205 | Jonathan Dumellow | 30 | M | 54.01 |
| 33 | 93 | Daniel Smith | 36 | M | 54.22 |
| 34 | 164 | Jimmy Coldicott | 23 | M | 55.02 |
| 35 | 116 | Wayne Allen | 44 | M | 55.12 |
| 36 | 132 | Nick Hill | 33 | M | 55.21 |
| 37 | 146 | Chris Jones | 32 | M | 55.26 |
| 38 | 20 | Chris Oates | 46 | M | 55.28 |
| 39 | 149 | Paul Shillaker | 27 | M | 55.52 |
| 40 | 220 | Matt Price | | M | 56.03 |
| 41 | 105 | Adam Price | 30 | M | 56.03 |
| 42 | 117 | Hannah Maidwell | 31 | F | 56.03 |
| 43 | 27 | James Taylor | 41 | M | 56.13 |
| 44 | 124 | Gareth Jones | 34 | M | 56.39 |
| 45 | 123 | Nicola Jackson | 33 | F | 56.39 |
| 46 | 174 | Kieron Chadwick | 23 | M | 56.45 |
| 47 | 152 | Giles Hammond | 32 | M | 57.19 |
| 48 | 32 | Mark Cook | 46 | M | 57.47 |
| 49 | 59 | Hiedi Hunt | 41 | F | 57.52 |
| 50 | 60 | Steve Bond | 37 | M | 57.52 |
| 51 | 216 | Daniel White | 24 | M | 57.53 |
| 52 | 147 | Jack Austin | 21 | M | 58.23 |
| 53 | 7 | Richard Vinnicombe | 33 | M | 58.45 |
| 54 | 35 | Ross Coulthread | 17 | M | 59.17 |
| 55 | 69 | Richard Miller | 34 | M | 59.26 |
| 56 | 119 | Matt Minton | 38 | M | 59.28 |
| 57 | 78 | Carolyn Hall | 46 | F | 59.47 |
| 58 | 140 | Russell Breeze | 35 | M | 59.58 |
| 59 | 193 | Jody Hill | 29 | F | 60.12 |
| 60 | 182 | Nicholas Noyes | 29 | M | 60.25 |
| 61 | 73 | Phil Servas | 49 | M | 60.43 |
| 62 | 75 | Lisa Hammond | 22 | F | 61.27 |
| 63 | 58 | Adam Hardy | 30 | M | 61.30 |
| 64 | 41 | David Rowley | 56 | M | 62.16 |
| 65 | 204 | Craig Portsmouth | 31 | M | 62.30 |
| 66 | 120 | James Tole | 41 | M | 62.30 |
| 67 | 122 | Phillip Reilly | 47 | M | 62.45 |
| 68 | 209 | Taylor Millington | 18 | M | 62.48 |
| 69 | 28 | Malcolm Teasdale | 39 | M | 63.13 |
| 70 | 87 | Sam Oxford | 37 | M | 63.18 |
| 71 | 88 | Peter Scoggins | 48 | M | 63.19 |
| 72 | 208 | Teresa With | 38 | F | 63.26 |
| 73 | 207 | Jacob Bishop | 20 | M | 63.27 |
| 74 | 86 | Andrew Nisbett | 27 | M | 63.29 |
| 75 | 37 | Richard Plank | 31 | M | 63.30 |
| 76 | 175 | Shane Griffin | 27 | M | 63.33 |
| 77 | 173 | Henry Pocock | 39 | M | 63.34 |
| 78 | 26 | Robert Blackmore | 42 | M | 63.36 |
| 79 | 206 | Tony Bishop | 44 | M | 63.58 |
| 80 | 82 | Stuart Rose | 41 | M | 64.18 |
| 81 | 33 | Carlin Gaston | 43 | M | 64.41 |
| 82 | 89 | Richard Battams | 42 | M | 64.41 |
| 83 | 183 | Lou Williams | 37 | F | 64.56 |
| 84 | 215 | Sean Gothard | 26 | M | 64.59 |
| 85 | 154 | Andrew Goodwin | 31 | M | 65.32 |
| 86 | 161 | Matt Pressman | 41 | M | 65.32 |
| 87 | 46 | Chris Thorley | 35 | M | 65.52 |
| 88 | 47 | Ryan O'Leary | 43 | M | 65.52 |
| 89 | 134 | Gary Clayton | 27 | M | 65.55 |
| 90 | 49 | Darren Wayte | 34 | M | 66.13 |
| 91 | 50 | Michelle Wayte | | F | 66.14 |
| 92 | 194 | Sammy Shale | 27 | F | 66.16 |
| 93 | 106 | Damien Warren | 32 | M | 66.21 |
| 94 | 25 | Melanie Spratt | 35 | F | 66.26 |
| 95 | 74 | Jenna Robinson | 31 | F | 66.35 |
| 96 | 14 | Sarah Hargreaves | 35 | F | 66.39 |
| 97 | 13 | Lindsay-Anne Heald | 35 | F | 66.39 |
| 98 | 66 | Peter Jones | 38 | M | 66.56 |
| 99 | 65 | Eva Sulce | 26 | F | 67.38 |
| 100 | 98 | Phil Smith | 45 | M | 68.05 |
| 101 | 42 | Tony Goodman | 54 | M | 69.13 |
| 102 | 5 | Ian Jackson | 37 | M | 70.04 |
| 103 | 30 | Sarah Morgan | 33 | F | 70.12 |
| 104 | 31 | Julian Ayres | 29 | M | 70.12 |
| 105 | 95 | Anthony Robbins | 41 | M | 70.23 |
| 106 | 110 | Angelique Charbonnier | 30 | F | 70.26 |
| 107 | 6 | David Bowden | 42 | M | 70.59 |
| 108 | 81 | Lucy Machin | 20 | F | 71.22 |
| 109 | 80 | John Lemon | 26 | M | 71.22 |
| 110 | 36 | Rebecca Brookes | 26 | F | 71.26 |
| 111 | 12 | Stuart Walton | 39 | M | 72.38 |
| 112 | 22 | Emma Ashton | 23 | F | 74.30 |
| 113 | 187 | Adam McDermott | 28 | M | 74.34 |
| 114 | 188 | Georgia Kohlhoff | 29 | F | 74.37 |
| 115 | 185 | Dom McDermott | 29 | M | 74.45 |
| 116 | 83 | Sam Mott | 21 | M | 75.09 |
| 117 | 199 | Mick McMulkin | 32 | M | 75.19 |
| 118 | 158 | Ellis Catfield | 23 | M | 76.14 |
| 119 | 34 | Michael Coulthread | 55 | M | 77.20 |
| 120 | 104 | Johnathon Parkinson | 26 | M | 77.04 |
| 121 | 107 | Laura Plank | 29 | F | 77.37 |
| 122 | 195 | Paul Murphy | 41 | M | 78.08 |
| 123 | 114 | Gemma Rhodes | 40 | F | 78.25 |
| 124 | 200 | Adam Wright | 29 | M | 78.35 |
| 125 | 135 | Karl Foster | 40 | M | 78.36 |
| 126 | 160 | Aaron Smith | 22 | M | 78.38 |
| 127 | 165 | Shayne Tribal | 23 | M | 78.40 |
| 128 | 190 | Natalie Starily | 24 | F | 78.43 |
| 129 | 64 | Gemma Brown | 36 | F | 79.12 |
| 130 | 103 | Amy Parkinson | 22 | F | 79.15 |
| 131 | 77 | Lindsey Richardson | 34 | F | 79.22 |
| 132 | 62 | Nikki Holme | 33 | F | 79.26 |
| 133 | 61 | Jenny Wilson | 40 | F | 79.26 |
| 134 | 96 | Krystele Curtis | 31 | F | 80.10 |
| 135 | 90 | Louise Breen | 42 | F | 80.12 |
| 136 | 92 | Grace Breen | 27 | F | 80.13 |
| 137 | 91 | Niki Stinson | 42 | F | 80.17 |
| 138 | 167 | Shaun Borrill | 48 | M | 80.23 |
| 139 | 168 | Scot Freeman | 45 | M | 80.23 |
| 140 | 24 | Ryan Jones | 23 | M | 81.35 |
| 141 | 219 | Charlotte Evans | 20 | F | 81.45 |
| 142 | 181 | Abigail Percy | 39 | F | 81.52 |
| 143 | 18 | Adrian Round | 49 | M | 82.18 |
| 144 | 85 | Hayley Record | 36 | F | 82.28 |
| 145 | 4 | Kirsty Jones | 35 | F | 82.28 |
| 146 | 129 | Dave Pritchard | 30 | M | 82.42 |
| 147 | 130 | Rachel Howe | 38 | F | 82.42 |
| 148 | 2 | Carol Martin | 42 | F | 82.47 |
| 149 | 179 | Elaine Amos-Boyes | 50 | F | 83.27 |
| 150 | 48 | Abi Curtis | 39 | F | 83.29 |
| 151 | 198 | Dave Bradstlar | 44 | M | 84.08 |
| 152 | 218 | Kerry Daily | 40 | F | 84.24 |
| 153 | 217 | Chris Farmer | 36 | M | 84.24 |
| 154 | 44 | Luke Thompson | 32 | M | 84.26 |
| 155 | 203 | Liv Rubene | 26 | F | 84.52 |
| 156 | 202 | Luize Rotberga | 22 | F | 84.52 |
| 157 | 201 | Elliott Machin | 25 | M | 84.53 |
| 158 | 112 | Manmider Shanan | 48 | M | 85.18 |
| 159 | 52 | Trudi Hawksworth | 46 | F | 85.18 |
| 160 | 147 | Shaun Williamson | 40 | M | 85.18 |
| 161 | 104 | Janathon Parkinson | 26 | M | 85.18 |
| 162 | 53 | Lance Hawksworth | 54 | M | 85.18 |
| 163 | 143 | Stuart Pope | 38 | M | 85.56 |
| 164 | 144 | Jen Leathwood | 38 | F | 85.56 |
| 165 | 39 | Anthony Dulan | 27 | M | 86.41 |
| 166 | 40 | Stuart Rowley | 35 | M | 86.42 |
| 167 | 196 | Peryy Topley | 21 | M | 87.02 |
| 168 | 191 | Maruam Crossan | 27 | F | unknown |
| 169 | 118 | Kayleigh Pearson | 24 | F | 90.30 |
| 170 | 176 | Holly Littleton | 27 | F | 90.30 |
| 171 | | unknown | | | 90.31 |
| 172 | 97 | Mark Hill | 38 | M | 91.00 |
| 173 | 55 | Errol Brown | 36 | M | 91.00 |
| 174 | 94 | Vicky Swanson | 32 | F | 91.00 |
| 175 | 17 | Rebecca Exton-Russell | 37 | F | 92.15 |
| 176 | 16 | Gail Jeffreys | 44 | F | 92.15 |
| 177 | 15 | Kaye Donovan | 32 | F | 92.15 |
| 178 | 10 | Diane Mallison | 40 | F | 96.01 |
| 179 | 211 | Alison Hallett | 39 | F | 96.02 |
| 180 | 142 | Casey White | 19 | F | 96.05 |
| 181 | 166 | Samantha Bradley | 46 | F | 96.26 |
| 182 | 9 | Michell O'Driscoll | 40 | F | 96.26 |
| 183 | 100 | John King | 35 | M | 96.32 |
| 184 | 8 | Harry Irvine | 35 | M | 98.35 |
| 185 | 133 | Nicholas Mason | 45 | M | 100.44 |
| 186 | 138 | Jane Stokes | 47 | F | 104.44 |
| 187 | 139 | Kelly Broad | 34 | F | 104.44 |