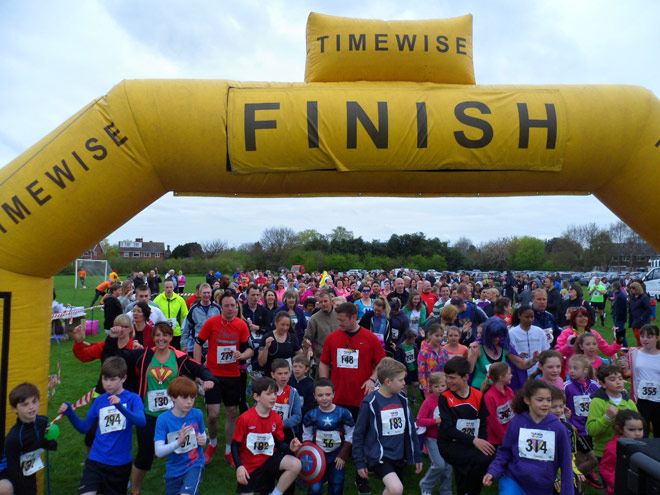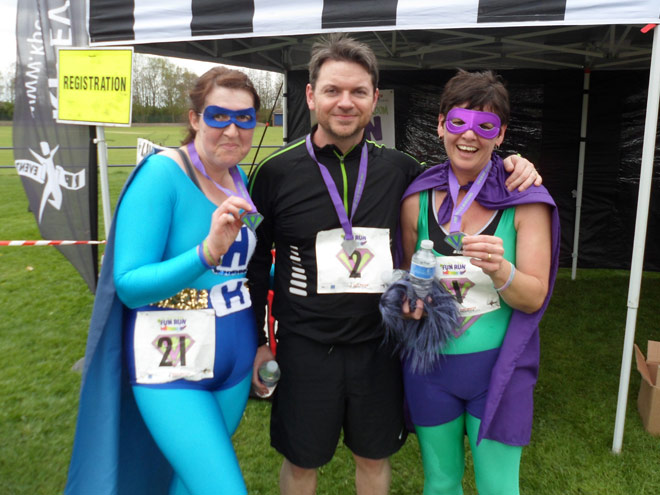 "What an amazing event which exceeded all of our expectations. Our first annual 5K Fun Run was a complete success thanks to KP Events who organised this event for us. A special thank you also to our wonderful sponsors, DBMAA and supporters, Citrus Research, M6Toll and Banabay, all of the volunteers and of course all of our wonderful participants. I hope everyone who took part enjoyed it as much we did and thank you for helping us to achieve our goal in creating our beautiful Children's Memorial Garden (Violet's Garden)" Kerry Mornington.
BLOOMING WINNERS
The first 3 men and first three women home in VIOLETS IN BLOOM 5K FAMILY FUN RUN were
Men
1st IAN CROASDALE 17;23
2ND MATTHEW VALE 18:38
3RD STEPHEN LOUNDES 19:18
Women
1st FIONA GODWIN 19:49
2ND REBECCA LOUNDES 20:13
3RD MEL POMLETT 20:35
Click MORE to see the full results.
| | | | | | |
| --- | --- | --- | --- | --- | --- |
| Position | Number | Name | Sex | Age | Time |
| 1 | 318 | Ian Croasdale | M | 48 | 17:23:00 |
| 2 | 406 | Matthew Vale | M | 60 | 18:38:00 |
| 3 | 259 | Stephen Loundes | m | 42 | 19:18:00 |
| 4 | 241 | Simon Mapp | m | 41 | 19:35:00 |
| 5 | 93 | Gordon Brockinston | m | 46 | 19:49:00 |
| 6 | 94 | Fiona Godwin | f | 16 | 19:49:00 |
| 7 | 276 | Ben Arblaster | m | 12 | 19:54:00 |
| 8 | 329 | Lee Hames | m | 12 | 20:04:00 |
| 9 | 258 | Rebecca Loundes | f | | 20:13:00 |
| 10 | 279 | James Pomlett | m | 46 | 20:35:00 |
| 11 | 365 | Grant Hughes | m | 10 | 20:40:00 |
| 12 | 39 | Jacob Bache | m | 46 | 20:59:00 |
| 13 | 38 | Paul Bache | m | | 21:06:00 |
| 14 | 280 | Mel Pomlett | f | 35 | 21:17:00 |
| 15 | 371 | Wez Regis | m | 44 | 21:19:00 |
| 16 | 263 | Fiona Cambell | f | | 21:23:00 |
| 17 | 437 | Tracey Taylor | f | 62 | 21:25:00 |
| 18 | 242 | Malcom Gee | m | 20 | 21:25:00 |
| 19 | 297 | Matt Heenan | m | 37 | 22:02:00 |
| 20 | 187 | Dave Stagg | m | 33 | 22:09:00 |
| 21 | 157 | Aime Faye | f | | 22:26:00 |
| 22 | 360 | James Ruttley | m | 10 | 22:35:00 |
| 23 | 131 | Lewis Tooley | m | 38 | 22:36:00 |
| 24 | 134 | Matthew McRobinson | m | 10 | 23:46:00 |
| 25 | 183 | Joseph Buck | m | 48 | 24:02:00 |
| 26 | 281 | Sarah Cox | f | 59 | 24:03:00 |
| 27 | 221 | Chris Kelly | m | 39 | 24:04:00 |
| 28 | 113 | Andrew Stafford | m | | 24:25:00 |
| 29 | 254 | Greame Brown | m | 19 | 24:25:00 |
| 30 | 254 | Ruairi Agnew | m | | 24:26:00 |
| 31 | 353 | Chris Babb | m | | 24:27:00 |
| 32 | 30 | Andrew Bennett | m | 48 | 24:33:00 |
| 33 | 156 | Rob Tiley | m | 47 | 24:55:00 |
| 34 | 129 | Helen Hendy | f | 35 | 24:57:00 |
| 35 | 132 | Mathew Tooley | m | 8 | 25:07:00 |
| 36 | 294 | Christian Leighton | m | 11 | 25:10:00 |
| 37 | 195 | Paul Betty | m | 62 | 25:16:00 |
| 38 | 170 | Rachel Evans | f | 32 | 25:30:00 |
| 39 | 45 | Ray McMahon | m | 44 | 25:34:00 |
| 40 | 162 | Anne Schwarzenbach | f | 51 | 25:39:00 |
| 42 | 240 | Toni Stokes | f | 52 | 25:57:00 |
| 43 | 151 | Stuart Pope | m | 54 | 26:20:00 |
| 44 | 161 | Cameron McVey | m | 17 | 26:24:00 |
| 45 | 150 | Kelly Spence | f | 30 | 26:25:00 |
| 46 | 245 | Matt Ridley | m | | 26:29:00 |
| 47 | 4 | Katie Joyce | f | 32 | 26:31:00 |
| 48 | 261 | Sophie Macintosh | f | 40 | 26:36:00 |
| 49 | 262 | Jaqueline Crane | f | 58 | 26:58:00 |
| 50 | 335 | Tyler Watson | | | 27:01:00 |
| 51 | 428 | Vicky Darby | f | 48 | 27:01:00 |
| 52 | 374 | Richard McEvy | m | 45 | 27:02:00 |
| 53 | 429 | Sarah Kenny | f | 45 | 27:05:00 |
| 54 | 296 | Anna Viralainen | f | 23 | 27:06:00 |
| 55 | 269 | Chris Field | m | 38 | 27:15:00 |
| 56 | 130 | Jo Tooley | f | 44 | 27:20:00 |
| 57 | 295 | Briany Dunmore | f | 23 | 27:20:00 |
| 58 | 334 | ???? | | | 27:25:00 |
| 59 | 139 | Steve Mornington | m | 40 | 27:38:00 |
| 60 | 206 | Nichola Dangerfield | f | 28 | 27:43:00 |
| 61 | 290 | Billy Cannon | m | 11 | 27:44:00 |
| 62 | 209 | Emma Shipton | f | 35 | 27:44:00 |
| 63 | 210 | Diana Frost | f | | 27:45:00 |
| 64 | 333 | | | | 27:50:00 |
| 65 | 267 | Paul Redmond | m | 41 | 27:51:00 |
| 66 | 71 | Sarah Baines | f | 33 | 27:58:00 |
| 67 | 319 | Alex Croasdale | | 45 | 27:59:00 |
| 68 | 196 | Louise Mitchell-Joyce | f | 47 | 28:05:00 |
| 69 | 293 | Annette Leighton | f | 42 | 28:07:00 |
| 70 | 216 | Fiona Deverall | f | 32 | 28:09:00 |
| 71 | 158 | Tammy Lynch | f | 37 | 28:10:00 |
| 72 | 328 | Lindsey Wilson | f | 38 | 28:12:00 |
| 73 | 326 | Jeane Chatsworth | f | 58 | 28:16:00 |
| 74 | 346 | Karen Riley | f | 37 | 28:17:00 |
| 75 | 436 | Nigel Hamworth | m | 51 | 28:20:00 |
| 76 | 427 | Sarah Williams | f | 59 | 28:20:00 |
| 77 | 315 | Jordan Heenan | m | 17 | 28:20:00 |
| 78 | 438 | Jude Taylor | m | | 28:23:00 |
| 79 | 343 | Mia Orton | f | | 28:30:00 |
| 80 | 146 | Ian Roberts | m | 39 | 28:31:00 |
| 81 | 182 | Ben Gardner | m | 8 | 28:32:00 |
| 82 | 180 | Helen Gardner | f | 40 | 28:33:00 |
| 83 | 181 | Nick Gardner | m | 40 | 28:39:00 |
| 84 | 148 | Ethan Roberts | m | 7 | 28:48:00 |
| 85 | 264 | Lucie Dale | f | 42 | 28:48:00 |
| 86 | 266 | Sharan Elsdon | f | 44 | 28:57:00 |
| 87 | 138 | Rachelle Vernon | f | 38 | 29:10:00 |
| 88 | 435 | Bridget Haworth | f | 50 | 29:11:00 |
| 89 | 394 | Stephen Couture | m | | 29:24:00 |
| 90 | 372 | Kelly St Lambert | f | 54 | 29:25:00 |
| 91 | 91 | Maria McCallum | f | 47 | 29:25:00 |
| 92 | 292 | Daisy Cannon | f | 9 | 29:25:00 |
| 93 | 232 | Alan Paulett | m | | 29:25:00 |
| 94 | 235 | Leo Paulett | m | | 29:31:00 |
| 95 | 73 | Kieron Catwright | m | 41 | 29:31:00 |
| 96 | 29 | Linda Ram | f | 34 | 29:32:00 |
| 97 | 66 | Stefania Pellegrino | f | 25 | 29:35:00 |
| 98 | 396 | Katie Poulton | f | | 29:39:00 |
| 99 | 395 | Sarah Ball | f | | 29:44:00 |
| 100 | 171 | Jo Clews | f | 37 | 29:45:00 |
| 102 | 213 | Mandy Hanson | f | 48 | 29:46:00 |
| 103 | 338 | | | | 29:46:00 |
| 104 | 337 | | | | 29:50:00 |
| 105 | 393 | Tom Holden | m | | 29:50:00 |
| 106 | 336 | | | | 29:55:00 |
| 107 | 332 | Oscar Kelly | m | 10 | 29:58:00 |
| 108 | 275 | Ruth Kirkland | f | | 30:10:00 |
| 109 | 273 | Ash Kirkland | | | 30:10:00 |
| 110 | 274 | Barry Bird | m | | 30:10:00 |
| 111 | 392 | Kate Holden | f | | 30:14:00 |
| 112 | 2 | Ivan Mornington | m | 38 | 30:15:00 |
| 113 | 133 | Helena Stubbs | f | 34 | 30:16:00 |
| 114 | 83 | Oliver Ward | m | 8 | 30:20:00 |
| 115 | 248 | Adam Ahmed | m | 8 | 30:21:00 |
| 116 | 174 | Charlie Clews | m | 5 | 30:21:00 |
| 117 | 356 | Paul Clews | m | | 30:22:00 |
| 118 | 117 | Helen King | f | 38 | 30:36:00 |
| 119 | 203 | Tove Persson | f | 16 | 30:42:00 |
| 120 | 106 | Ann Medawar | f | 58 | 30:43:00 |
| 121 | 107 | Milo Medawar | m | 60 | 30:43:00 |
| 122 | 110 | | | | 30:44:00 |
| 123 | 413 | | | | 30:45:00 |
| 124 | 20 | Ben Webb | m | 17 | 30:48:00 |
| 125 | 18 | Chris Webb | m | 46 | 30:49:00 |
| 126 | 21 | Anne Devenny | f | 41 | 30:50:00 |
| 127 | 1 | kerry Morrington | f | 48 | 30:51:00 |
| 128 | 111 | Kieron Hammersley | m | 30 | 30:52:00 |
| 129 | 110 | Ricki Dudley | | 29 | 30:54:00 |
| 130 | 121 | Daniel Cook | m | | 31:04:00 |
| 131 | 120 | Michael Cook | m | 37 | 31:09:00 |
| 132 | 36 | Laura Woodcock | f | 30 | 31:10:00 |
| 133 | 316 | Sarah Kerr | f | | 31:12:00 |
| 134 | 445 | Emma Marticovera | f | | 31:19:00 |
| 135 | 426 | Deb Holmes | f | 48 | 31:19:00 |
| 136 | 246 | Caroline Ahmed | f | 50 | 31:27:00 |
| 137 | 431 | Paula Young | f | 42 | 31:40:00 |
| 138 | 300 | James Harris | m | 17 | 31:42:00 |
| 139 | 390 | Mase Douglas | | | 31:46:00 |
| 140 | 137 | Rachel Hopley | f | 39 | 31:50:00 |
| 141 | 388 | Ted Douglas | m | | 31:52:00 |
| 142 | 147 | Jackie Roberts | f | 44 | 31:55:00 |
| 143 | 48 | Eloise Martin | f | 32 | 31:57:00 |
| 144 | | | | | 31:59:00 |
| 145 | 228 | Finn Davies | f | 6 | 32:02:00 |
| 146 | 231 | Nathan Davies | m | 40 | 32:03:00 |
| 147 | 251 | Gary Cox | m | | 32:04:00 |
| 148 | 229 | Ruby Davies | f | 6 | 32:05:00 |
| 149 | 253 | Joseph Cox | m | | 32:06:00 |
| 150 | 19 | Abby Webb | f | 13 | 32:07:00 |
| 151 | 53 | Rebecca Beswick | f | 35 | 32:15:00 |
| 152 | 172 | Lauren Clews | f | 13 | 32:22:00 |
| 153 | 387 | Nicky Douglas | | | 32:27:00 |
| 154 | 389 | Erin Douglas | | | 32:33:00 |
| 155 | 434 | Ellie Young | f | 9 | 32:33:00 |
| 156 | 432 | Gary Young | m | 46 | 32:35:00 |
| 157 | 431 | Paula Young | f | 42 | 32:45:00 |
| 158 | 270 | Abigail Kirkland | f | | 32:52:00 |
| 159 | 364 | Judith Williamson | f | 32 | 32:59:00 |
| 160 | 244 | Lucy Ridley | f | | 33:07:00 |
| 161 | 116 | Chelsea Baker | f | 22 | 33:22:00 |
| 162 | 142 | Elizabeth Quance | f | 37 | 33:23:00 |
| 163 | 109 | Alex Cocking | M | 21 | 32:23:00 |
| 164 | 108 | Katherine Medawar | f | 20 | 33:33:00 |
| 165 | 102 | Poppy Dakin | f | 8 | 33:41:00 |
| 166 | 260 | Joe Bailey | f | 48 | 33:43:00 |
| 167 | 355 | Madison Smith | f | 11 | 33:45:00 |
| 168 | 398 | Lorna Tullis | | | 33:45:00 |
| 169 | 350 | Janette Vyse | f | 54 | 33:46:00 |
| 170 | 78 | Lynette Kelly | f | 37 | 33:47:00 |
| 171 | 79 | George Morris | m | 7 | 33:47:00 |
| 172 | 317 | JamieLewis | f | 26 | 33:57:00 |
| 173 | 144 | Jacqueline Griffiths | f | 36 | 33:57:00 |
| 174 | 34 | Zoe Brockington | f | 41 | 34:02:00 |
| 175 | 310 | Isabella Russell | f | 8 | 34:08:00 |
| 176 | 311 | Martin Russell | m | 40 | 34:08:00 |
| 177 | 415 | Arthur Walker | m | 7 | 34:08:00 |
| 178 | 414 | Finn Keane | m | 7 | 34:13:00 |
| 179 | 412 | Sian Keane | f | 16 | 34:14:00 |
| 180 | 88 | Ryan Villiers | m | 9 | 34:14:00 |
| 181 | 399 | Brian Tullis | m | | 34:16:00 |
| 182 | 397 | Theresa Tullis | f | | 34:17:00 |
| 183 | 85 | Elaine Villiers | f | 36 | 34:25:00 |
| 184 | 86 | Trevor Villiers | m | 40 | 34:25:00 |
| 185 | 143 | Dawn Bond | f | 45 | 34:26:00 |
| 186 | 233 | Teresa Paulette | f | | 34:28:00 |
| 187 | 265 | Claire Whelan | f | 43 | 34:39:00 |
| 188 | 344 | Max Orton | m | | 34:40:00 |
| 189 | 345 | Imogen Orton | f | | 34:42:00 |
| 190 | 451 | | | | 34:43:00 |
| 191 | 380 | Alison Hallett | f | | 34:44:00 |
| 192 | 381 | Jemima Hallett | f | | 34:45:00 |
| 193 | 119 | Lottie Hinderley | f | 8 | 34:45:00 |
| 194 | 200 | Sam Richmond | M | 20 | 34:45:00 |
| 195 | 92 | Cath Couzens | f | 66 | 34:46:00 |
| 196 | 193 | Georgina Smith | f | 25 | 34:49:00 |
| 197 | 313 | Shannon Jackson | f | 36 | 34:50:00 |
| 198 | 194 | Richard Brindley | m | 24 | 34:50:00 |
| 199 | 201 | Kate Haw | f | 20 | 34:51:00 |
| 200 | 202 | Callum Reynolds | m | 7 | 34:52:00 |
| 201 | 225 | Lilly Beardsmore | f | 10 | 34:53:00 |
| 202 | 100 | Rebecca Dakin | f | 31 | 34:53:00 |
| 203 | 226 | Amelia Beardsmore | f | 7 | 34:54:00 |
| 204 | 82 | Jodie Ward | f | 35 | 34:56:00 |
| 205 | 101 | Summer Dakin | f | 11 | 34:56:00 |
| 206 | 227 | Patricia Beardsmore | f | 43 | 34:59:00 |
| 207 | 87 | Liam Villiers | m | 12 | 35:02:00 |
| 208 | 440 | | | | 35:04:00 |
| 209 | 214 | Neve Pepperell | f | 8 | 35:05:00 |
| 210 | 215 | Deb Pepperell | f | 38 | 35:05:00 |
| 211 | | | | | 35:07:00 |
| 212 | | | | | 35:08:00 |
| 213 | 14 | Jake Hodson | m | 9 | 35:14:00 |
| 214 | 13 | James Hodson | m | 43 | 35:15:00 |
| 215 | 320 | Adam Croasdale | m | 10 | 35:24:00 |
| 216 | 321 | Jilly Croasdale | f | 7 | 35:24:00 |
| 217 | 57 | Amanda Govani | f | 45 | 35:25:00 |
| 218 | 58 | Eva Govani | f | 15 | 35:26:00 |
| 219 | 230 | Elodie Davies | f | 10 | 35:29:00 |
| 220 | 377 | Heidi Hoddeng | f | 11 | 25:30:00 |
| 221 | 255 | Jess Kenton | f | 24 | 35:58:00 |
| 222 | 277 | Colette Pomlett | f | | 36:08:00 |
| 223 | 80 | Kirsty Jones | f | 27 | 36:08:00 |
| 224 | 278 | Leigh Pomlett | | | 36:08:00 |
| 225 | 373 | Michaela Mitchell | f | 41 | 36:13:00 |
| 226 | 375 | Laura Thompson | f | 16 | 36:18:00 |
| 227 | 159 | Molly Davies | f | 18 | 36:18:00 |
| 228 | 5 | Libby Joyce | f | 7 | 36:22:00 |
| 229 | | | | | 36:23:00 |
| 230 | 289 | Lucy Simcox | f | 43 | 36:23:00 |
| 231 | 446 | | | | 36:23:00 |
| 232 | 362 | Jake Martin | m | | 36:26:00 |
| 233 | 376 | Richard Martin | m | | 36:26:00 |
| 234 | 112 | Steph Stafford | f | 38 | 36:32:00 |
| 235 | 314 | Sian Watson | f | 9 | 36:32:00 |
| 236 | 219 | Louise Watson | f | 36 | 36:33:00 |
| 237 | 220 | Emma Farrington | f | 38 | 36:33:00 |
| 238 | 224 | Julie Bond | f | 42 | 36:33:00 |
| 239 | 222 | Naomi Tooth | f | 46 | 36:33:00 |
| 240 | 331 | George Kelly | m | 10 | 36:37:00 |
| 241 | 330 | Michelle Drew | f | 41 | 36:48:00 |
| 242 | 33 | Elise Cattell | f | 6 | 37:05:00 |
| 243 | 31 | Anna Cattell | f | 33 | 37:05:00 |
| 244 | 207 | Trish Brown | f | 67 | 37:10:00 |
| 245 | 56 | Jacob Hegarty | m | 6 | 37:42:00 |
| 246 | 55 | Simon Hegarty | m | 44 | 37:42:00 |
| 247 | 190 | Carolyn Gavin | f | 49 | 37:54:00 |
| 248 | 411 | Jude Keane | m | 13 | 37:57:00 |
| 249 | 250 | Madeline Wright | f | 12 | 37:57:00 |
| 250 | 160 | Caitlin Davies | f | 21 | 38:00:00 |
| 251 | 208 | Julie Smith | f | 55 | 38:03:00 |
| 252 | 217 | Ben Deverall | m | 34 | 38:05:00 |
| 253 | 218 | Ruben Deverall | m | 5 | 38:10:00 |
| 254 | 173 | Harriot Clews | f | 10 | 38:16:00 |
| 255 | 407 | Jodie Vale | f | 11 | 38:17:00 |
| 256 | 408 | Logan Vale | m | 7 | 38:17:00 |
| 257 | 367 | Susanna Ault | f | 43 | 38:19:00 |
| 258 | 366 | Lexie Ault | f | 11 | 38:20:00 |
| 259 | 234 | Ellie May Paulette | f | | 38:20:00 |
| 260 | 405 | Kathy Vale | f | 38 | 38:30:00 |
| 261 | 444 | Louisa Morris | f | | 38:31:00 |
| 262 | 32 | Elizabeth Sale | f | 36 | 38:31:00 |
| 263 | 287 | Daisy Mullen | f | | 38:49:00 |
| 264 | 288 | Brian Jones | m | | 39:10:00 |
| 265 | 325 | Archie Burns | m | | 39:22:00 |
| 266 | 323 | Eve Burns | f | | 39:22:00 |
| 267 | 176 | Lois Harrison | m | 6 | 39:34:00 |
| 268 | 175 | Lindsay Harrison | f | 39 | 39:35:00 |
| 269 | 103 | Vanessa Young | f | 37 | 39:45:00 |
| 270 | 105 | Isabella Young | f | 6 | 39:45:00 |
| 271 | 104 | William Young | m | 7 | 39:46:00 |
| 272 | 443 | Adam Morris | m | | 40:00:00 |
| 273 | 442 | Sharon Morris | f | | 40:03:00 |
| 274 | 99 | Zachary Parker | m | 7 | 40:05:00 |
| 275 | 44 | Janine McMahon | f | 42 | 40:09:00 |
| 276 | 98 | Dawn Parker | f | 42 | 40:13:00 |
| 277 | 59 | Donna Jones | f | 49 | 40:13:00 |
| 278 | 385 | Sian Whitfield | f | | 40:14:00 |
| 279 | 383 | Sam Whitfield | | | 40:14:00 |
| 280 | 386 | Holly Whitfield | f | | 40:14:00 |
| 281 | 340 | Kelly Williams | f | 38 | 40:33:00 |
| 282 | 341 | Faye Ford | f | 43 | 40:40:00 |
| 283 | 368 | Michelle Darlaston | f | 36 | 40:44:00 |
| 284 | 370 | Anya Brady | f | 11 | 40:44:00 |
| 285 | 369 | Lucie Brady | f | 39 | 40:45:00 |
| 286 | 153 | Rebecca Jones | f | 40 | 40:56:00 |
| 287 | 154 | Phoebe Jones | f | 5 | 40:56:00 |
| 288 | 122 | Jon Stevens | m | 36 | 41:00:00 |
| 289 | 123 | Freya Stevens | f | 5 | 41:00:00 |
| 290 | 127 | Paul Sedgwick | m | 38 | 41:03:00 |
| 291 | 128 | Brooke Sedgwick | f | 6 | 41:03:00 |
| 292 | 363 | Phoebe Martin | f | | 40:20:00 |
| 293 | 361 | Sarah Martin | f | | 40:20:00 |
| 294 | 359 | Christina Mallinson | f | | 40:40:00 |
| 295 | 357 | Diane Mallinson | f | | 40:40:00 |
| 296 | 410 | Kerri Maguire | f | 42 | 40:40:00 |
| 297 | 309 | Liah Boxhall | f | 7 | 40:40:00 |
| 298 | 308 | Rachel Boxall | f | 41 | 40:40:00 |
| 299 | 411 | Louise Minto | f | 27 | 40:43:00 |
| 300 | 342 | Mark Orton | m | | 42:00:00 |
| 301 | 339 | Rachel Orton | f | 39 | 42:00:00 |
| 304 | 236 | Claudine Evetts | f | 39 | 42:00:00 |
| 305 | 212 | Lucy Hidderley | f | 5 | 42:00:00 |
| 306 | 96 | Sam Newbold | f | 41 | 41:21:00 |
| 307 | 96 | Sam Newbold | f | 41 | 41:21:00 |
| 308 | 97 | Mart Newbold | m | 41 | 41:21:00 |
| 309 | 349 | Oliver Marchant | m | | 41:25:00 |
| 310 | 348 | Christine Marchant | f | 60 | 41:25:00 |
| 311 | 268 | Jemma Brereton | f | 39 | 41:30:00 |
| 312 | 272 | Gill Bird | f | 53 | 41:31:00 |
| 313 | 347 | Marriman Crofts | | | 41:31:00 |
| 314 | 72 | Sharon Cartwright | f | 47 | 43:09:00 |
| 315 | 417 | Louise Brennan | f | 44 | 43:24:00 |
| 316 | 416 | Isla Brennan | f | 7 | 43:24:00 |
| 317 | 419 | Andrew Brennan | m | 36 | 43:25:00 |
| 318 | 43 | Claire McClaren | f | 10 | 43:28:00 |
| 319 | 41 | Lucy McClaren | f | 42 | 43:28:00 |
| 320 | 42 | Andy McClaren | m | 44 | 43:28:00 |
| 321 | 9 | Amy Hawkins | f | 12 | 43:38:00 |
| 322 | 425 | | | | 43:38:00 |
| 323 | 236 | Claudine Evetts | f | 39 | 43:50:00 |
| 324 | 238 | Lily Evetts | f | 3 | 43:50:00 |
| 325 | 192 | Harriet Lalonde | f | 10 | 43:52:00 |
| 326 | 191 | Simon Lalonde | m | 54 | 43:54:00 |
| 327 | 239 | Sienna Cantrill | f | 3 | 43:58:00 |
| 328 | 237 | Sarah Cantrill | f | 40 | 43:58:00 |
| 329 | 430 | John Ness | m | 56 | 47:25:00 |
| 330 | 441 | Emily Turner | f | 3 | 47:35:00 |
| 331 | 403 | Neil Turner | m | 32 | 47:35:00 |
| 332 | 404 | Kate Turner | f | 32 | 47:35:00 |
| 334 | 46 | Charlie McMahon | f | 13 | 47:59:00 |
| 335 | 68 | Darcey Stanners | f | 13 | 47:59:00 |
| 336 | 384 | | | | 48:00:00 |
| 337 | 188 | Rachel Birtles | f | 36 | 48:02:00 |
| 338 | 189 | Archie Burrows | m | 7 | 48:02:00 |
| 339 | 421 | Samantha Day | f | 32 | 48:12:00 |
| 340 | 40 | Lily Bache | f | 8 | 48:55:00 |
| 341 | 37 | Sarah Bache | f | 24 | 48:55:00 |
| 342 | 198 | Lola Jo Harper | f | 7 | 49:04:00 |
| 343 | 54 | Joanne Price | f | 45 | 49:10:00 |
| 344 | 197 | Mark Price | m | 48 | 49:12:00 |
| 345 | 51 | Olivia Griffin | f | 7 | 49:12:00 |
| 346 | 391 | Jack Liggis | m | | 49:19:00 |
| 347 | 382 | Ian Ligiss | m | | 49:19:00 |
| 348 | 420 | Jimmy Liggis | m | | 49:19:00 |
| 349 | 286 | Poppy Mullen | f | | 49:30:00 |
| 350 | 285 | Sam Mullen | | | 49:31:00 |
| 351 | 420 | Aley Wilmer | | 53 | 49:38:00 |
| 352 | 69 | Angela Stanners | f | 43 | 49:39:00 |
| 354 | 70 | John Stanners | m | 47 | 49:39:00 |
| 355 | 423 | Katie Bellyham | f | 11 | 49:44:00 |
| 356 | 211 | Katherine Paine | f | 36 | 50:04:00 |
| 357 | 11 | Paul Parry | m | 42 | 50:04:00 |
| 358 | 6 | Karen Johnson | f | 48 | 50:21:00 |
| 359 | 15 | Andrew Joyce | m | 36 | 50:22:00 |
| 360 | 16 | Jessica Joyce | f | 2 | 50:22:00 |
| 361 | 81 | Karen Holmes | f | 47 | 50:23:00 |
| 362 | 409 | Louise Ford | f | 48 | 50:23:00 |
| 363 | 418 | Kay Greig | f | 34 | 50:36:00 |
| 364 | 422 | Steph Greig | f | 2 | 50:36:00 |
| 365 | 322 | Iain Burns | m | | 50:46:00 |
| 366 | 324 | Ollie Burns | m | | 50:46:00 |
| 367 | 424 | | | | 51:12:00 |
| 368 | 282 | Nicola Burrows | f | | 51:12:00 |
| 369 | 284 | Sam Burrows | m | | 51:12:00 |
| 370 | 433 | | | | 51:32:00 |
| 371 | 301 | Claire Campion | f | 36 | 51:32:00 |
| 372 | 298 | Mike Champion | m | | 51:32:00 |
| 373 | 26 | Luke Godard | m | 10 | 51:37:00 |
| 374 | 24 | Katy Smith | f | 24 | 51:37:00 |
| 375 | 25 | Blake Ellis | m | 5 | 51:37:00 |
| 376 | 23 | Rachel Ellis O'Brien | f | 26 | 51:45:00 |
| 377 | 302 | Joseph Charles | m | 37 | 51:45:00 |
| 378 | 411 | Shaz Keane | f | 51 | 51:45:00 |
| 379 | 256 | Lesley Matthews | f | 61 | 52:08:00 |
| 380 | 257 | Brian Matthews | m | 71 | 52:08:00 |
| 381 | 165 | Millie Wood | f | 3 | 52:15:00 |
| 382 | 163 | Chris Wood | m | 35 | 52:15:00 |
| 383 | 164 | George Wood | m | 11 | 52:15:00 |
| 384 | 299 | Sheila Campion | f | | 52:39:00 |
| 385 | 283 | Josh Burrows | m | | 52:43:00 |
| 386 | 47 | Max Mahon | | 15 | 52:43:00 |
| 387 | 49 | Jolene Griffin | m | 37 | 52:55:00 |
| 388 | 52 | Eve Griffin | f | 5 | 52:55:00 |
| 389 | 50 | Paul Griffin | m | 45 | 52:55:00 |
| 390 | 141 | Sophie Morninton | f | 8 | 52:59:00 |
| 391 | 140 | Helen Mornington | f | 38 | 53:01:00 |
| 392 | 439 | Ruby Taylor | f | | 53:04:00 |
| 393 | 440 | Luke Taylor | m | | 53:09:00 |
| 394 | 249 | Brenda Bibb | f | | 53:10:00 |
| 395 | 243 | Catherine Bibb | f | | 54:37:00 |
| 396 | 168 | Aiden Lillis | m | 1 | 54:37:00 |
| 397 | 166 | Kerry Lillis | f | 39 | 54:54:00 |
| 398 | 400 | Phil Ridley | m | | 54:54:00 |
| 399 | 205 | Elizabeth Kennedy | f | 30 | 54:54:00 |
| 400 | 167 | Kate Steadman | f | 32 | 54:54:00 |
| 401 | 305 | Abigail Cartwright | f | | 56:49:00 |
| 402 | 307 | Amber Cartwright | | | 57:02:00 |
| 403 | 303 | Jane Cartwright | f | | 57:02:00 |
| 404 | 306 | Lucy Cartwright | f | | 57:02:00 |
| 405 | 304 | Neil Cartwright | m | | 57:07:00 |
| 406 | 3 | Kelly Bourne | f | 32 | 59:00:00 |
| 407 | 12 | Maxine Esteveez | f | 43 | 59:00:00 |
| 408 | 22 | Mark Cox | m | 50 | 59:30:00 |
| 409 | 84 | Janet Cox | f | 71 | 59:30:00 |
| 410 | 10 | Anne Messenger | f | 55 | 01:10:10:00 |
| 411 | 8 | Sheena Hawkins | f | 49 | 01:10:10:00 |