10k Results
A full set of results can be found at www.stuweb.co.uk
FLETCHER HAS THAT FRADLEY FEELING
The Spring sun shone brightly at the Florette Fradley 10k and record crowds as well as a bumper field took to the streets of Fradley Village North of Lichfield to make the day special for all who turned out to watch or run.
The race was won by James Fletcher (Notts AC) in 34:32 with one time previous winner Phil Clamp (Tipton Harriers) in second in 35:05 and Chris Neil (Barrow Runners) third in 35:17.
First female athlete home was Rachel Olivant (Derby RC) with Sarah Dauncey from the local Lichfield RC second (39:01) and Kelly Weall (Notts AC) third (39:58).
Niki Webster, Marketing Manager at Florette, comments: "Once again Florette has been proud to sponsor this feel good event which never fails to deliver a fun atmosphere for the local community. There was a real buzz around the course this year and we'd like to congratulate everyone who took part and made this year's event bigger and better than ever."
2k Results
Click 'MORE…' below to see the full results of the 2K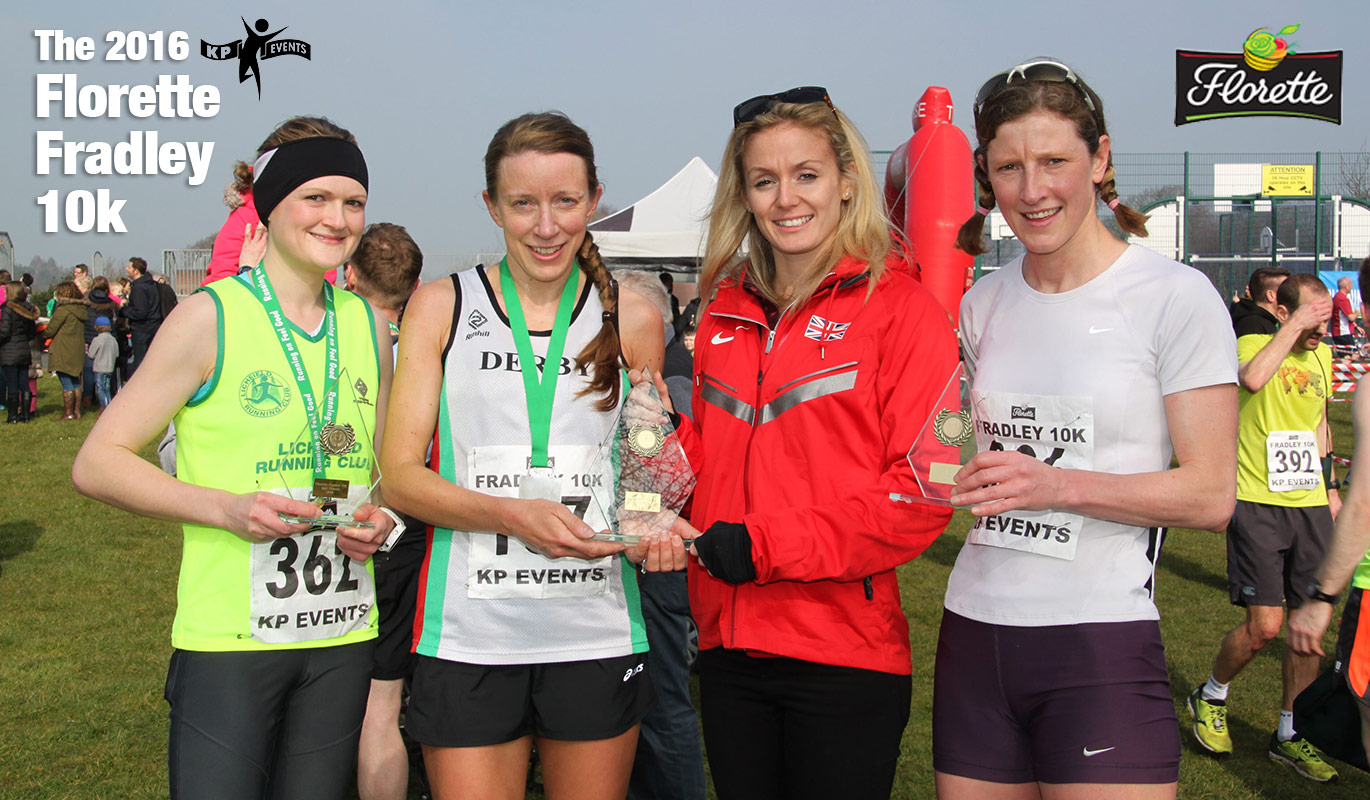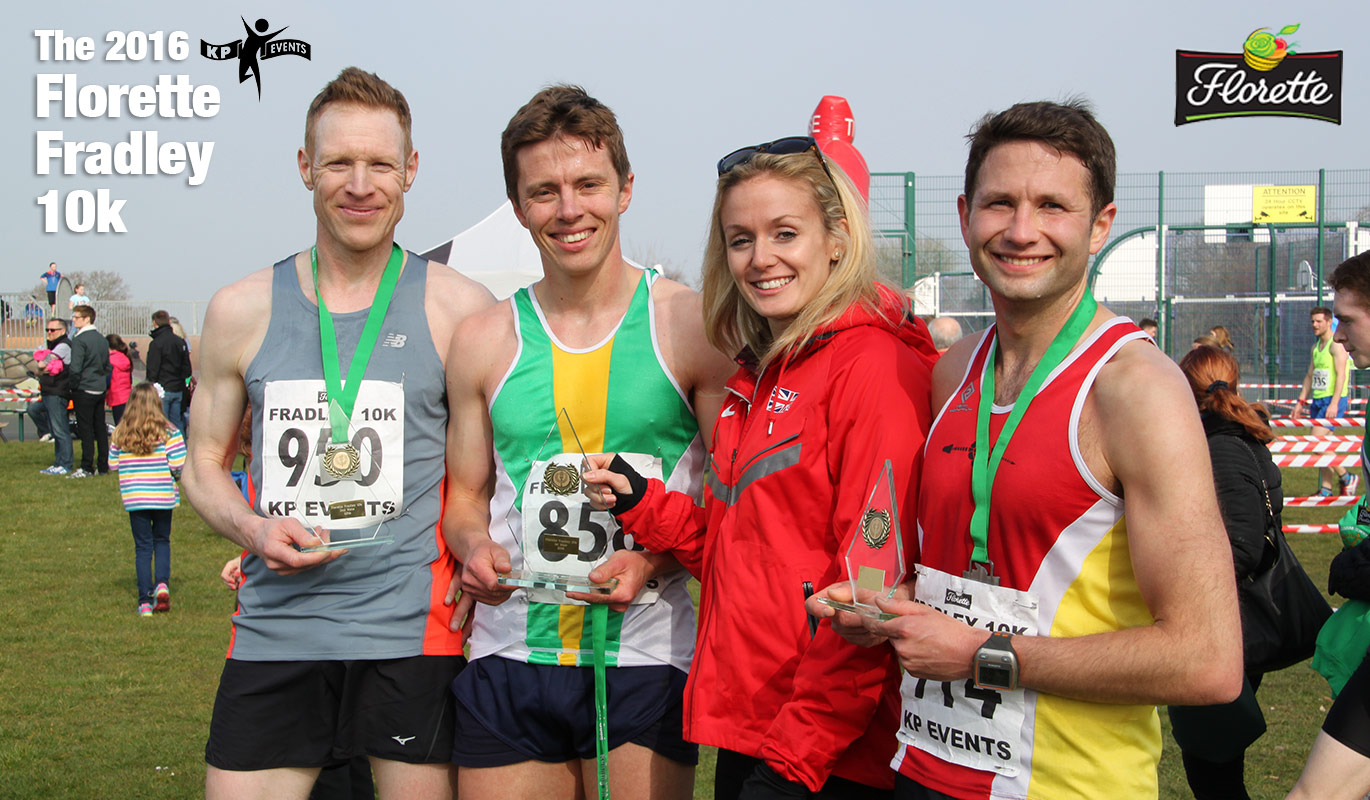 Use the links below to locate the photos that interest you and purchase prints online. You can also order a wide variety of memorabilia including mugs, mouse mats, canvas prints, coasters, iPhone cases and more.
| | | | | |
| --- | --- | --- | --- | --- |
| 8 | Ben Deakin | 07:06 | Male | 1st Male |
| 9 | James Stretton | 07:07 | Male | 2nd Male |
| 1 | Lee Hames | 07:20 | Male | 3rd Male |
| 17 | Maddie Hammond | 07:22 | Female | 1st Female |
| 20 | Jamie Donaldson-Leigh | 08:00 | Male | |
| 27 | Sam McDermott | 08:07 | Male | |
| 10 | Katie Stretton | 08:10 | Female | 2nd Female |
| 11 | Lottie McLaren | 08:12 | Female | 3rd Female |
| 15 | Robbie Bishop | 08:13 | Male | |
| 36 | Oliver Stretch | 08:23 | Male | |
| 23 | Isabel Stevenson | 08:26 | Female | |
| 7 | Aaron Hope | 08:30 | Male | |
| 13 | Niamh Bevan | 08:30 | Female | |
| 12 | Martha Wood | 08:30 | Female | |
| 28 | Alice McDermott | 08:58 | Female | |
| 41 | Jude Taylor | 09:03 | Male | |
| 21 | Caitlin Donaldson-Leigh | 09:05 | Female | |
| 34 | Lydia Greaves | 09:10 | Female | |
| 25 | Millie Pimm | 09:18 | Female | |
| 19 | Mackenzie Pratty | 09:33 | Male | |
| 30 | Katie Morgan | 09:35 | Female | |
| 32 | Millie Gould | 09:35 | Female | |
| 42 | Luca Taylor | 09:55 | Male | |
| 38 | William Vickers | 10:09 | Male | |
| 26 | Millie Dougly | 10:12 | Female | |
| 37 | Lauren Stretch | 10:17 | Female | |
| 29 | Erin Best | 10:27 | Female | |
| 24 | Alice Hogan | 10:45 | Female | |
| 35 | Tommy Baines | 10:49 | Male | |
| 22 | James Stevenson | 11:36 | Male | |
| 18 | Reuben Hill | 11:57 | Male | |
| 16 | Ryan Bish | 11:57 | Male | |
| 2 | Becca Jones | 12:17 | Female | |
| 3 | Gaye Clough | 12:18 | Female | |
| 31 | Connie May Douglas | 12:27 | Female | |
| 5 | Dylan Cantrill | 12:29 | Male | |
| 6 | Freya Pearce | 13:02 | Female | |
| 39 | Olivia Reeves | 13:20 | Female | |
| 40 | Ruby Taylor | 13:50 | Female | |
| 14 | Archie Elliott | 14:03 | Male | |
| 4 | Sienna Cantrill | 14:21 | Female | |
| 33 | Emily Boardley | 14:32 | Female | |
| 44 | No name | 14:45 | | |
| 43 | No name | 14:46 | | |