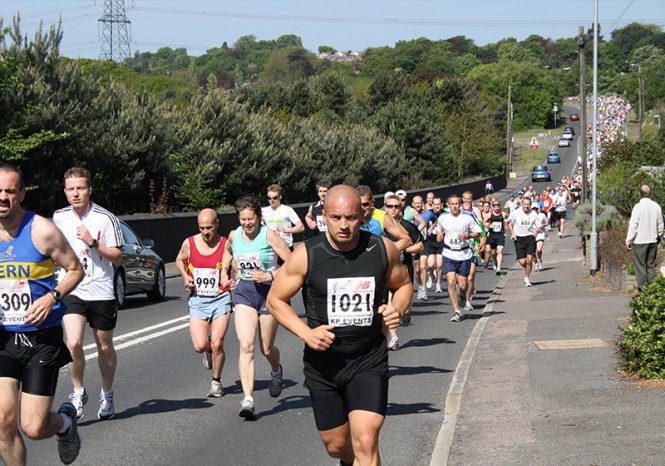 The 2019 Lichfield Half-Marathon is on Sunday 12th May, starts 10.30am. Keep an eye on our website, social media and our e-newsletter sent out to subscribers. Not subscribed? Follow the link on the right-hand side of our website.
Official results will be available soon after the race at www.stuweb.co.uk and on our website soon after.
Official photos will be available from 14th May at www.charleswhittonphotography.com.
START
Start area for the Half Marathon: King Edwards VI School Lichfield, Upper St John Street, Lichfield, Staffordshire.
Postcode for Sat Nav: WS14 9EE
PARKING
You will find plenty of parking at King Edwards VI, but please arrive in plenty of time as we expect large numbers of vehicles, and long queues. Please use these car parks and do NOT park on the local streets. Please come 'ready to run' as changing is limited, and we cannot provide shower facilities for the numbers involved.
FINISH LINE
The finish line for the Half Marathon is situated on Stowe Fields off Stowe Rd, near the city centre, Lichfield WS13 6AQ. This is only just over a mile walk from the start, and where your car is parked. An easy walk back for those aching legs, but we also have a free return coach service. Look out for signs.
PRIZES
Prizes will be awarded as soon as possible after the races. First 3 men and first 3 women only this year. Goody bags and memento for everybody.
RESULTS
Results will be published on the day or soon afterwards, and will also be available on our website
RACE CHIPS
RACE CHIPS Please note we will be using timing chips, so we can give you very accurate results. This chip is now attached to the back of your race number.
ROUTE
Kind Edwards School (Start)
Upper St Johns Street
Tamworth Road
Common Lane
Main Street Whittington
Burton Road
Stockford Lane
Fine Lane
Fradley Lane
Church Lane
Hay End Lane
Gorse Lane
Netherstowe Lane
Eastern Avenue
Brownsfield Road
Stowe Road Stowe Field (Finish)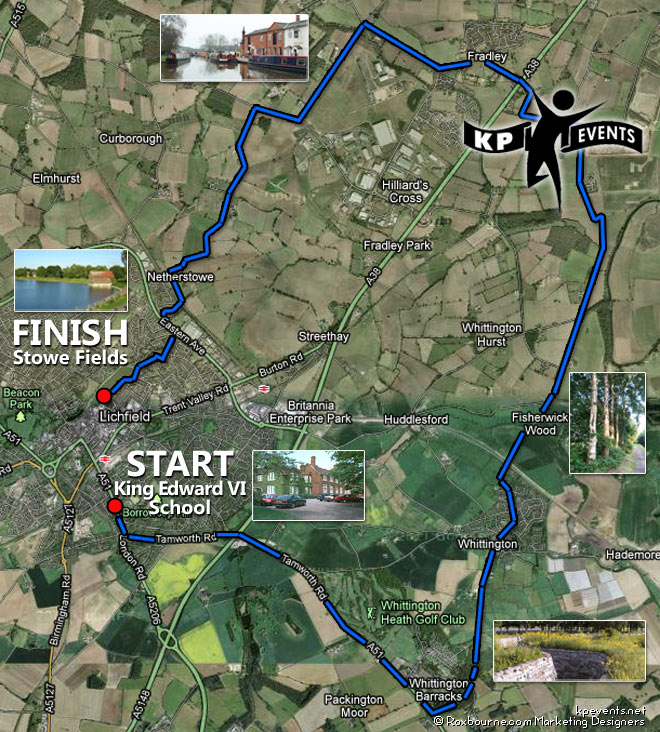 MASSAGES
UKSCC (UK Strength and Conditioning Consultants) are the official providers of pre and post race massages. There's a £5 voucher in every finishers bag to use with UKSCC's services. They also offer a FREE 10-minute massage for every finisher of the Lichfield half-marathon. Check them out at www.ukscc.com
Samantha Lee Massage Therapy will also be providing massages at the event.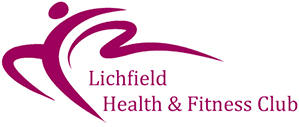 Lichfield Health and Fitness Club
Our new partners for the Lichfield Half Marathon on May 12th is the Lichfield Health and Fitness Club, in Rotten Row in the City.
Our relationship with the club has been close since the Lichfield Half Marathon's first year in 2011, but the link was firmly established late in 2013 when marathon runner Geraldine Agnew, a fitness instructor at the club and who had helped KP Events develop the half-marathon route, sadly died suddenly on holiday in Thailand.
Kevin Wilson KP Events co director takes up the story:
"We were all hit very hard with Geraldine's sudden passing, and we wanted to pay tribute to her contribution; so from 2014 onwards the winner's trophy has been called THE GERALDINE AGNEW MEMORIAL TROPHY, and we know she'd very much approve."
For more information see
www.lichfieldhealthandfitnessclub.co.uk or call 01543 257704.