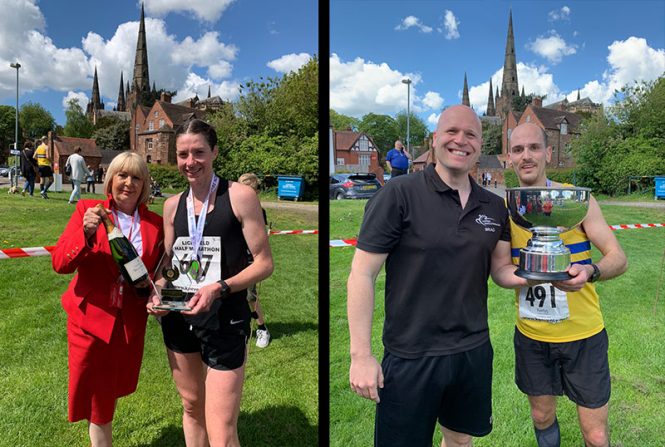 Photo shows Kelly Butler and Trevor Osborne.
Video of the Lichfield Half Marathon. Produced by Mark Hinton of Blendfilm. Walsall based business specialising in Aerial Drone Video, Music/Fashion/Art, Corporate/Promotional Video, Social Media Video. For more information contact Mark Hinton (Videographer/Editor) 07719185213 or email him mark@blendfilm.co.uk
1st 3 men
1st Trevor Osborne 1:15:49
2nd: Samuel Crawford 1:17:27
3rd Callum Abberley 1:19:42
1st 3 women
1st Kelly Butler 1:28:07
2nd Kate Stubbs 1:30:43
3rd Olivia Harris 1:32:35
Full results available at www.stuweb.co.uk. (It's slow to load, but does eventually.)
Official photos will be available from 14th May at www.charleswhittonphotography.com.