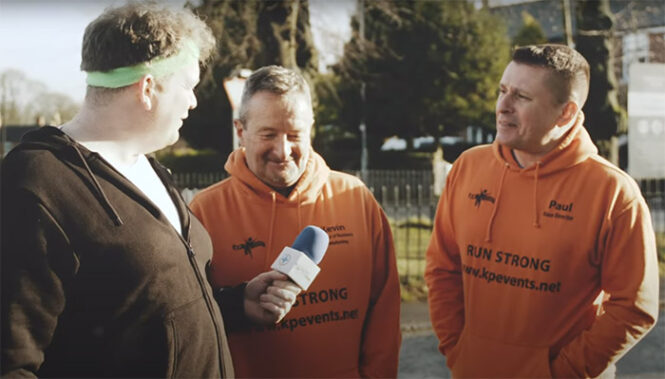 Read more about our World's Shortest Fun Run 19th Sept 2021 HERE. It will take place in Princes Park, Farewell Lane, Burntwood, and you can apply to join in.
In early 2019 KP Events were approached by independent creative agency One Black Bear based in Birmingham to help them produce a video of their client National Express to promote a social media campaign National Express called National Wonders where many of the UK's more quirky and even 'odd' places to visit and their research led them to find our Worlds Shortest Fun Run around the UK's smallest park Prince's Park in Burntwood!!
What followed was a video shoot at the Park with KP Events main men Kevin (whose idea it was back in 2013) and Paul meeting the very eccentric reporter and video commentator called Ben to produce a suitably fitting and 'tongue in cheek' celebration of this unique and quirky park, still the world's smallest in KP Events' eyes as opposed to the 'glorified flowerpot ' situated on the Portland freeway in the USA. So we thought you'd like to see it. We hope you enjoy it as much as we did!!
https://www.youtube.com/watch?v=uvkjOYvmbz4
Click the link to watch on YouTube (sorry it can't play directly on our website as National Express don't allow embedded videos).