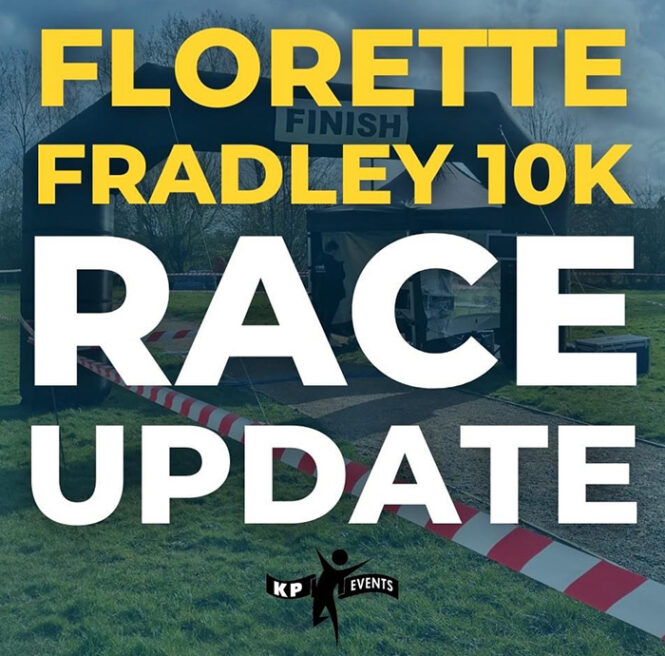 Update with reference to current Government COVID regulations.
This year's Fradley 10k will go ahead as planned (Sunday 4th July 2021), but with social distancing in place around the Start and Finish areas.
At 10.15 am we will start an elite race for any runner capable of a finish time of 35 minutes or less. If you fall into this category please contact Paul paul@kpevents.net or call 07947-698147.
Once these runners have completed 1 lap of the course, roughly 10.32 am, we will start groups of 30 runners, these runners will have space to socially distance from each other and from the next 30 runners 2 meters behind them. The next group of 30 will be set off after a 30 second time gap. We will continue with groups of 30 until all runners have crossed the start line. This will take roughly 15 minutes.
This will not affect your race time in any way. Your race starts when your race chip, attached to the back of your race number crosses the start line and ends when you cross the finish line.
KP Events are encouraging all participants to take a Covid lateral flow test before race day. If you are showing any symptoms or receive a positive result then please do not attend this event.
In addition
We are actively encouraging runners to walk to the start and back to the car park from the finish area after the race. This will take approximately ten minutes. However, if you choose to use courtesy buses then wear a face covering, and scan the QR code located on entry. This year there will be no bag drop. All of our marshals and staff will be issued with a face covering and PPE gloves. Hand sanitiser will be available to all in and around race HQ. Please scan KP Events QR code at these sanitiser stations. When overtaking another runner please maintain a one metre gap. Finally, we would ask runners to refrain from spitting or nasal clearance.
Please follow our marshals instructions at the start line and be patient.
We would ask you to leave the finish area as soon as possible on race completion and collecting your medal and goodies to avoid groups gathering.
Water supplier
A massive thank you to our friends and water sponsor at Roxane UK LTD. A new Aqua Pura natural mineral water in a 100% recycled bottle with new friendly flip cap. Even the label is recycled. Available for all runners at the Florette Fradley 10k.