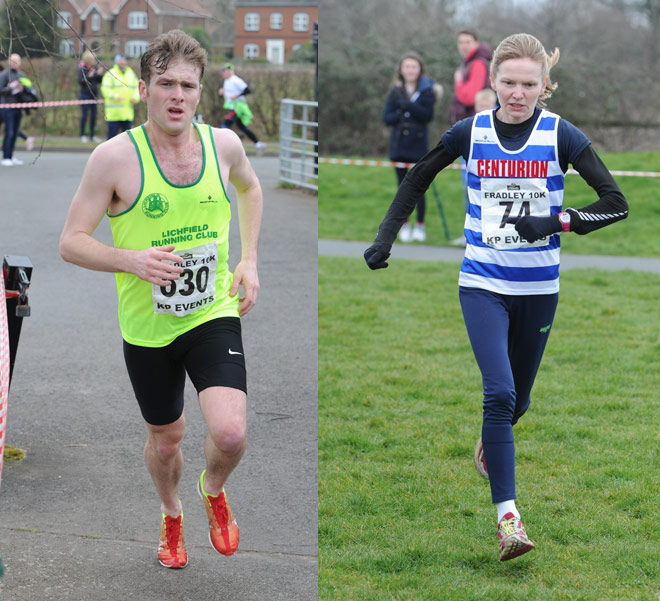 Race Photos to View and Order Online
You can view and purchase photos of this event HERE, use Fradley15 as the password. Photos by Curley Photography.
TROLLOPE REPEATS FRADLEY 10K TRIUMPH
Lichfield athlete and Lichfield Running Club member James Trollope repeated his 2011 win at today's Florette Fradley 10k (picture top left). A near 1,000 strong field braved the cold but dry conditions and Trollope immediately headed the pack from the gun and swooped home in an excellent time of 32:20, slower than his 2011 time of 30:50, followed home by Matthew Missen in 33:11 with Aaron Brown (Cannock and Stafford AC) 3rd home in 33:14.
First female home was Kim Fawke-Williams of Centurion RC (pictured top right) in a fast time of 35:53 which saw her finish a commendable 12th overall, 2nd female was Joanna Simpson (Team Florette) in 36:38 and 3rd was Linda Howell (Bournville Harriers) in 39:14
A feature for the event this year was a contingent of over 20 runners from sponsors Florette and their Team Florette (pictured below centre) with Chadi Amoun finishing overall 11th and Joanna Simpson finishing 2nd female home; showing real commitment from a sponsor's team.
Kevin Wilson of organisers KP Events was delighted with the outcome on the day: "There was a fantastic turnout today, a really big number of runners on a cold day and friendly atmosphere being created, well done to everyone involved and massive congratulations to Team Florette!"

Fradley Fryer Junior 2k Race
The Fradley Fryer Junior 2k race was won by Ben Edwards in 7:11 ahead of Lee Haymes in 7:34, first girl home was Sian Edward in 8:36.
Click More to see full results of the Junior 2K
| | | | | | |
| --- | --- | --- | --- | --- | --- |
| POSITION | NAME | AGE | BOY/GIRL | NUMBER | RACE TIME |
| 1 | BEN EDWARDS | 11 | B | 60 | 07:11 |
| 2 | LEE HAYMES | 12 | B | 72 | 07:34 |
| 3 | DANIEL HARVEY | 13 | B | 84 | 08:33 |
| 4 | SIAN EDWARDS | 12 | G | 59 | 08:36 |
| 5 | TOM MEAD | 8 | B | 38 | 08:56 |
| 6 | CHARLOTTE DARBY | 9 | G | 81 | 09:00 |
| 7 | OLIVER DARBY | 11 | B | 82 | 09:03 |
| 8 | CAYDEN REEVES | 9 | B | 40 | 09:07 |
| 9 | JAMES HAGLEY | 10 | B | 73 | 09:23 |
| 10 | MATTHEW HAGLEY | 8 | B | 74 | 09:25 |
| 11 | FINLAY REEVES | 11 | B | 39 | 09:40 |
| 12 | BILLY EDWARDS | 8 | B | 47 | 09:43 |
| 13 | CHARLIE DUTTON | 8 | B | 78 | 09:45 |
| 14 | KIAN MURPHY | 9 | B | 75 | 09:48 |
| 15 | PAIGE BARKER | 9 | G | 56 | 09:56 |
| 16 | IMOGEN MULLIGAN | 9 | G | 54 | 10:06 |
| 17 | CHARLIE WATKINS | 7 | B | 71 | 10:07 |
| 18 | ELLA WILLIAMS | 7 | G | 52 | 10:08 |
| 19 | EVE GRIFFITHS | 11 | G | 86 | 10:56 |
| 20 | CHARLOTTE MOORBY | 8 | G | 49 | 10:58 |
| 21 | JAKE CAMBELL | 12 | B | 64 | 11:31 |
| 22 | LEO STATHAM | 9 | B | 66 | 11:33 |
| 23 | RHIANNON CLARK | 11 | G | 83 | 11:37 |
| 24 | RAE ROBINSON | 8 | G | 41 | 11:49 |
| 25 | PHILLIPA MERIDITH | 9 | G | 57 | 12:05 |
| 26 | ISOBELLE MULLIGAN | 7 | G | 85 | 13:24 |
| 27 | ELLIS CADD | 11 | B | 65 | 13:25 |
| 28 | DAISY EDWARDS | 6 | G | 48 | 13:32 |
| 29 | TILLY TATTERSALL | 7 | G | 76 | 13:36 |
| 30 | RUFUS JONES | 5 | B | 67 | 13:37 |
| 31 | NATHAN CAMBELL | 9 | B | 63 | 13:38 |
| 32 | MAXWELL GRACE | 8 | B | 61 | 13:44 |
| 33 | ALEX MERIDITH | 6 | B | 58 | 13:44 |
| 34 | HENRY TATTERSHALL | 5 | B | 77 | 14:01 |
| 35 | BEATRICE Mc GRANAGHAN | 4 | G | 69 | 14:07 |
| 36 | CHARLIE VANES | 5 | B | 70 | 14:23 |
| 37 | EVE BURNLEY | 11 | G | 80 | 20:30 |
| 38 | JESSICA BURNLEY | 4 | G | 79 | 20:32 |
| 39 | TUDOR JONES | 3 | B | 68 | 20:57 |