The most unique sprint event in the UK… held in Cathedral close! First run in 1998, the Lichfield Dash in association with St John's House, is a completely unique sporting occasion. Invited athletes race the 12 noon chimes and the crowds flock to Cathedral Close to watch a race against time come alive in a spectacle of speed, strength and true Corinthian endeavour. The Dash event is on Saturday the 20th August 2016 from 10am to 12.30pm.
Olympic 400m silver medallist Roger Black (pictured) attended the Dash on Olympic Torch Day in June 2012: "I'm delighted to hear the Lichfield Dash is back in its home city once again. When I experienced it on Olympic Torch day in 2012, the atmosphere was electric and it was a truly unique sporting occasion. To see it back in another Olympic year is brilliant and I wish everyone involved good luck and here's to seeing The Dash idea spread round the UK in 2017 and beyond".
The first ever Dash in 1998 was won by GB 400m international Paul Thompson of Birchfield Harriers. TV cameras captured the drama of the dash in 1999 where Tipton Harriers athlete Mark Anslow collapsed on the finishing line to allow GB international and Birchfield Harrier Carl Warren through to win the coveted trophy awarded to the dash winner. But true to form, Mark returned to challenge Carl again in July 2000 for the coveted dash title and to mark the occasion of the millennium, all race athletes were wearing Chariots of Fire style outfits of the 1920's period.
The dash was held every year in July until 2012 when to welcome the Olympic Torch and its journey through Lichfield, Olympic 400m silver medallist in Atlanta in 1996 Roger Black presented the newly commissioned Dash trophy from Arthur Price Ltd to the winner James Whitehouse from Birchfield Harriers (pictured). The race never disappoints and went on to provide excitement and drama up to 2012 where the race ceased due to a number of factors. But in Olympic Year 2016 and with KP Events ambassador Meghan Beesley representing a real medal hope in the 400m hurdles in Rio, the Dash will be back and even better than before.
Event starts in 20 days, 14 hours, 18 minutes, 13 seconds
Registration for all running events from the Under 8's to Under 15's 100m and 400m sprints, junior and senior relays through to the senior mile races are available by clicking the link above, entries are from £2.50 and everyone taking part will receive a commemorative dash medal and ribbon. For further information and sponsorship opportunities call Kevin on 07971100973
TAVERNERS REWARD

All the on-the-day funds raised at this year's relaunched LICHFIELD DASH will be donated to the Lord's Taverners charity, the choice of event sponsors St Johns House Lichfield, as owner Dan Ralley, a keen sportsman himself explains;
"The Lord's Taverners is the UK's leading youth cricket and disability sports charity dedicated to giving disadvantaged and disabled young people a sporting chance, and the Dash as an event is all about having lots of races for the youngsters to support the main Dash at 12 noon. To celebrate the Lord's Taverners link we'll be having a Wheelchair Dash at 11 am to see if 2 or more wheelchair athletes can beat the 11am chimes, now that will be exciting".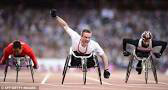 Dash founder Kevin Wilson of organisers KP Events is happy to have the wheelchair athletes back and involved ; "We have had wheelchair races before including GB international paralympian Mickey Bushell (pictured) in 2011 and he'll be a star name in Rio this September I'm sure so raising funds for the Lord's Taverners is fantastic for us in Olympic year".